ShortList is supported by you, our amazing readers. When you click through the links on our site and make a purchase we may earn a commission.
Learn more
Sonos Era 300 review: 5 things to know about the stylish speaker
There's power and performance galore in the new Sonos line-up.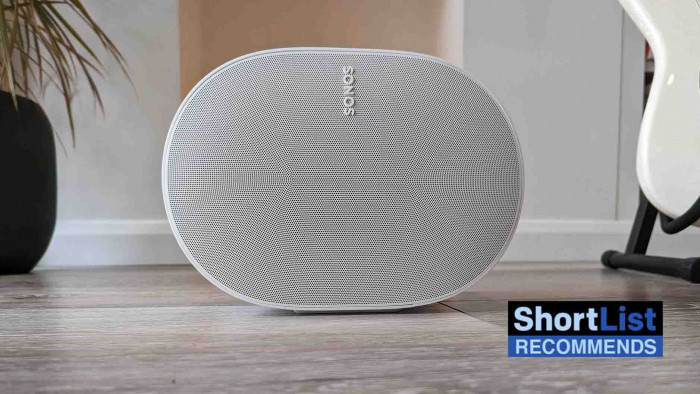 When I was first given a demo of the Sonos Era 300, I couldn't believe what I was experiencing. This is a speaker that Sonos has created that's unlike any of its other speakers in its quickly-expanding range.
Where the likes of the Sonos Five - a speaker with a similar footprint (physically not sonically) - is all about offering up big, punchy sounds, the Era 300 looks to add another dimension to that soundscape, thanks to its spatial audio capabilities.
This means that it's a whole different beast to other Sonos speakers. This one needs to be set free - its design means that sound doesn't just come from the front, but from all around.
It's a bold statement and one that's right on the cutting-edge of audio right now, but does it work? I have been using this speaker in a home environment for a number of weeks now: here are 5 things to know...
---
1. Sonos 300 is designed differently for a reason 'Cinched hourglass'. That's what Sonos calls the look of its Sonos Era 300 design in its press release. This description is usually reserved for the fashion world but it is a decent description of a speaker that does indeed have a tucked in waste, with the angles created the optimum position for the speakers to blast out spatial audio.
The speaker comes in both black and white and has a slightly smaller footprint of the Sonos Five, at Height: 6.30 in (160 mm), Width: 10.24 in (260 mm), Depth: 7.28 in (185 mm) and is far lighter at 9.85 lb (4.47 kg), compared to 14 lb (6.36 kg)
As you can see from the images, the actual speaker grill isn't just the front of the device, but wrapped around the sides at the rear of the speaker as well.
This is what makes this speaker not suitable to be boxed into a bookshelf and does give the speaker a rather unusual look. I like it and got used to it - it's certainly something of a design statement.
The design also means that this is a Sonos speaker that can only be used horizontally. You can't stand it vertically like you can the Play Five, for instance.
2. There are a lot of speaker tech stuffed into the Era 300 There are six drivers in the Era 300 in total. Four tweeters (one facing forward, two in the rear sides and one that's up-firing), two woofers (stereo, situated on the left and right which account for the bass). It's a unique setup for what is a rather unique speaker.
All of this is contained in a solid, sturdy chassis. Anyone who is a fan of the brand will be right at home with the aesthetics of the speaker. It's got an oval face, with no physical buttons in sight (there is one on the rear to pair the device with Bluetooth) - Sonos has added a nice touch-sensitive, indented volume slider. This means that you no longer have to look at the device when manually turning its volume up or down. There's also capacitive touch buttons to manually play, pause and skip tracks. You can also turn the voice functionality on and off from here.
There are two long rubber ridges that the speaker sits on, to protect whichever surface it perches and no doubt help reduce vibration. There's also an insert underneath where you can add the speaker to a Sonos stand and have a pair of them acting as Dolby Atmos surrounds (add in a Beam, Arc and Sub and you are laughing), which we didn't test but were given a demo of and are still dreaming about that sound.
3. Set up is simple, Sonos style Anyone that has a Sonos setup will be right at home here. Setup is done entirely within the app and, for me, was seamless. Once the Era 300 was plugged in, I turned on the app and a big picture of the speaker appears, asking if you want to connect. An automatic firmware update delayed using the speaker for a few minutes but that was no bother.
The next option is TruePlay, this is where Sonos will tune your speaker for you, depending on where it is in your room. If you opt to do this on iOS, then there is more precision with this feature, where you walk around your room with your device waving it slowly so the space is mapped (now called TruePlay Advanced).
Android users don't miss out anymore, though, as something called Trueplay Quick Tune is on hand, which uses the speaker's mic to map the room out and reconfigure the sound as needed.
Once done, you then choose your voice assistant (no Google this time), with Alexa taking you to the Alexa app and then back again.
Once this is done, you are all ready to listen to what you want on the speaker. While we spent the majority of the time using the app, the addition of Bluetooth does mean you can now play music that way - which is great for those who have their own Spotify and are visiting your house and want to play something.
It is also within the app that spatial audio can happen...
4. The sound is sublime and LOUD Sonos has prided itself on its audio and the Era 300 continues this trend, offering some of the best sounds we have heard from a Sonos speaker. We will note the spatial audio capabilities below, but even without listening to these specially arranged tracks, the audio is crisp and expansive with a particular impressive depth in the bass and clarity in the higher end.
Give A Little Time by Belle And Sebastian sounded grand through the speaker, the bass line - and hand claps - standing out more than when I have listened to it with headphones on, as well as the high-note guitar riff echoing nicely throughout.
Kill Dem by Jamie XX soared, it's cut-and-paste vocals and big bass suited the Era 300 well, as did a the Live At The Montreux Jazz Festival version of The Smoke from The Smile. Thom Yorke's high-pitched vocals and the wandering bass line just sounded fantastic.
Live music really does shine through the Era 300.
5. Spatial audio is special but still limited There's a reason why Sonos has added a 'get three months' Apple Music free' with the Era 300, the service is one of a handful that are offering spatial audio - alongside Amazon Music - which is something the Era 300 supports.
The shape of the speaker makes it primed for Dolby Atmos and the like, and the results are just as expansive as you would expect. Music-wise, spatial audio doesn't work through Bluetooth, so this is a Wi-Fi only option.
When it works, it makes you feel like you are on stage with the band you are listening to. Through the Era 300, Drive by REM has never sounded so intimate and up close.
I got a similar feeling with Bob Marley & The Wailers' Could You Be Loved, which had a live session feel to it.
Spatial Audio is still new and I have no doubt more of it will be become available through the Era 300. When you listen to a track in this way, it really does raise the quality of the music far beyond what's normal and the Era 300 is one of the few devices to take this experience beyond headphones.
Sonos Era 300: Final Verdict The first time I say the Era 300 I wasn't 100% on the look of the speaker but I now get why it's been built the way it has. This is a speaker built for the future of music, allowing spatial audio to envelop a room, while playing good ol' stereo tracks loud and clear.
It's a superb speaker on its own and one that works well in a bigger AV setup as well (if you are feeling particularly flush).
While some may be put off by the fact that this is a speaker that needs its own space - a bookshelf just won't do it justice, give this an area to breathe and you are gifted with stunning sound and a perfect gateway into streaming music.
Spatial Audio! Sonos Era 300
£449
The Sonos Era 300 is here: a spatial audio speaker that takes Sonos into the next generation.
View now from Sonos
Related Reviews and Shortlists