ShortList is supported by you, our amazing readers. When you click through the links on our site and make a purchase we may earn a commission.
Learn more
Dating apps and online dating sites have completely revolutionised the way we find love (and casual hook-ups) in modern Britain. Nowadays, it would be pretty much unthinkable to meet someone in a café or a park, and even relying on friends to set you up with someone is becoming less and less likely.
But it turns out this could actually be a good thing; a recent study in MIT Technology Review suggested that partners who meet online are more likely to be compatible than those who meet in person. "Our model also predicts that marriages created in a society with online dating tend to be stronger," the researchers said. My boyfriend of five years, who I met online, will be very happy to read this.
And when you're looking for love, first impressions are everything. New research conducted by Carphone Warehouse shows it takes just 4.2 seconds for someone to decide if they would swipe right on your dating profile.
The study, which polled 2,000 people in the UK, asked about how daters use match-making apps and what they look for in a partner. Women who were surveyed on the three factors that would most likely peak their interest in potential male matches in the first few seconds said these were the most important:
A smart dress sense (29%)
An athletic figure (25%)
A stylish haircut (23%) 
The study also revealed that hipster beards are out this year, and stubble is back in; just 7% say they find a beard attractive, while 19% love a guy with stubble.
Commenting on the findings, Viren Swami, Professor of Social Psychology at Anglia Ruskin University, said: "Online or app-based dating is playing a massive part in the way we meet potential partners but the process of relationship formation remains largely the same. Whether you spot someone in a bar or see their photo in a dating app, in the absence of interaction, physical appearance probably matters more than anything else.
"After interaction takes place, our assessment of the importance of physical features starts to drop quite significantly; things like similarity, reciprocity and personality all begin to matter more."
And to help you find a match as we rapidly approach Valentine's Day (you don't want to belong alone AGAIN, do you?!), we spoke to some style, grooming and fitness photography experts to help you present yourself in the best light possible online. 
1. How to dress to impress 

Jamie Carson, site editor at Topman.com, gave his expert advice on how to win over a partner with your sense of style. He told ShortList: "What you want to steer away from is the traditional full suit when it comes to a dating profile picture, I'm talking about matching blazer and trousers, a schoolyard white shirt and a tie chunkier than your thighs. Like the full kit wanker insult that's thrown around in sportswear, the same very much applies to tailoring. No one wants to go on a date with someone that just looks like they've put a shift in at Canary Wharf. "Anyone can wear a full suit, but making it your own is where the real challenge is, so knowing how to mix and match your smart pieces into a unique outfit is key. Checks are massively on trend at the moment, so I'd suggest investing in a pair of checked trousers teamed up with a classic black rollneck jumper. As for what shoes to wear, footwear has never been more versatile when it comes to smartwear, as your favourite pair of box fresh white sneakers are now just as acceptable as your most luxury Chelsea boots (except maybe in awful central city clubs and… y'know… funerals).
"If you're really keen on displaying your sartorial prowess via a dating app, then I'd recommend going for something bold. Coloured suiting has been really big for Topman these last couple of years, and I'm not expecting it to die down this summer either. With this in mind, I'd advise experimenting with colours outside the archetypal tailoring palette (your blacks, navies and greys) and stand out with shades of tobacco, turquoise and stone. And since the suit is so bold in itself, we'd go minimalist with the shirt but still look sharp with a Peaky Blinders-esque collarless shape."
2. How to look as good as possible in your fitness pics
Max Ellis, a London based physique photographer with more than 30 years' experience, says he's already done quite a few shoots for personal dating profiles. And while he says it's undeniable that the fitter you are, the better you'll look in pictures, there are some tricks anyone can use to get a good fitness shot.
He told ShortList: "Lighting-wise, a nicely diffused natural light is far better than flash if you don't know your way around a DSLR camera and a soft box. Try taking pictures in front of a window with a net curtain - maybe pop round and visit your mum - which should give you a nicely diffused softer light. 
"And try lifting the camera/phone to just above head height to help eliminate those extra chins. Also, avoid bright direct sunshine which will make you squint and gloomy corners which will make you look sinister. Finally, I personally don't like a pouty selfie." 
3. How to get the perfect haircut for your face
Award-winning celebrity hairdresser Jamie Stevens told ShortList: "So much of your total look is your hair and this can make a huge difference, especially in profile pictures.
"My main tip here is to make sure your haircut is tailored for your face shape to maximise your features. Most of the time when I see a haircut that doesn't work it's usually something very simple like it being too rounded which makes the face look fatter and the head look smaller.
"My advice for short hair is to go for something modern and cool; the go-to look is Ryan Gosling's look in Crazy Stupid Love or Ryan Reynolds' latest look – short sharp back and sides with a soft parting is always a flattering look and it can really emphasise cheekbones and eyes. "For mid-length hair, I always say, look at people like Matt Bomer and Bradley Cooper. Their locks always look soft and natural. My top tip here is to use some MR. sea spray on wet hair.
"For long hair, my top tip is to avoid going super slick as this often looks out of place with most outfits outside of a tux. If you're wearing it down, keep it natural even when pushed back but make sure your hair is always washed and conditioned so it's clean and easy to manage."
(Images: Rex / Topman / iStock)
Latest
Health & Fitness
The best meal replacement shakes: from Huel to Jimmy Joy
Health & Fitness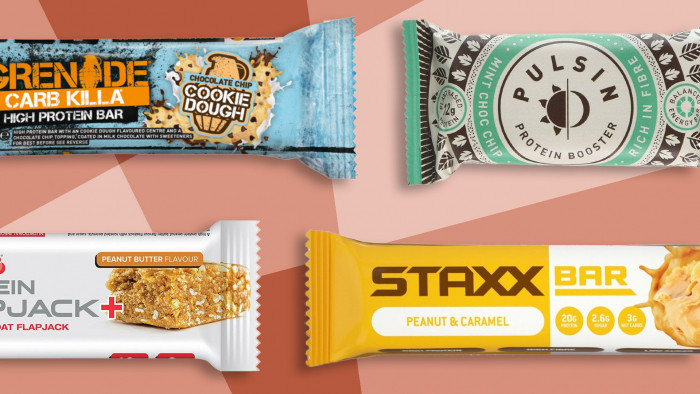 Best protein bars 2020: fuel your fitness
Related Reviews and Shortlists