ShortList is supported by you, our amazing readers. When you click through the links on our site and make a purchase we may earn a commission.
Learn more
Nimona is the best new movie on Netflix right now and it's finally cracked the top 10
Let's see if we can get this must-watch higher up the charts...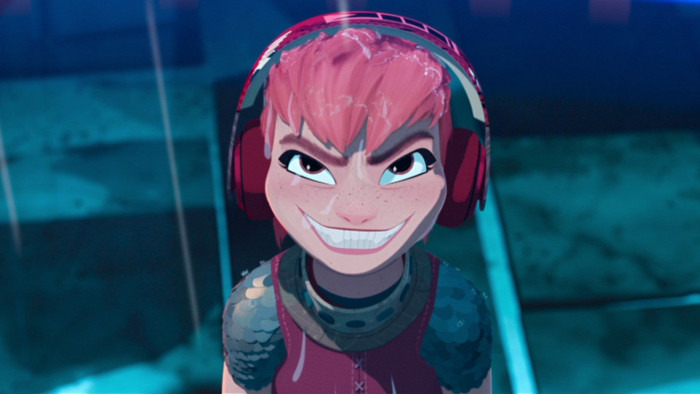 The Out-Laws may be riding high in the Netflix charts right now but there is another Netflix-produced movie that needs to be on everyone's watchlist.
Nimona is an incredible tale set in a strange futuristic medieval world, where a knight enlists the help of a shape-shifting teen (Nimona) when he is framed for a crime he didn't commit.
With diversity and inclusion some of the main themes running throughout the movie, it's a very prevalent tale right now and one that comes from the mind of cartoonist ND Stevenson (who also created the fantastic She-Ra for Netflix).
Both Chloë Grace Moretz and Riz Ahmed lend their voices to the film and it's a stunning watch - one which nearly didn't make it to screen at all.
In 2021, the movie was being created by Blue Sky Studios, an animation studio owned by Disney. When Disney made the decision to shut the studio, Nimona was only 70% complete and left in limbo. Thankfully, Annapurna and Netflix stepped in to fund and finish the film.
Currently Nimona stands at 94% on Rotten Tomatoes, and is in at number three in the Netflix charts.
We put it in our What To Watch list last week and it's been in our Netflix Summer Slate guide for some time, so it's fantastic to see the film get into the Netflix top 10 in the US - at number 6. Here's a sample of what the critics are saying about Nimona:
Empire: "Both enthusiastically irreverent and deeply sincere, Nimona is a revisionist fairytale that forges its own path visually and narratively to beautiful effect."
IGN: "Netflix's Nimona confronts the monster of intolerance in a funny and tender family film."
The Guardian: "While the themes – misunderstood monsters, fear of difference and the unknown – are familiar, there's an underlying message that sets the film apart."

Entertainment Weekly: "Nimona's release on Netflix continues 2023's record as a strong year for animation from lesser-known creators and studios."
IndieWire:
What could have been a generic piece of standard Netflix fare in less skillful hands ends up being a nuanced story of belonging that's slightly less cliche-ridden than you might expect.
While it's great to see Nimona crack the top 10, we haven't seen much promotion for the movie beyond the Netflix front page. Let's change that as it's a movie that needs to be seen by more people.
Nimona is available on Netflix now, watch the trailer below:
Related Reviews and Shortlists