ShortList is supported by you, our amazing readers. When you click through the links on our site and make a purchase we may earn a commission.
Learn more
Best new trailers: The Terminator, Mr Robot, Joker and more
The best trailers of the week revealed - watch these right now.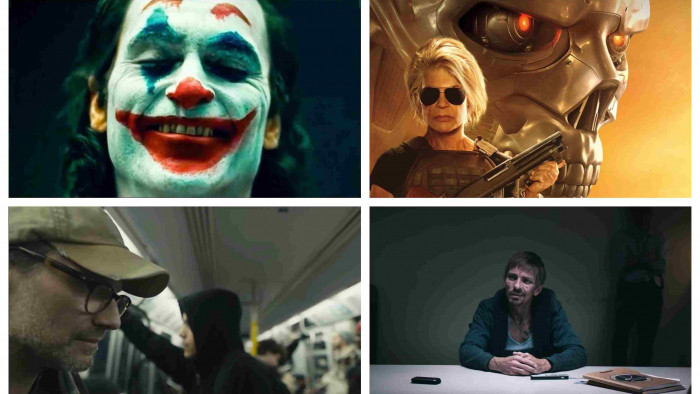 What a week it has been for new trailers. We've were given a brand-new look at Terminator but even that was upstaged by undoubtedly one of the most impressive trailers of the year, iThe Joker. When it comes to TV Mr Robot fans can rest easy - the fourth and final season of the show looks to be in safe hands.
And that's not all, there's also some HUGE upcoming Netflix movies, including the Timothée Chalamet starring Shakespeare opus The King. There was also a stunning surprise in the form of El Camino: A Breaking Bad Story that we didn't even know was officially happening until this week.
All of these trailers are below, so sit back, turn down the lights and relax...
1. Terminator: Dark Fate
Woop, there's a new trailer which means we definitely get to know a little bit about the plot right? Nope, we still don't have a clue what is going on in Terminator: Dark Fate. But we do know that Linda Hamilton is grizzled, hench and growing old gracefully. We also know that Schwarzenegger is grizzled, hench and growing old gracefully. And that there are Terminators running round. Despite how vague everything is, this does look like a brutal, true successor to Terminator 2: Judgement Day and we have our fingers crossed that it's not just clever editing and a wave of nostalgia that's making us believe this.
2. El Camino: A Breaking Bad Story
We didn't even know this movie existed until this week. Think about that for a moment - in this spoiler culture we live in, the Breaking Bad team managed to get out to New Mexico and make a movie about what happened to Jesse (Aaron Paul), after the shock ending of the series. Given creator Vince Gilligan has been busy with Better Call Saul, it's amazing this got made at all. Here's hoping it acts a segue for them both.
3. The Joker
We don't really have any words that do this one justice. This trailer is perfect. The film probably won't be but that won't us stop watching this trailer again and again.
4. The King
The King is yet another Shakespeare adaptation but this one has a brilliant, star-studded cast. You've got Timothée Chalamet, complete with bowl cut, and the likes of Joel Edgerton, Sean Harris, Lily-Rose Depp, Robert Pattinson, and Ben Mendelsohn. It's adapted from the bard's Henriad plays, which is all his tales focusing on the myriad King Henrys.
5. Mr Robot
It's amazing that Mr Robot is ending on its own terms. That's not a slight on the quality of the show - it's a superb thriller that stars Christian Slater, Remi Malek and the brilliant Portia Doubleday. It's just that Malek has hit superstardom so we thought it would be doubtful he'd have time to finish the story of a hacker collective called F-Society and their plot to bring down finance giant E-Corp. IT;s stylish, confusing and one of the best things on Amazon Prime right now.
Related Reviews and Shortlists