Yay! Christmas! Parties! Fun! A time to see family and friends!
Ergh, but it can get a bit tiring, can't it? All that talking and being nice. It's hard work, especially when the other 364 days of the year you do your best to avoid 63% of your extended family. 
So when you're all partied out and can't carry on decent conversation anymore, when you just need some time alone to yourself to paint on your fake smile and come up with lies about your life to dodge embarrassing family questions, these are the Christmas movies to give you a kick up the arse and restore your faith in the most wonderful time of the year.
A Very Murray Christmas
Rotten Tomatoes score: 78%
Oh Bill. Are you OK mate? You've had a weird life, and this musical Netflix original just makes it even weirder. Miley Cyrus, George Clooney and niche French band Phoenix all guest star in this festive special directed by Sofia Coppola about Bill Murray just being Bill Murray, but at Christmas. Sure it might border on the downright wacky and indulgent, but the Ghostbuster's Christmas cheer is properly authentic, and you don't often get to see that these days. Eastenders just kills people off every season. It's grim.
Arthur Christmas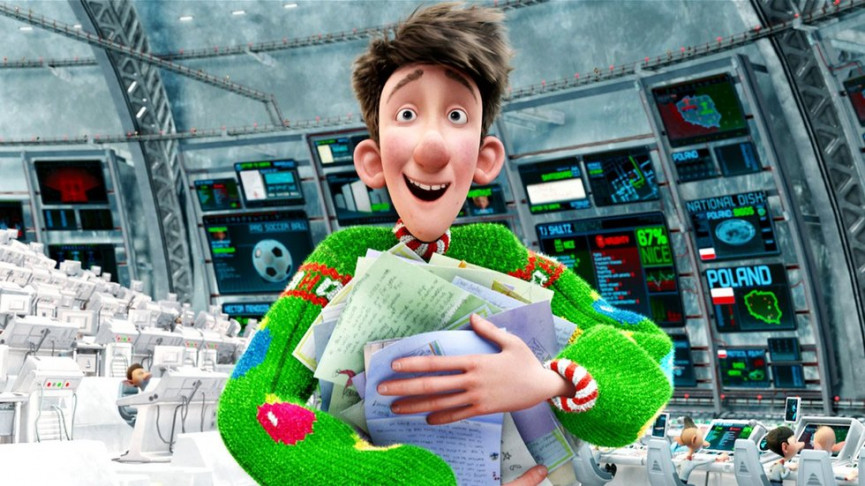 Rotten Tomatoes score: 92%
If you're not crying by the end of this then you're heart is cold and black. Who hurt you so much that you wouldn't tear up at this Aardman Animation (the minds behind Wallace & Grommit) classic about a young lad who travels around the world to make sure a little girl, who's been missed off the list by a now distant Santa Claus, gets her present on Christmas morning?
Die Hard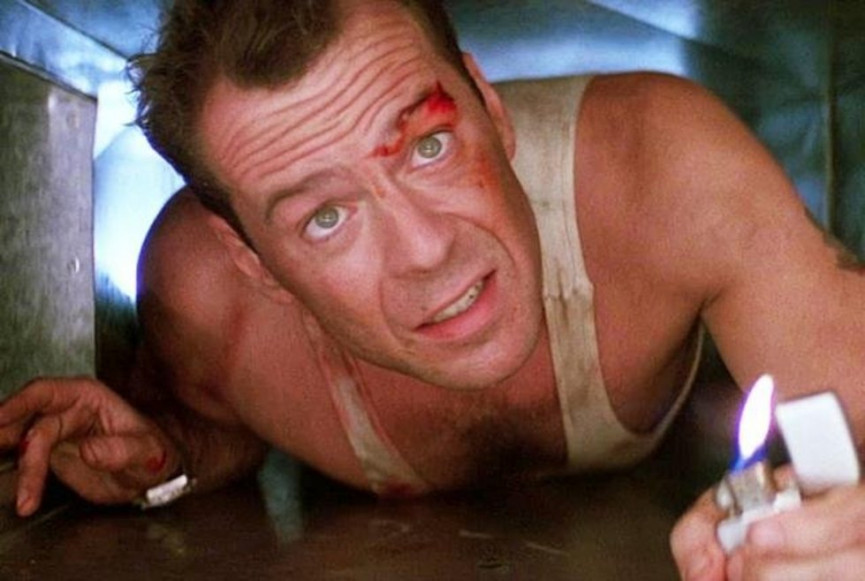 Rotten Tomatoes score: 92%
Not a traditional Christmas movie with all the explicit violence and whatnot, but Christmassy nonetheless. If you've got a lot of pent up anger directed towards your siblings but don't want to actually put their head through the kitchen window, this is the movie to help you redirect and bury that rage deep inside you until it becomes a stomach ulcer. Just do a few finger guns and some piledrivers on your pillow and it'll be fine. Yipee ki-yay mother fuckers!
Chill with Bob Ross
IMDB score: 9.4/10
This is hangover viewing at its best. No drama. No loud noises. No surprises. Just Bob Ross painting wintry landscapes, the only sounds you hear being the stroke of his brush against canvas and the sultry softness of his timid voice. Sure, if someone walks in while you're watching it you'll probably look mega weird, but your post-party anxiety will be lifted without the aid of a double dose of Nurofen.
Scrooged
Rotten Tomatoes score: 68%
Is there any version of Charles Dickens' A Christmas Carol that isn't utterly terrifying? The Ghost of Christmas Future is pant shittingly scary in every rendition, and this Eighties take on the immortal tale is no exception. Here Bill Murray strikes again playing the lead and does a sublime, tearful job at the end with an improvised monologue on the true meaning of Christmas.
Jingle All The Way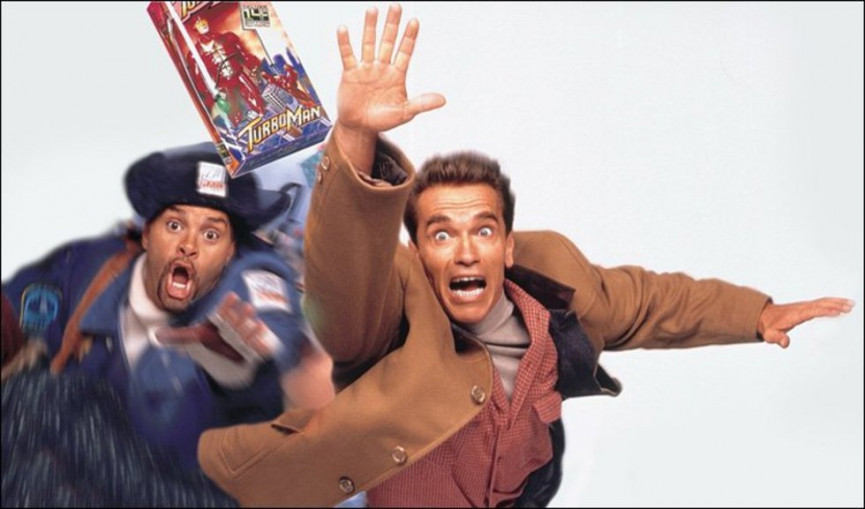 Rotten Tomatoes score: 17%
Arnold Schwarzenegger and Sinbad. Jesus wept, what a casting choice. But ignore the Rotten Tomatoes score above, just remember you're not going in watching Woody Allen's Annie Hall. As long as you know you're watching utter garbage then you're going to have a right laugh at the Terminator getting bashed with handbags as he's branded as a pervert in a children's ball pit.
It's Always Sunny in Philadelphia: A Very Sunny Christmas
IMDB score: 9.1/10
Watching a deranged Charlie Kelly bite off Santa's ear in an act of revenge for having sex with his mother every December 25 might not give you the warm, fuzzy feeling that It's a Wonderful Life does, but it will give you a belly full of laughs with its look back at childhood Christmases that weren't as special as they once thought.
Fireplace for Your Home
IMDB score: 8.6/10
This is literally just watching a roaring fire for an hour and nothing else. I shit you not. It's absolutely brilliant, I swear you can feel genuine warmth coming from it. It even makes the sound of crackles as the logs slowly burn. This is the kind of Netflix content you want. This is what your hard earned money goes towards.
Blackadder's Christmas Carol
IMDB score: 8/10
There's been hundreds of versions of A Christmas Carol, but this might be the cleverest of them all. Rowan Atkinson plays a reverse Ebeneezer Scrooge, the nicest man in Britain rather than the nastiest, who then turns into an absolute knob after the ghosts visit him and viewing what his life could be like if he was a tyrant, witnessing his future relative as a space dictator.
Alan Partridge: Knowing Me, Knowing Yule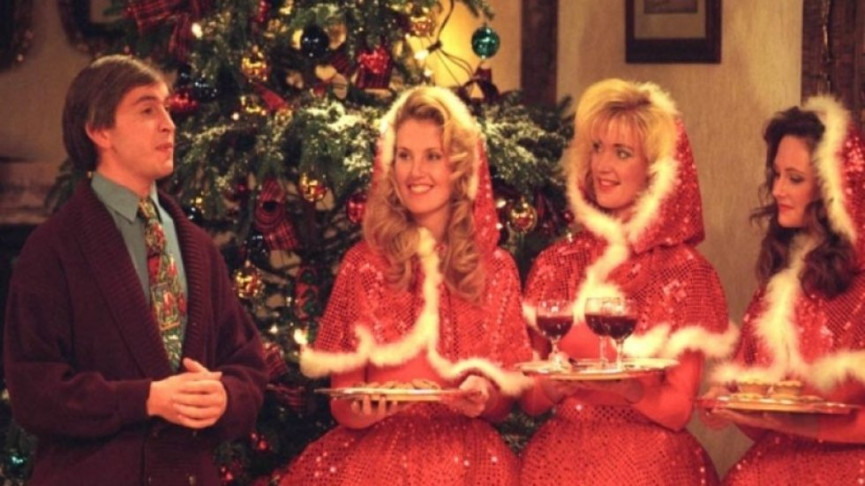 IMDB score: 8.4/10
If you like your holiday viewing awkward and cringe inducing, then Alan Partridge is your man. Watch as he painfully dives head first into the downward spiral that led him to presenting Radio Norwich and living in the Linton Travel Tavern hotel.