ShortList is supported by you, our amazing readers. When you click through the links on our site and make a purchase we may earn a commission.
Learn more
James Buckley reveals what went wrong on The Inbetweeners reunion
"I come across as a complete moron through the whole thing"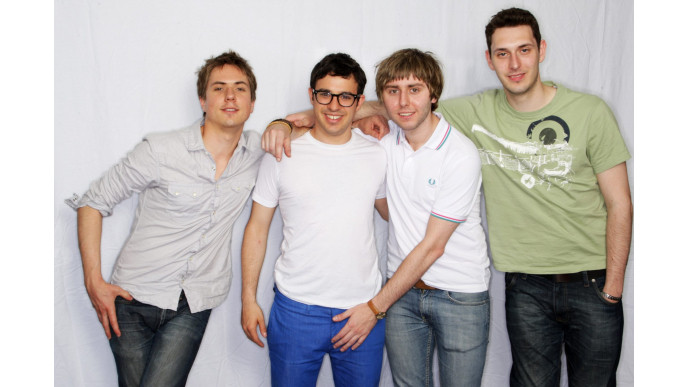 Reunion shows – whether it's bands, TV shows or casts of films – are pretty hit or miss. It's a risky endeavour. You could come back in a blaze of glory, revisiting your most brilliant and beloved achievements…or you could crash and burn, bringing down any fond, nostalgic feelings anyone had about you to begin with. 
When it came to the recent Inbetweeners reunion, it seems fans thought that it was firmly in the latter category. 
Actor James Buckley had already addressed the issue earlier this month, saying he was sorry to "anyone who felt let down". 
But now he's spoken more about the reunion – and explained exactly why he felt it went wrong. 
Speaking on his podcast, Completed It Mate, Buckley said he "couldn't watch" the show. 
"The thing that's really difficult with it is that, in my job, I'm used to being criticised – especially with the small amount of talent that I have, I'm wide open for criticism," he said. "But the worst thing is when people criticise you and you go: yeah, you're right. It's really hard to take." 
The show, hosted by Jimmy Carr, wasn't the "celebration of a good thing" Buckley had hoped for.
"It was just me being taken the piss out of for hours on end," he said.
"I didn't have the personality or the intelligence to cope with it, especially when you're up against someone like Jimmy Carr, who's super quick and super funny. So I come across as a complete moron through the whole thing and also there was a bit where I got stuck."
"There would be a couple of times where I would say something and Jimmy would go, 'Still bullshitting.' I got caught where I was acting up as Jay because there was an audience there of Inbetweeners fans and I got caught in this spot between Jay and myself where myself was going, 'You're acting like a fucking idiot, you're being a moron, you're being a dick.'"
"And there was this bit where it was like, 'Well they're all here and they want you to be Jay, so do it.' When the audience was there, I didn't want to seem like a stick in the mud. I didn't want to go, 'Can we stop for a second cos I don't know what the fuck's going on here – you're talking to me like I'm Jay from The Inbetweeners. I'm really not.' So that was another one of the reasons why it was a disaster."
(Image: Channel 4)
Related Reviews and Shortlists