ShortList is supported by you, our amazing readers. When you click through the links on our site and make a purchase we may earn a commission.
Learn more
French audio architect Devialet has been making premium speakers for a number of years now. To own its original Devialet Phantom range was a sign not just of impeccable audio tastes but of prestige. For those that did spend thousands on the speakers, they were awarded with a stylish setup that was packed with power.
Since then that range has seen a reduction in both size and price, thanks to the arrival of the Phantom II, making it far more attainable - and now Devialet has gone further down this route with its portable powerhouse, the Devialet Mania.
ShortList has been lucky enough to have been testing this speaker for a good while now: here are 5 things you need to know...
---
1. There's been a size, not style, reduction The Devialet Mania Portable is a masterclass of design. It hints at the Phantom range with its spherical chassis, but it's certainly its own thing. I like the way that Devialet has always opted for a futuristic look with its speaker range and the Mania is no different: we half expected the speaker to glow red like HAL in 2001.
It didn't but the spherical look is no accident - and don't be fooled that because it's a similar size to an Echo that you will get a similar sound, you definitely don't.
It offers 360-degree sound that will fill most rooms, thanks to four 25w drivers and two 38w woofers: this makes some 95dB of sound. You know what else makes 95dB of sound? A decent power mower. Thankfully the sound out of the Mania is far more pleasurable than hearing your neighbours attack their lawn.
Oh, and those slits aren't just about design, they expose the woofers - which means when the bass bops, you can see it in action.
2. It's portable, to a point We called the Devialet Mania a portable powerhouse in the intro to this review and it is just that. The design of the handle is a clever one. The rubber tread wraps around the sides of the Devialet Mania, culminating in a protruding handle at the top.
This tread is also where the volume buttons and pairing controls for the speaker are situated. It's a really neat design flourish and the handle feels more than strong enough to pick the speaker up. You won't want to do it that often, though, as it is a weighty bit of kit. It weighs 2.3kg which means every time you pick it up you are reminded that the Mania is premium and packed with speaker smarts.
Also, while we happily used this one outdoors, it's IPX4 resistant, which means a splash or two of water is fine but this certainly isn't a rugged speaker and that lovely woven material that covers most of the chassis may well be prone to scuffs, if you don't handle it the right way.
3. Sound is big and powerful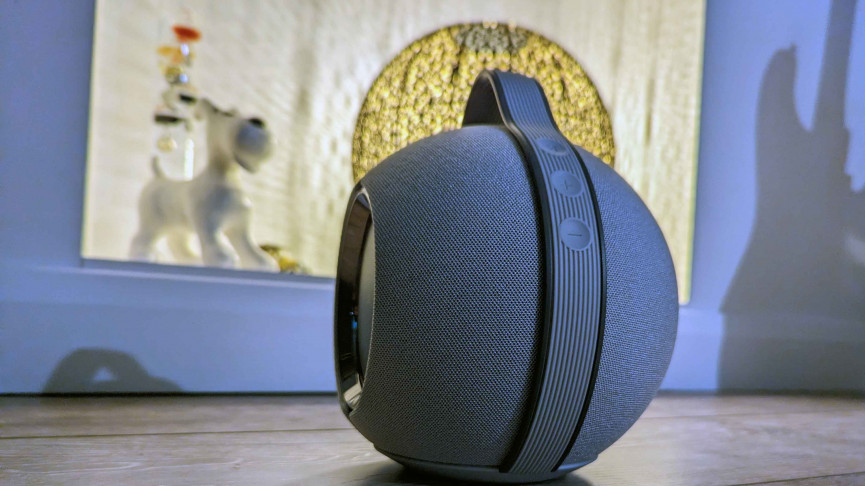 Just from picking up the Devialet Mania I could tell that this wasn't going to be a shrinking violet in the sound department. It's a heavy device that's a heavy hitter when it comes to audio. From using previous Devialet devices, it's clear its sound engineers love bass and that can heard with the Mania.
The Devialet Mania heeded Shy FX's Warning well, its propulsive bass and beat bouncing around the speaker (literally as the exposed woofer means you can see it moving to the music). The same effect happened with Fred Again's Jungle, which offers a real thud in the bass that the Mania relayed with ease.
It works well with tracks with little bass, too. The strings in Geronimo by Young Fathers soared, the clicks of the song filling the room we were in. The glitchy hip-hop beat of Jockstrap's Greatest Hits was clean but abrasive, while the high notes of Hideous by Oliver Sim were well balanced throughout.
Having the Mania in the centre of the room worked best in my tests - as you can walk around and get the full force of the 360-degree sound. Up against a wall doesn't impede the sound much at all - the speaker uses Active Stereo Calibration (ASC) to adapt to where you put it - but it's clear that this has been a speaker that, despite its size, been made to sound big when in big spaces.
I ventured outside, dodging the Great British weather, to try the Mania in a place where sound would drift but, again, it handled it well. Usually I would have to turn a speaker up to pretty much full volume to hear it outdoors, but we never needed to turn the Mania up to full blast - there was always plenty of volume to go, if we needed it (we really didn't).

4. Battery life is good, could be better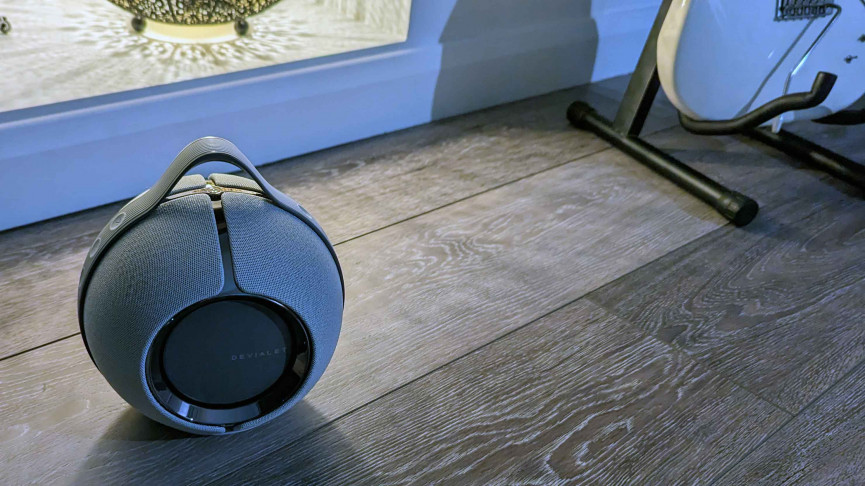 Being that this is a portable speaker, it comes with its own rechargeable battery. In this case, you will get around 10 hours out of the thing before you have to charge it up again.
This is decent but nowhere near the best battery on the market. I have used speakers that double this battery life, such as the JBL Charge 5. I haven't had a portable speaker with this amount of power, though, as well as one that's as loud as the Devialet Mania so at least you know where that battery life is going. You can also see how much juice is left, by pressing the battery charge button on the side.
Charging can be done via USB-C and takes around three hours to get from nay to yay. You can listen to the speaker while it's charging, though, and if you fancy spending an extra £70 you can get a fancy charging mat for the Mania to go on.
5. You can speak to the speaker, thanks to Alexa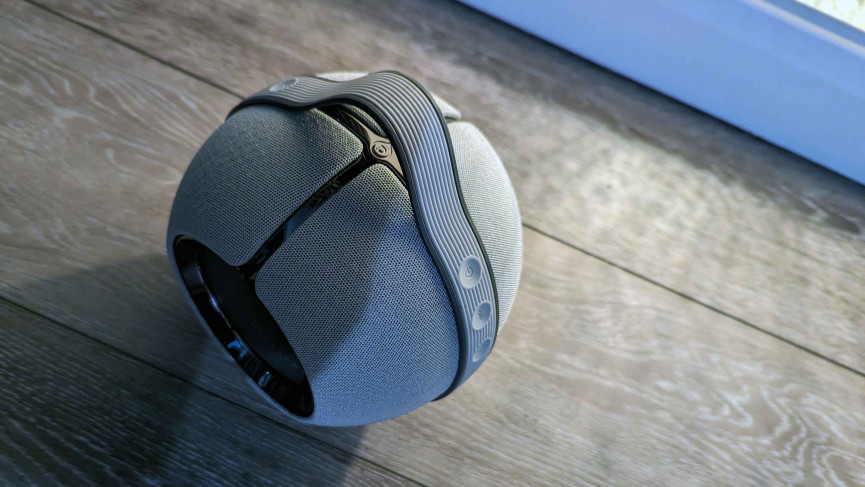 It's no surprise that Devialet has gone for Alexa integration with the Mania - given it's the most-used voice assistant around. It's nice to have this facility on board and it's easy to set up, you just use the Devialet app and follow the instructions.
Other connectivity is done via Bluetooth or Wi-Fi. There's Airplay 2 on board so you can stream to multiple Devialet devices.
It's worth noting that you can't pair two Devialet Manias together as it's already a stereo system (according to Devialet) and there's no AptX / HD on board which is a little strange - Devialet did add this to its Gemini true-wireless earphones but hasn't here.
There's also no Aux, or any other ports for adding your devices.
Devialet Mania Portable: Final Verdict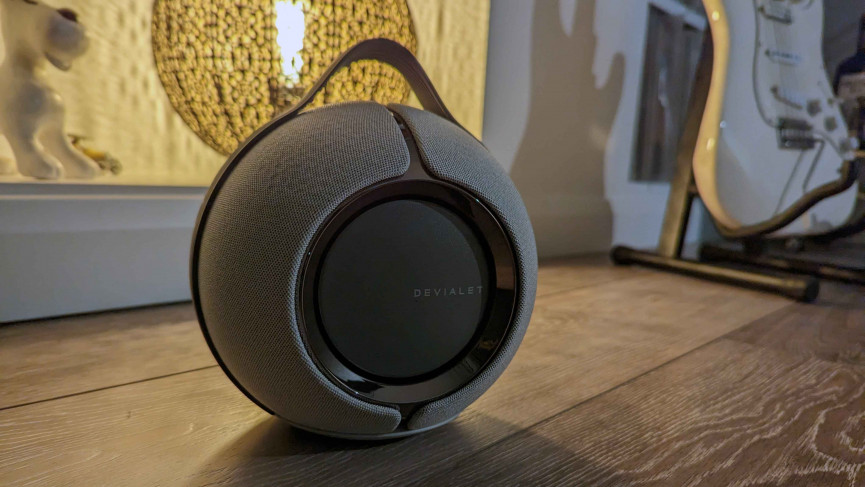 The Devialet Mania portable speaker is brilliant to look at, with a sound that's punchy and powerful (if a little bass heavy). Its premium build comes at a price but for this RRP you get a whole lot of quality.
There are too many portable speakers on the market that for cheap and cheerful - this is not one of those. What you have is a Devialet device that may be smaller but there's little compromise despite the size.
Buy Now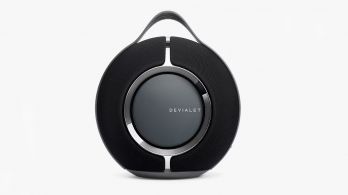 Devialet Mania Portable
£690
The Devialet Mania Portable is available both in Black and Light Grey.
Buy now from John Lewis
Related Reviews and Shortlists