ShortList is supported by you, our amazing readers. When you click through the links on our site and make a purchase we may earn a commission.
Learn more
Bootsy Collins has issued the world's greatest retirement statement
If you're gonna hang up your bass, do it funkily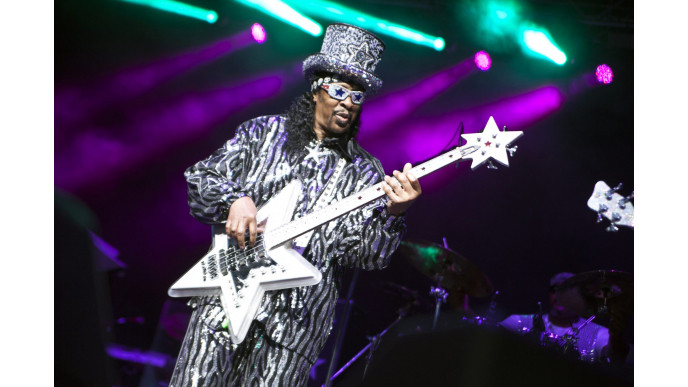 Retirement can be a daunting prospect, especially if your job is one that you enjoy. What will you do to mark the occasion? Everyone chucking a quid into an envelope to buy a nice card and a bottle of fizz before the head of your department does a speech at 4:45pm on the Friday to wish you well and to remark that the office won't be the same without you.
It's what most of us are likely to get, if we're actually lucky enough to be able to retire, that is.
But not for funk superstar William "Bootsy" Collins.
After 50 years of relentless funking, bringing the groove to millions, the legendary Parliament-Funkadelic bass player has announced that he will no longer be playing live due to health issues.
A sad day, no doubt, both for him and legions of fans who will now not be able to see this master of the game in action in the flesh.
But Bootsy doesn't do sadness. Instead he issued this life-affirming statement which should inspire all of us to look on even our most difficult moments with optimism and thankfulness.
Posting on Facebook, he said:
"Time has come for Me to tell all our Funkateers that I will Not be Playing Bass in Concerts anymore. I have decided to become a Coach for up & coming Musicians. I know u r Disappointed just think for a moment how I feel. Doc said too much pressure on my Inner-Ear & Right Hand. Yeah, I had to make up my Mind so I did. 2019 Sheriff Ping Ping Ping will continue to Funk from the Studio but Not Live playing Bass on Stage. I know u got question & I don't have answers, maybe one day u too will understand. Just remember; That This Year will be the Funkiest Year of them All. Watch for it. Bootsy baby!!!"
Will this year, 2019, be the funkiest year of them all? If Bootsy says so, then it will be.
The bassmaster formed the band The Pacemakers with his brother Catfish in 1968 before James Brown picked them up as his backing band in 1970, where they became known as the J.B.'s. They only worked with him for 11 months, but their output during that time was nothing short of epoch-defining, as they played on some of Brown's most famous hits, including 'Get Up (I Feel Like Being a) Sex Machine', 'Bewildered', 'Super Bad', 'Soul Power', 'Talkin' Loud and Sayin' Nothing', as well as two instrumental singles, the much-sampled 'The Grunt' and 'These Are the J.B.'s'.
He then went on to work with George Clinton in Parliament and Funkadelic in 1972, with the groups morphing into the P-Funk collective.
If you want just one piece of evidence of his funky genius, then do yourself a favour and watch this total masterclass from 1971, which features the J.B.'s and an 18-year-old Bootsy Collins laying the groove down alongside Clyde Stubblefield, Jabo Sparks (drums), Bobby Byrd (vocals), Catfish Collins (guitar), Fred Wesley, Clayton "Chicken" Gunnells, Darryl "Hasaan" Jamison, and Robert McCollough (horns) - not forgetting dancer Ann Norman.
Absolutely unbelievable.
(Image: Getty)
Related Reviews and Shortlists