ShortList is supported by you, our amazing readers. When you click through the links on our site and make a purchase we may earn a commission.
Learn more
With the cold weather embracing the nation like a damp flannel, we're in desperate need of a winter fuel allowance. A bottle of kick. A pocket full of sunshine. Homemade warm booze. Here are some simple recipes you should try brewing up for the harsh winter nights ahead.
---
Boozy Irish hot chocolate
Ingredients
One can of Guinness
100ml of Bailey's
100ml of Irish whiskey
One tablespoon of granulated sugar
One quarter of a cup of cocoa powder
200ml of whole milk
100g of chocolate chips/grated dark chocolate
A pinch of salt
Directions
Warm about 150ml of Guinness over a medium heat - don't worry if it reduces a little. In a separate pan, stir in your cocoa powder, pinch of salt and granulated sugar. Then pour in the milk, before chucking in your choice of chocolate. Keep stirring until it's a glorious warm mix of joy, then pour in the Bailey's and whiskey. Once that's mixed, pour in the heated Guinness mix. Allow it to combine, giving it a good stir, and then serve it up. Don't operate any heavy machinery after you've had a glass.
---
Hodge gingerbread & stout cocktail
Jonny Garrett of The Craft Beer Channel shares his preferred winter warmer - a hot gingerbread porter cocktail. You can have this warmed, or over ice.
Ingredients
20ml of Gingerbread syrup
40ml of 'Old Tom' gin
A stout beer (Jonny recommends trying the Tiny Rebel Dirty Stop Out)
Spices (ginger, nutmeg or cloves)
Directions
Combine the syrup and gin in a mixer, and then stir in the stout. You can either mix this with ice, or gently heat it on a hob - either way, it's got enough kick to warm you up. To create a head for the drink, whisky a small amount of stout in separate glass, and pour it out on the top of your thermos. Then sprinkle on the spices of your choice.
---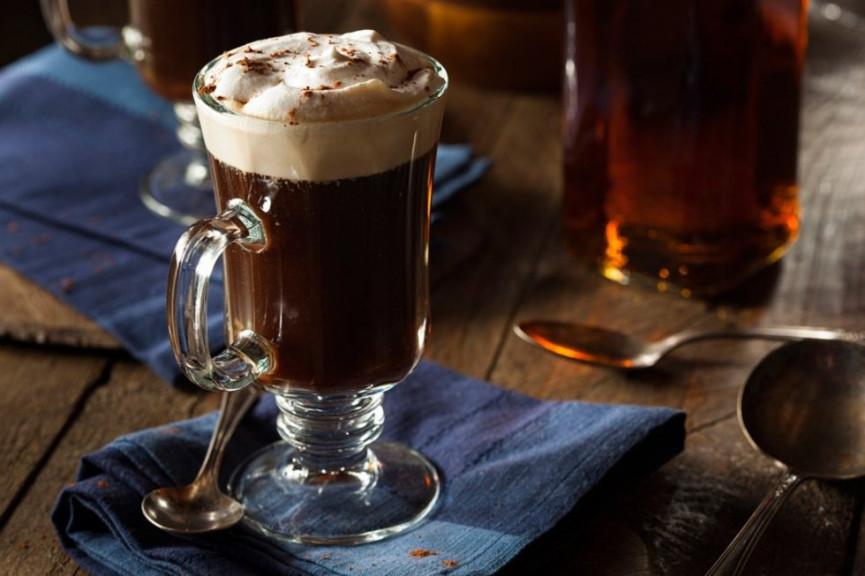 Classic Irish Coffee
Ingredients
150-200ml hot filter coffee (don't use an espresso, you'll nuke the whiskey flavour out of the drink)
50ml Irish whiskey (ideally something dark)
Two tablespoons of brown muscovado sugar
50ml of whipped cream
Directions
First, brew your coffee - nothing too strong or you won't get the full effect of the whiskey. Then, dissolve the sugar in two tabelspoons of water; add the water and sugar to a pan and gently heat it until it's dissolved. Once it's created a nice syrupy fluid, stir in your whiskey in the same pan. Add it to your thermos when it's combined, and then pour the coffee in on top. You can then go to town adding your whipped cream on top. Dust it off with nutmeg, if you're in the mood.
---
An Epic Hot Toddy
Ingredients
50ml bourbon (something like Woodford Reserve)
15ml honey syrup (just mix equal parts honey and hot water until they combine)
15ml orange juice
100ml hot water
One cinnamon stick
Slice of orange
Directions
Dead simple: stick your bourbon choice in the thermos (or glass, if you're not headed out) and then mix in the honey syrup, orange juice. Then chuck in your cinnamon stick and slice of orange. Pour in your hot water, stir and enjoy.
---
Skin of Gin
Ingredients
Honey
Gin
Three dried cloves
Lemon juice
100ml hot water
Directions
Add the honey and two shots of gin to your glass. Give it a mix, and then add the cloves and a dash (20ml) of the lemon juice. Top off the mix with as much hot water as you'd like.
---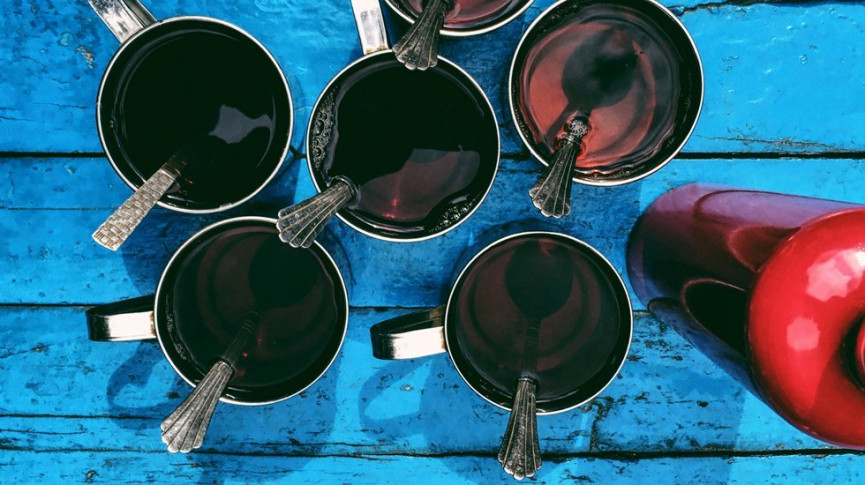 Buttered maple cider
Ingredients
Pinch of Maldon salt
Half a lemon
Tablespoon of softened butter
Two tablespoons of maple syrup
1/2 vanilla bean pod, seeds scraped out
150ml of dark rum
300ml of apple cider
(Half a vanilla bean pod, if you want it dead fancy)
Directions
Mix the butter and maple syrup (and vanillia pod, if you're using it) in a bowl. In a separate sauce pan, combine the rum and cider and bring to a simmer. Once heated, pour into a thermos, add the buttery goodness on top. Sprinkle the salt around the edge of the thermos rim, for added sophistication.
---
Gunpowder, Treason and Port
Ingredients
1 part Cockburn's Special Reserve port
1/2 part Vodka (splash of your choice)
Dash of brown sugar
Spritz of lemon
Directions
Combine the port and vodka in a pan and heat over a gentle flame. Add your lemon, and then sprinkle in the sugar to balance out the flavour to your suiting. Stir and remove from heat once all the ingredients have combined.
---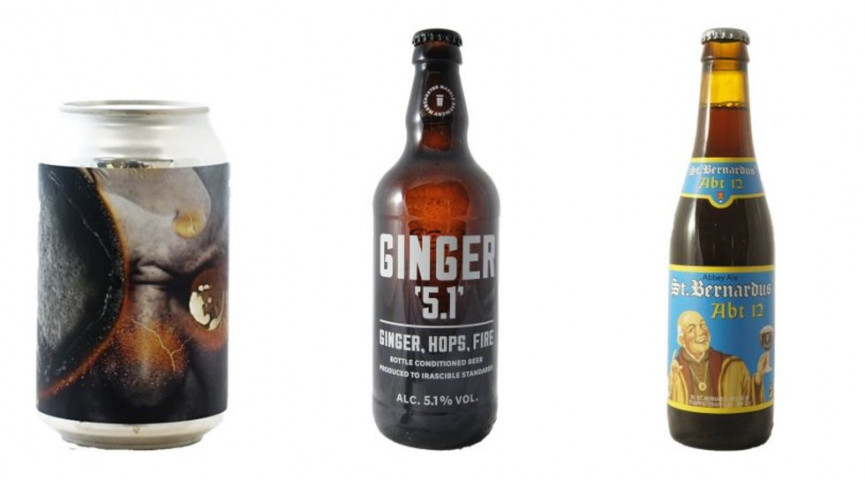 Or if you can't be bothered to make anything...
...here are some cracking winter warming beers, recommended by Jonny Garrett of The Craft Beer Channel.
"A sweet coffee porter that has been brewed with coffee from Northern Star – Rwanda Gashonga washing station. It has added lactose, oats, cherries and almonds on top of the sweet rich coffee."
"A full bodied copper ale that is infused with ginger to give it an extra spicy hit. The initial nose is quite clovey with hints of coriander, not surprising as it has both infused into the beer along with the fiery ginger that gives the beer its send off."
"A smooth, velvety and rich beer even for the high abv. Full of raisins, warm bread and brandy notes. A brilliant winter warmer than you can feel all the way down."
Related Reviews and Shortlists