ShortList is supported by you, our amazing readers. When you click through the links on our site and make a purchase we may earn a commission.
Learn more
Berlin is trying to ban big landlords and nationalise private renting
How much are flights to Berlin?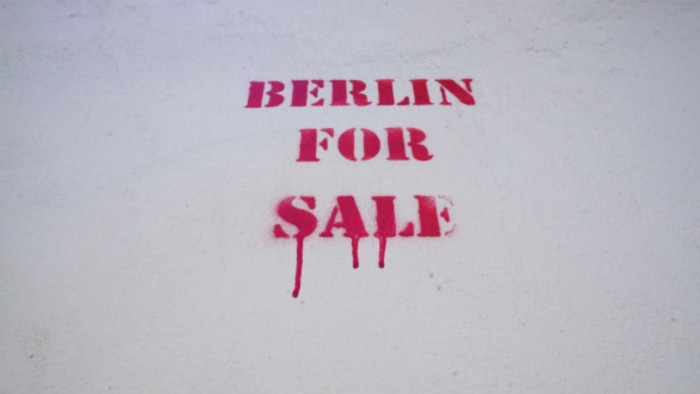 Berlin is set to hold a referendum on banning landlords who own over 3,000 properties, and changing privately rented properties into social housing.
The German capital, which has become a popular city for millennials after being voted the best city for them to live in, is technically its own state, and has a balloting system which means it can hold its own referenda on issues they feel deserve it. Remember when the word referendum wasn't associated with the omnishambles of our own current political climate? The Germans are doing something right.
Housing activists in the city claim that private landlords such as the huge estate agents Deutsche Wohnen AGare driving up property prices and selling places at much higher than market value. Is Deutsche Wohnen AGGerman for Foxtons, we wonder?
Berlin had fast rising property prices in 2017, with rents increased by 20.5%. This has been met with widespread protests and residents urging government to do something more about rent control.
Of course, the UK knows a thing or two about the lack of rent controls, with landlords seemingly able to hike up their prices as and when they see fit, much faster than bosses want to hike our wages.
Victoria Spratt, housing journalist and author of Tenants: Stories of Britain's Housing Shame (published by Profile, 2020) says the UK needs to follow suit.
'Britain urgently needs to think about rent control, especially in London. Sadiq Khan has already made this a key component of his re-election bid for next year. The housing crisis is now considered to be a national emergency by the charity Shelter because rents are unaffordable for so many people. Their recent commission on social housing report found that an increasing number of people are caught in a rent trap - handing over vast amounts of their income to private landlords and therefore totally unable to save. We know that the number of renters is going up up up - it's estimated a quarter of all households will rent by 2021 and the number of middle aged renters has doubled in the last two decades. This is no longer just a young people or low income household problem. This is why we urgently need more protections for renters - including caps on rents and longer tenancies. The Tenant Fee Bill which bans letting fees will come into force in June, it's a start but there's more to be done.'
The activists need 20,000 signatures in order for their vote to go ahead, but opinion polls have showed this shouldn't be a problem, as we imagine the case would be here. If they win, around 200,000 homes would fall under the scheme to have stabilised rents and count as social housing.
Perhaps this is a ray of hope in the rental market that all is not lost, if Berlin pushes against the capitalist tide, who knows, the UK might have more ammunition to follow in it's footsteps.
Related Reviews and Shortlists