ShortList is supported by you, our amazing readers. When you click through the links on our site and make a purchase we may earn a commission.
Learn more
If anybody ever tries to tell you that Apple has lost the ability to innovate, point them to this patent that includes two words rarely seen adjacent to each other: "eyebrow sensors."
Yes, the long-rumoured mixed-reality headset that Apple is said to be beavering away on has a fresh set of rumours thanks to the patent, first spotted by Variety. Entitled "Display System Having Sensors," the patent describes a device that "provides 3D virtual views of a user's environment augmented with virtual content."

So far, so mixed reality, but the patent goes further with its "head pose sensors" that capture the position of the user in the environment. These are accompanied by sensors for the eyebrows to track expressions, and lower jaw sensors for mouth movements.
On top of this, the head-mounted display will apparently be able to scope out the user's environment, with depth and light sensing, which would help virtual content fit better. It also seems to contain a camera that captures video of the actual environment to display virtually.
Here's a sketch of how it all looks. We assume those are arms, rather than someone's head being grotesquely mounted on a tripod.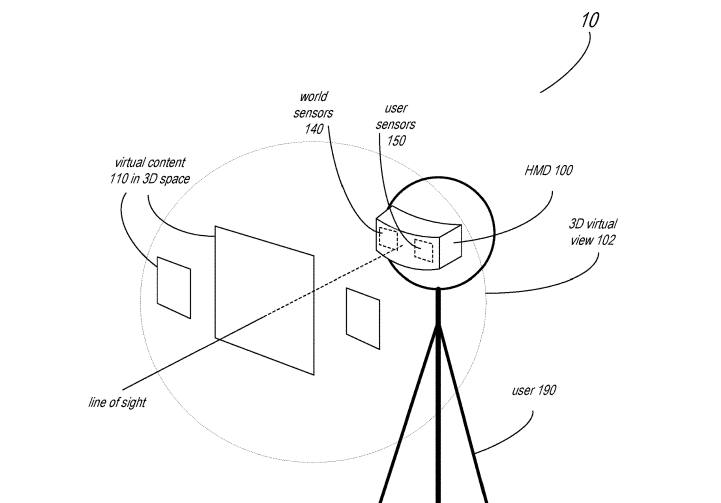 Of course, it's worth remembering that this is just a patent, and patents aren't always acted upon. Last year, Apple itself filed nearly 800 of them and not every one of these will ever be used. Sometimes, it's just about getting there first – and reports have suggested that the company might be having second thoughts about the whole mixed reality thing anyway.
For something more definite, be sure to check out our list of the best PSVR games.
Image: Laineema, used under Creative Commons

Related Reviews and Shortlists