ShortList is supported by you, our amazing readers. When you click through the links on our site and make a purchase we may earn a commission.
Learn more
"I was making more money from 'eating' than from my actual job": Confessions of the UK's #1 competitive eater
How to eat 13 tubs of Ben & Jerry's and still stay fit Have you ever felt like you were so hungry that you could eat the entire Papa Johns pizza menu? Adam Moran has. From eating 100,000 calories in 100 hours, to taking down previously undefeated restaurant challenges up and down the country, the impressively bearded Yorkshireman has built a reputation as one of the best competitive eaters in the world.
Adam (aka BeardMeatsFood) has always had a big appetite – and he is now ranked as the UK's number one independent competitive eater. But believe it or not, it all started with a diet.
---
---
"I got really enthusiastic about fitness and strength training in my mid-twenties," says Adam, who is now 32. "I did this long diet just to see how lean and in shape I could get. I got down to something like 8 per cent body fat." Once he was done, he decided to give himself a reward.
"My girlfriend said she'd seen this local food challenge at a restaurant. I decided to do it as kind of a treat," Adam explains. "I managed it, really enjoyed [it] so did a few more as a bit of a weekend hobby.
"It just gathered momentum from there until my sister's husband said to me one day: 'Hey you should start a YouTube channel', so I just started uploading videos of me eating."
In the last three years "videos of eating", have earned Adam 300,000 YouTube subscribers and over 41 million total video views. "I seemed to slowly develop a cult following," he says. "Before I knew it, I was making more money from my eating exploits than from my actual job. So, I quit and went full time on YouTube."
Being paid thousands of pounds to eat sounds like a dream job, but the YouTuber admits it can be hard work. How can you possibly stay healthy if you're eating 13 tubs of Ben & Jerry's in one sitting? For Adam, the answer lies in simple mathematics.
"I need around 3,000 calories a day to maintain weight. If I happen to eat 10,000 calories on one day shooting a video or doing a contest for example, then I'm effectively in a 6,000-calorie surplus. Over the next few days I under-eat." On these days, Adam will eat "nutrient dense" foods like fruits and vegetables, while drinking plenty of water.
"You feel uncomfortable sometimes of course. But you just suck it up, deal with the discomfort and stay hydrated to make sure your body passes everything smoothly."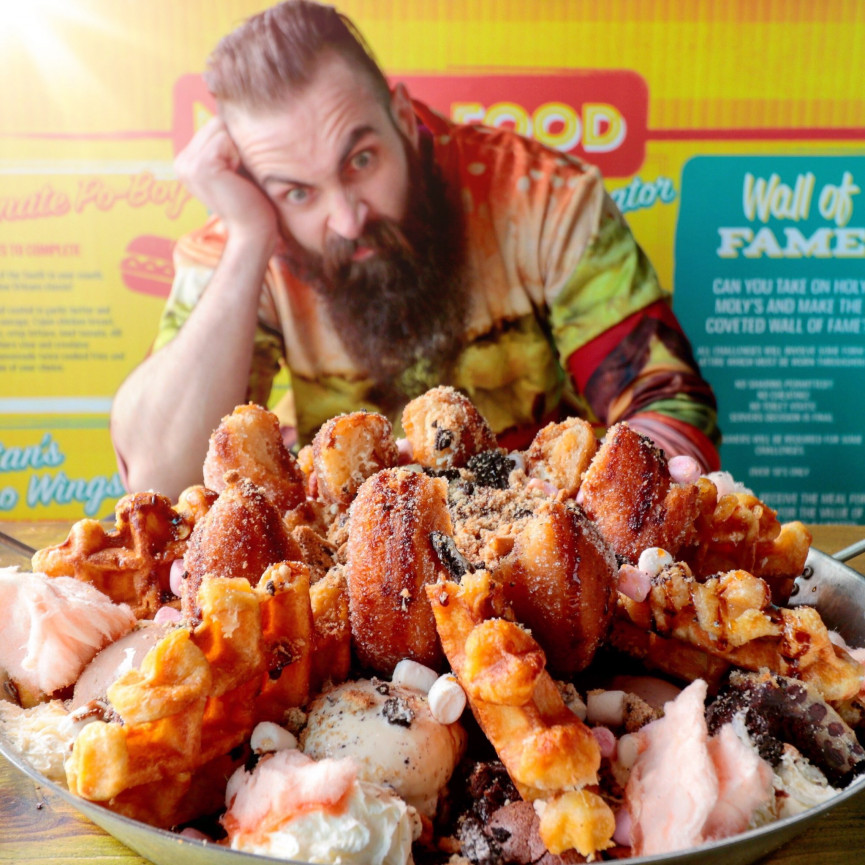 Adam says he competes because he "loves food" and, using these methods, has figured out how to manage the excess calories in a healthy way. He is troubled, however, by others in the industry.
"[Some people] fall into competitive eating I think as a means to legitimise eating disorders," he says. "It would be hypocritical of me to say I've never thrown up after having overdone it a bit though, especially in the early days.
"I'm certain most people with a bit of common sense would understand that if you're really testing your body's natural reflexes to the max, then accidents happen, but there's a reason you rarely see 'accidents' at major pro contests."
Online, people engage in increasingly more dangerous eating stunts to grow their subscribers and fans. In the last few months, Adam has eaten: the entire Domino's sides and deserts menu; 12,000 calories of cereal bars; every pie from Pie Minster; £60 worth of Five Guys; and, to celebrate the World Cup, over 12,000 calories of Doritos, pizza, and ice-cream in under an hour.
"A lot of people see it as a bit of a freak show"
"You always want to keep delivering bigger, better, more impressive content, but I'm fortunate in that my subscriber base is one forged through years of hard work, interaction and listening to what people want, rather than some flash in the pan over night viral growth," he says. "Most of my subscribers understand my limitations and just want to see regular fun content, rather than potentially dangerous or harmful stuff."
This doesn't mean, however, that Adam doesn't push himself. Now he's the UK's number one independent competitive eater, he hopes to "stick it to the pros over in America" in the coming years.
"There aren't any particular people I'd say I'm competitive with, but when the YouTube crowd get together at the table, I want to win," he says. "If I see a fellow YouTuber at the table, I'm going to go as hard as I can to beat them."
Yet although he is "naturally competitive", Adam says that, away from the table, competitive eaters are "an incredible community".
"A lot of people look from the outside in and see it as a bit of a freak show, which of course I understand, but almost everyone I've met through competitive eating is now a friend for life."
---
MORE:17 EASY ways to make next level hamburgers (according to top chefs)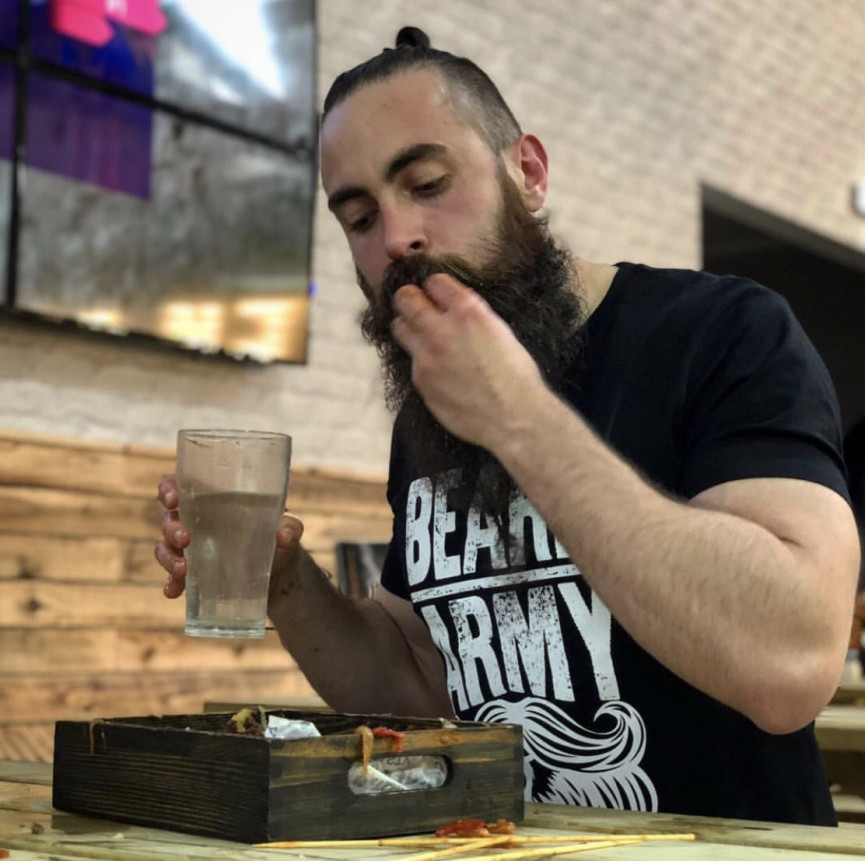 But having just returned from the HWY55 burger eating contest in North Carolina, USA, Adam's next target is taking a well-earned break.
"Honestly, I practiced so much for HWY55 that I just wanted to take a week or two off when I got back home. Believe it or not it's tiring eating like this all the time! A bit of time with the fiancée is on the agenda since she puts up with all this madness year-round." After his break, a few restaurant promos, and some TV work, Adam will get "back to practicing for the world pumpkin pie eating championships in Buffalo", which take place in October.
" The more you get down in the first ten minutes, the better you'll do"
For those of us who fancy ourselves as big eaters and want to have a crack at a food challenge, Adam's advice is relatively simple.
"Know your limits. If your stomach capacity is that of an average human and you try to eat 7lb of food, then you're doomed to fail before you begin. Do some research and pick out a real rookie challenge. Something around the 3lb mark. Leave a good 16 hours between your last meal and the challenge, and sip at plenty of warm liquid throughout the day before eating. When you get to the table: eat fast. I don't mean as fast as me but eat with some urgency. The more you get down in the first ten minutes, the better you'll do!"
That said, Adam is quick to discourage anyone looking to replicate what he does.
"You wouldn't step into a ring with Connor McGregor after sparring for 20 minutes with your grandma. Likewise, you wouldn't try to eat a 4lb burger in 2 minutes 42 seconds after having never tried to speed eat. It's all about knowing limitations and what your body is personally capable of."
---
MORE: 10 ways to hack the McDonalds menu (according to top burger chefs)
---
(Pics: Adam Moran)
Related Reviews and Shortlists