The trailer is rocking frantically back and forth, the 'creak, creak, creak' providing an awkward — and seemingly never-ending — background noise as we stand in the hot July sun.
The gaggle of journalists gathered outside the catering tent exchange glances. Then come the whispers questioning what's going on inside. We widen our eyes and pin back our ears. We are about to witness a proper scandal. Involving a proper famous person. With our own eyes and ears.
"He's working out."
'Working out'? Oh, how we laugh, raising our eyebrows in a knowing manner. We're journalists. We know.
"Yes," comes the baffled reply. "Working out. With a personal trainer." But it's lunchtime. And he's British. And he's funny. And he's renowned for stuff. Shouldn't he be eating a pasty in the catering tent, regaling the crew with tawdry stories before disappearing off with a production assistant? Well, well. Russell Brand is full of surprises today.
A NEW MAN
As we'd arrived on set of the remake of classic comedy Arthur, in Yonkers, just outside New York, it was apparent that quite a bit had changed for the former-MTV host.
There are towering sets, sawing, banging and other serious noises coming from a nearby yard. And lots of people with headsets on are barking in American accents. While Brand has the likes of Forgetting Sarah Marshall and Get Him To The Greek under his belt, this is a different league altogether. He's Arthur. Who's previously been played to perfection by Dudley Moore.
In fact, it's quite clear that this is no small undertaking for anyone involved. The word 'risky' seems appropriate. "I don't feel that it's a disrespectful thing to do — it's not a parody or anything," says Brand when this is put to him.
"It's not like we're holding up the original Arthur to ridicule, or staging a Maoist book burning of it in a public square." Maybe not, but Arthur, after all, is a film that many still hold dear 30 years after its release. A film that saw one of Dudley Moore's finest performances. A film that produced the knockout chemistry between Moore and Liza Minnelli.
A film that bagged an Oscar for Sir John Gielgud. It's also a film that came out in 1981. Ah, 1981. How funny Arthur seemed then, the arrogant and irresponsible billionaire played out on cinema screens as the world sat on the cusp of boom times. Now it's 2011. The world is just crawling out of a painful recession with fresh memories and bruises. Suddenly the 'lovable drunk' could seem, well, really irritating. A concern that wasn't lost on director Jason Winer.
"What has changed is the context in which the story takes place," he says. "To set this story in 2011 rather than 1981… A lot of things have changed in the world. First of all, you can't be this rich and this badly behaved without garnering media attention, as Russell Brand has discovered. The notion of Arthur being a public figure is something that changes and updates it."
That's not the only thing that has changed. Brace yourselves: gone is the character of Hobson, Arthur's loyal butler, originally played by Gielgud. But, wait: Hobson still exists, only he's been re-imagined as Arthur's nanny, played by Helen Mirren. "Arthur described Hobson in the original as 'the best friend in the whole world' — that's one thing that stayed," says Winer. "That relationship is still true."
Indeed, out of character, the two actors seem to get on famously. The day before we're on set, Brand tweets an innuendo-laden picture of himself being bathed by Mirren.
"The image that you saw was Russell's own twisted sense of humour," laughs Winer. "There is a scene in a bath tub… [but] there's nothing sexual about the relationship."
Mirren herself seemingly had a hand to play in this: "Russell had done this riff, talking about me [on Late Night With Jimmy Fallon]. I was resurrecting that scene that he's talked about as being one of his fantasies. I said, 'OK, your fantasy's about to come true.'"
Mirren, who has worked with some of the greats of stage and screen, can't praise Brand enough. "He's a kind of genius," she says. "When Russell takes off he's just extraordinary."
This seems to be a running theme of the day, and surprise number two. We're not saying that Brand hasn't turned in decent performances before. But this is big. And everybody seems convinced that he can pull it off.
Winer shares the following bold claim: "What people don't know about Russell is that he's an incredibly studious actor. That he takes things very seriously and has an incredible emotional depth. He's going to surprise a lot of people with his very emotional performance… He's been, frankly, a dream. He gives us something different on every take."
This becomes apparent as we watch Brand and Mirren work on their scene set in Arthur's penthouse apartment. With each take he alters his delivery — whether it be his intonation, emphasis or a small physical change only perceptible if you've watched the same scene 15 times. Between takes there's no larking around. He stands and repeats the lines under his breath over and over again.
But, arguably, how much of a stretch is it for an ex-alcoholic to play an alcoholic? "He is an excessive character," says Winer. "He's a much happier spirit than any character we've seen Russell play before. This character's happier with his life. He happens to drink to excess, which suggests a piece of him that's broken, which is the part of him that's similar [to previous characters]."
But isn't it a tad dangerous to expect him to get into the 'zone' of being drunk? As someone who's been sober for nine years, how does Brand even manage this? "He does some crazy stuff to get into the 'mood'," admits Winer. "Like sniffing booze… It's a little bit method of him."
When we put it to Brand later that day, he explains that he also draws inspiration from men that he considers great. "I'm a big fan of Dudley Moore and Peter Cook," he admits [Moore claimed to have based his original performance on Cook]. "I always loved this film… I was a big fan of what they did with it, and also Beyond The Fringe." But were his own darker days of no use? "It's important that Arthur is like a merry, twinkly drunk, not a tortured, morally ambivalent, street-walking, self-harming psychopath. So my own experiences were of little use." Does he worry about being typecast? "When you consider problems such as the BP oil spill, the gradual ecological destruction of our planet, racism and war, being typecast doesn't seem like such a concern," he quips.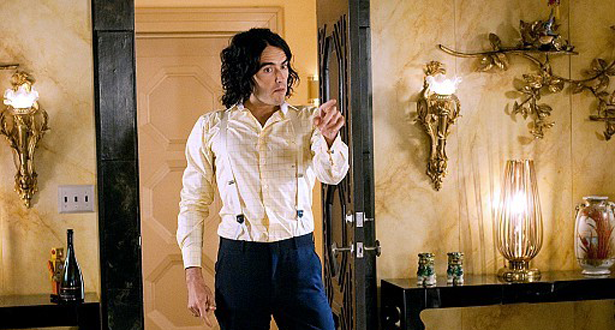 A CHANGE HAS COME
Although Brand loved the original, Mirren was a different story, as the director recounts: "She was the only person who I'd ever heard say that she wasn't a fan of the original. She said, 'I realise I'm being a snobby feminist, but Dudley Moore's character doesn't change at all and Liza Minnelli's character accepts him blindly at the end.'" This seems to be where the biggest change in the reimagining lies. In an arguably more moral and responsible world, Arthur has to learn something. Redeem himself.
"We had to work harder to earn some real change in Arthur's character," says Winer. "So that somebody as strong as the character of Naomi [the new love interest, played by Greta Gerwig] would want to be with him."
Redemption and change are themes that you can imagine Brand having more than a little experience with. He's the last of the cast and crew we talk to that day. We're due to meet him at lunch, before his personal-training session took priority. We hear that it'll be after lunch. Then we hear that it won't be until the end of the day's filming, possibly heading into the night. But then, suddenly and unexpectedly, we hear, "Russell's coming, RUSSELL'S COMING," and in he strides with a small stream of people (we're still unsure as to what their jobs were).
He's not the skinny-jean hirsute dandy we were expecting. Sitting in a vest and tracksuit bottoms, Brand looks like he's lived in a Minority Report-esque tank in LA for a few months. He's tanned. He's clean-shaven. (How hard was parting with the facial hair? "Very difficult. I imagine people have undergone amputations with less bother.")
He's relaxed. He's worked-out. He's, well, buff. Just when we think that he's going to spout some New Age philosophy, we ask him what it is that he likes about Arthur. "He's fun. That's the key to the character. You can go two ways with nihilism — one is death, the other is fun."
No personal trainers or lack of pasty-eating can change Brand's spirit. The rest of the world will decide if this is enough to be Arthur.
Arthur is at cinemas nationwide from 22 April