ShortList is supported by you, our amazing readers. When you click through the links on our site and make a purchase we may earn a commission.
Learn more
It's a new year, so you've probably got a big old list of resolutions you're not going to keep.
You know your own capabilities, and you know those goals you set are way beyond what you can achieve in the space of 12 months, so it's worth chucking a few gimmes in there to make sure you end 2018 having ticked at least a couple off the list.
Quitting alcohol for a month or doing more exercise this year than you've done in the last five combined are not only tricky, but they're not done until they're done.
So, as our new year's treat to you, here's a resolution you can keep, and have fun while doing so.
That one resolution to add to your list is '20 18s for 2018'. That's one 18-rated movie from each of the last 20 years. You've got 12 months to watch them all, but hey, we won't judge you if you lower your target to one per month, or even just a couple in 2018. We just want you to watch good films, OK.
These are 18s for various reasons - sex, drugs, violence, a combination of all three… we've got the whole gamut covered.
(all write-ups from Tom Victor, except where specified)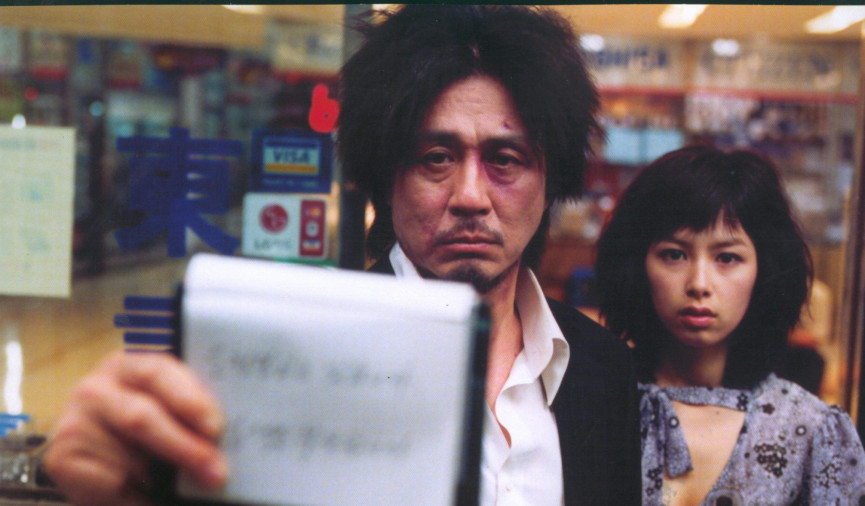 1998 – American History X
One of a whole host of films which made us feel very old when we learned they were turning 20 this year, American History X is arguably the best film the majority of its cast members have ever been involved in. Oh, and if you want to pick a vague subgenre to sum up the world-at-large, 'recently-empowered Neo-Nazis in America' probably fits the bill, unfortunately.
1999 – Bringing Out the Dead
Plenty of people slept on this Martin Scorsese vehicle upon its release, and the leading cast of Nicolas Cage, Patricia Arquette and John Goodman might not have the instant big-ticket name recognition of the director's more recent films. Don't let that put you off, though. Cage produces one of the most accomplished performances of his career as sleep-deprived paramedic Frank in a film which is equal parts unsettling and bleakly hilarious.
2000 – Requiem for a Dream
Have you watched some of Darren Aronofsky's more recent releases and sat there confused, unsure why he has consistently got such a big build-up while producing material that's decent but somehow lacking? That may be because you've yet to see Requiem for a Dream, Aronofsky's most unsettling and unpleasant work and – by extension – his best. Or maybe you have seen it, and have hoped in vain that he'd repeat the feat rather than coming close but not quite getting there.
2001 – Y Tu Mamá También
Back in 2001, Gael García Bernal and Diego Luna were barely known in the English-speaking film world, while Alfonso Cuarón was still in his pre-Harry Potter days. That changed with the release of Y Tu Mamá También, a beautiful coming-of-age road movie which will keep you engrossed in its lead characters' stories throughout, and remind you what it was like to be young, stupid and wrong.
2002 – City of God
City of God is a personal favourite, so I'm making no apologies for including it here. Like Y Tu Mamá También, it puts a great amount of trust in young cast members – in fact, many of those involved were either less experienced or complete novices at the time of filming. Lead actors Alexandre Rodrigues and Leandro Firmino had no big-screen experience before being cast in Fernando Meirelles and Kátia Lund's crime drama, but compelling storytelling and a natural chemistry across its young cast make this one of the first films you should watch while making your way through this list.
2003 – Oldboy
No, not the Spike Lee one, obviously. The original South Korean movie Oldboy, directed by Park Chan-wook, is one of the most compelling watches of the 21st Century. Worth watching for one scene in particular – you'll know it when you see it – but the entire thing is brilliantly tense, gory but not gratuitously so, and a wonderful demonstration of Park's qualities as a filmmaker, showing his ability to take the raw brilliance of short film Cut and translate those talents into a feature-length production.
2004 – Saw
Huh, the first Saw turns 14 this year, which means it's now old enough to sneak into a cinema screening of Saw with its fake ID and watch the first instalment of the franchise of diminishing returns. Later films in the sequence might have been a little more formulaic, but it's worth revisiting James Wan's sophomore film to see how he takes horror elements which others have struggled to replicate and makes it look so, so easy.
2005 – A History of Violence
He might have done a lot more before and since, but in 2005, Viggo Mortensen was best known as Aragorn from the Lord of the Rings series. There are no two ways about it – once you're involved with something so big, it sticks with you until you produce something that helps you escape it. That something was A History of Violence, which saw Mortensen make exactly the sort of departure needed to escape his blockbuster past. It's a David Cronenberg film adapted from a graphic novel, so you know what you're getting to a point, but there are many things you don't know and won't anticipate.
2006 – The Departed
I'd also include Infernal Affairs, the Hong Kong film on which this is based, if that hadn't somehow escaped with a 15 rating. Anyway, watch that too, but also watch this Best Picture Oscar winner, with its 'hey, give someone else a chance' cast of Leonardo DiCaprio, Matt Damon, Jack Nicholson and Mark Wahlberg. It's good if you haven't seen the original and it's good even if you have. You know, because Scorsese.
2007 – Planet Terror
Remember Grindhouse, that weird pet project from Quentin Tarantino and Robert Rodriguez? The one consisting of a film from each director, plus a load of fake trailers? The one that was subsequently chopped in two and each segment released separately in extended versions? The one that was half very shit and half very good? Yeah, well it's the 'very good' slice we're focusing on here - Robert's banger of an exploitation movie, complete with zombies, exploding heads and a woman with a machine gun for a leg. It's like they made this film specifically for me.
(Gary Ogden)
2008 – In Bruges
Thankfully we were spared the 'Is In Bruges a Christmas film' chat this year because everyone was going big on Die Hard, but hopefully you still watched it. If not, make it your mission to watch it in 2018. I don't care what Domhnall ends up doing this year, Brendan's performance here is still the best from a Gleeson in cinematic history. In case you were surprised by the rating, it was flagged for 'strong bloody violence, very strong language and hard drug use' i.e. the best kind of 18.
2009 – Inglourious Basterds
Quentin Tarantino will keep making films, and people will keep enjoying them, but none of his films since Inglourious Basterds have been as good as Inglourious Basterds. In fact, none of them are as good as its opening scene, which lays the foundations for the blend of tension and humour that follows. For all the praise for Tarantino's dialogue, those scenes where less is said are among his best.
2010 – Super
Remember 2010, when all we could talk about was Kick-Ass, that film about an 'ordinary' superhero played by Aaron Taylor-Johnson? Well, that same year saw the release of Super, a film starring Rainn Wilson, which focused on – you guessed it – an 'ordinary' superhero. It might have struggled in the box office, but the performances of Wilson, Ellen Page, Liv Tyler and Kevin Bacon make this well worth a watch – especially now, free from the shackles of that other film.
2011 – Red State
Kevin Smith's back catalogue outside the 'View Askewniverse' have received mixed receptions, but Red State absolutely nails what it sets out to achieve. It's the closest Smith has come to making a straight horror film, and it's a faithful stab at an unfamiliar genre which does more than enough to keep you entertained throughout. Probably one of the best films you both missed at the time and forgot existed altogether.
2012 – Dredd
Dredd did not do very well at the box office, and that, my friends, is a painful tragedy. Especially when you consider the dire Stallone version out-grossed it by a long way, back in the confusing days of 1995. But Alex Garland, Pete Travis and Karl Urban's take on the iconic comic book character is an absolutely wild ride. It's stripped back, tense and violent in the most beautiful way possible - the slow-mo gun fights are works of claret-splattered art - it was everything a Judge Dredd movie should be. But nobody saw it, and a sequel that people actually wanted to see was canned as a result. Well done everyone!
(Gary Ogden)
2013 – The Wolf of Wall Street
It feels like just yesterday that Jonah Hill shocked Superbad and 21 Jump Street fans by producing a second supporting actor role worthy of an Oscar nomination (after 2011's Moneyball), but December 2018 will mark five full years since The Wolf of Wall Street premiered. Hill, Leonardo DiCaprio and Margot Robbie are all brilliant here, as you probably already know, and it's probably been a few years since the record-breaking use of the word 'fuck' and that Matthew McConaughey scene passed before your eyes, so give it another watch.
2014 – Maps to the Stars
The second Cronenberg feature on this list, Maps to the Stars picked up a Palme d'Or nomination at Cannes but never found itself in the reckoning for the Oscars. That's a shame, because Julianne Moore's performance as fading actress Havana Segrand could have provided solid competition to *checks notes* Julianne Moore's performance in Still Alice. Yeah, that was a good year for her. The film is more than Moore, though, with young co-stars Mia Wasikowska and Evan Bird both producing moments of brilliance.
2015 – Green Room
OK, I'm going to lay it out there right away, Green Room isn't pleasant viewing. In fact, at times, it's actively unpleasant viewing. However, it's expertly put together and exactly the right kind of uncomfortable. You were already sold, I know, but it's also got Patrick Stewart as a white supremacist, Arrested Development's Alia Shawkat in a rare big-screen role, and one of Anton Yelchin's career-best performances, just one year before his untimely death.
2016 – Hardcore Henry
This one is certainly a test of endurance - it takes a certain type of resolve to sit through a movie that is entirely filmed from a first-person perspective, and never ever, not even for a minute, slows down in any way. It's a constant barrage of relentless carnage, from beginning to end - it was 2016's Crank, essentially. I can imagine a good majority of the public would quit this halfway through, but if you're the kind of person who likes banging their head on the wall for an hour and a half to unwind, then this is right up your street. What beautiful nonsense.
(Gary Ogden)
2017 – Raw
If you're in the market for a film that has the potential to swiftly return your lunch to the outside world, then Raw is probably a safe bet. It's your standard coming-of-age college movie, only with the added spice of cannibalism in the mix. Lots of flesh-munching, basically. Lovely bit of skin-chewing, you've got here. Nice slice of gut-chowing, for your troubles. It's top stuff though, a refreshing take on a well-worn genre - just probably not one for teatime viewing, is all.
(Gary Ogden)
(Images: Rex)
Related Reviews and Shortlists