ShortList is supported by you, our amazing readers. When you click through the links on our site and make a purchase we may earn a commission.
Learn more
10 futuristic bits of phone tech that are already here
The biggest connectivity show has given us some of the year's best phones... already.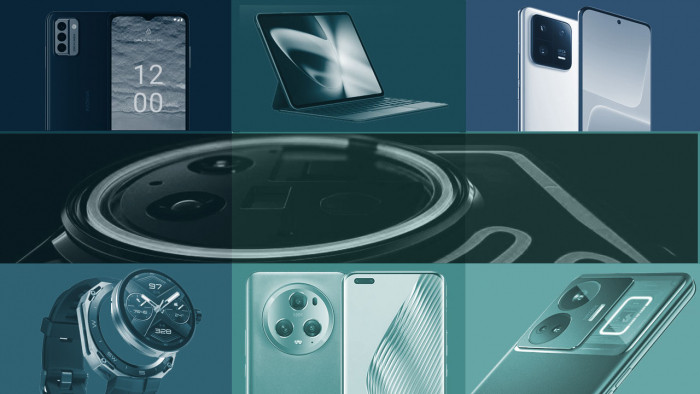 While it's fair to say most of the important business in the smartphone industry takes place in the US and China, it's Europe that lays claim to the biggest mobile phone event of the year.
Mobile World Congress (MWC) 2023 has just wrapped up in Barcelona, having bombarded us with all manner of exciting new smartphone and smartphone-adjacent products.
From rollable screens to liquid-cooled concept phones, MWC 2023 has wowed us in so many ways.
Here are some of the coolest bits of mobile tech we've seen at MWC 2023. Or, to put it in a snappier way, here are 10 futuristic bits of phone tech that are already here…
---
1. Motorola rollable phone Foldable phones are yesterday's news, if Motorola's slick concept phone is anything to go by. The device on display at MWC 2023 starts out as a small, slightly square 5-inch smartphone, but then magically expands into a full-sized handset.
Unlike the Galaxy Z Fold 4 and other foldable phones, there's no unsightly crease, and you can always interact with the phone, even when it's 'folded away'. The rollable display folds around the back of the phone when in compact form, providing a handy selfie viewfinder.
2. Xiaomi 13 While we've featured the more expensive Xiaomi 13 Pro elsewhere on this list, the cheaper Xiaomi 13 actually looks to be the classier, more refined phone of the two. It's just as powerful as its Pro brother, with a similarly vibrant screen, but it comes in a sharper and more compact flat-edged design.
Add in a dedicated telephoto camera, speedy 50W wireless charging, and an IP68 water resistance rating – none of which are a given in a sub-£900 phone these days – and you have one of the most promising compact phones of 2023.
3. Xiaomi 13 Pro The Xiaomi 13 Pro is designed to take the fight to the likes of the iPhone 14 Pro Max. It's big, expensive (£1,099), and extremely powerful, with a sharp and bright 6.73-inch AMOLED screen and rapid 120W charging.
But the most exciting thing about this particular premium phone – and the key advantage it has over its sleek non-Pro brother – is its huge 1-inch Sony IMX989 camera sensor. We're expecting great things of this phone on the photographic front, especially when it comes to low light shots.
4. OnePlus 11 Concept The OnePlus 11 Concept might be based on the OnePlus 11 flagship phone that recently launched, but the main point of interest lies in its Active CryoFlux system. It might sound like a stomach-settling medicine, but this is actually a miniaturised take on the kind of liquid cooling system used to boost performance in hardcore gaming PCs.
According to OnePlus, this system can boost gaming frame rates and charging times alike. The OnePlus 11 Concept also looks really cool, with wavy RGB lighting shining through the rear cover.
5. OnePlus Pad Let's be brutally honest: the phrase 'Android tablet' has scarcely engendered any excitement for pushing a decade now, with Apple's iPad line well and truly bossing the tablet format. We like the cut of the OnePlus Pad's jib, however.
The brand's first attempt at a tablet is a distinctive addition to the market, with a unique 11.61-inch 7:5 144Hz display, an atypical (but still poky) MediaTek Dimensity 9000 processor, decent speakers, and a bundled stylus.
6. Realme GT 3 The Realme GT 3 looks like, and indeed pretty much is, just another generic Android flagship phone but for one thing. It can charge from empty to full in less than 10 minutes. Thanks to a staggeringly rapid 240W charger, this is the fastest-charging phone we've ever seen.
This could revolutionise the way you use your phone. Why plug it in overnight when you can simply give it a quick juice up while you're putting your shoes on?
7. Nokia G22 At first glance, the Nokia G22 is quite possibly the least remarkable smartphone on show at MWC 2023. It doesn't get any more exciting when you go hands-on with it either. This is yet another another sub-£200 phone from the resurrected Finnish brand.
What marks the Nokia G22 out as special is its ultra-repairable nature. Nokia has teamed up with the famous smartphone torturers at iFixit to offer display and battery repair kits, while the phone itself is extremely simple to take to bits.
8. Huawei Watch GT Cyber Smartphones didn't have all of the fun at MWC 2023. Comfortably the most interesting smartwatch concept at the show was the Huawei Watch GT Cyber. With this wearable, all of the gubbins (including the display) are housed within a compact puck, which is them plopped into an integrated strap-and-bezel frame.
This means you can fundamentally transform the look and feel of the watch just as easily as exchanging a strap. It should also make dinging your expensive gadget on the front door latch far less heart-breaking.
9. Honor Magic 5 Pro The Honor Magic 5 Pro is a really big, really capable piece of kit. With a trio of 50MP cameras, a Snapdragon 8 Gen 2 processor, a 6.8-inch AMOLED display, and 120W charging, the parallels to the Xiaomi 13 Pro are clear to see. However, Honor has packed in a larger-than-normal 5,100mAh battery, and its €899 price tag undercuts many of its rivals significantly.
10. Honor Magic Vs We would have skipped the Honor Magic 5 Pro and labelled the Honor Magic Vs as the brand's most exciting device on show at MWC 2023, were it not for the fact that it had already launched in China several months prior. There's no denying it's still an impressive bit of kit, though.
With no noticeable display gap when closed, a capacious battery, and a decent-looking camera set-up, the Honor Magic Vs seems specifically engineered to take on Samsung and its class-leading Galaxy Z Fold 4.
Related Reviews and Shortlists