ShortList is supported by you, our amazing readers. When you click through the links on our site and make a purchase we may earn a commission.
Learn more
Whether you think they're acceptable items of clothing for a grown man to wear or not, all football fans have an opinion on good-looking kits, and what were the best Premier League shirts of all time.

As we welcome in a new Premier League season, we thought it would be good to take a look at the football kits that caught our eye from the past - the best Premier League shirts every worn (and made).
After much painstaking research we can now reveal the definitive list of the greatest shirts worn in the Premier League...
Best shirts in Premier League history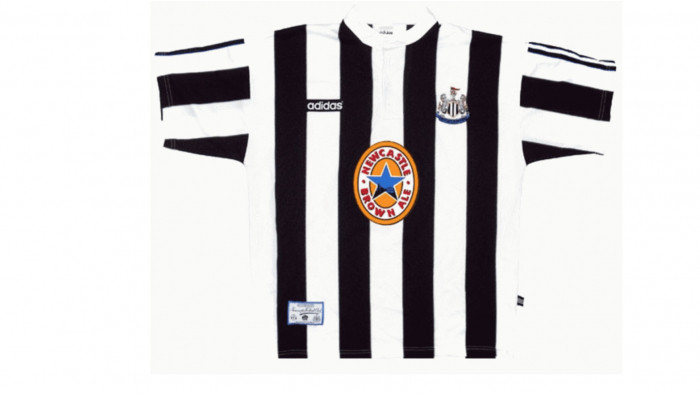 1

. Newcastle United 1995-97
Who made it? Adidas
Why is it great? An uncluttered design, a rarely seen grandad collar, Newcastle Brown Ale label on the front. A complete package and that's before you even factor in the goodwill the club generated by having one of the most exciting teams English football has ever seen in the years wearing this.
Fond memories? Let's hope so. Fans remain bitterly disappointed they only finished second in both seasons wearing this but in comparison to how things are now we're sure it must feel like paradise.
Best to wear it? Alan Shearer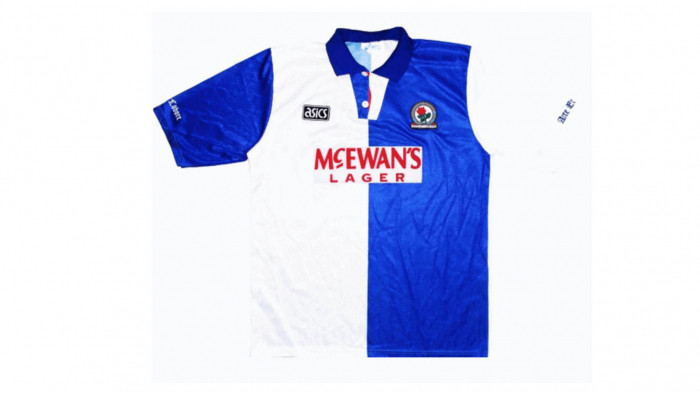 2

. Blackburn Rovers 1994-96
Who made it? Asics
Why is it great? A Blackburn shirt doesn't need much work to be great. Keep it simple and let the unusual half-and-half design speak for itself. Little touches of (Lancashire rose) red make it even more vibrant.
Fond memories? Rovers won the the 1994-95 Premier League title wearing this, so fond is an understatement. Every neutral in the country wanted them to get one over on United. The following season was less memorable: they finished seventh in the Premier League and bottom of their Champions League group. The astonishing on-pitch fight between David Batty and Graeme Le Saux took place while they wore their boring away kit thankfully.
Best to wear it? Alan Shearer Who made it? Le Coq Sportif
Why is it great? The typical Coventry kit since the 1987 FA Cup has been atrocious (anything from the Ribeiro oeuvre, Puma's hoops) or bland. But this is timeless. Uses thick stripes and traditional colours, making the likes of Peter Ndlovu and even Dion Dublin look graceful and purposeful. These were heady days at Highfield Road.
Good memories? They narrowly avoided relegation out of the Premier League wearing this. We're sure that 17th-place finish sounds pretty good to fans watching them in League One right now.
Best to wear it? Gary McAllister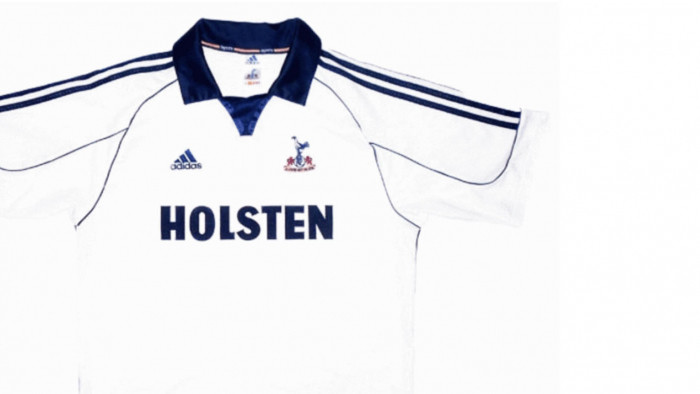 4

. Tottenham Hotspur 1999-2001
Who made it? Adidas
Why is it great? The switch from hit-and-miss Pony to Adidas also coincided with the return of a classic sponsor: Holsten. The shirt has a cool retro-style collar with modern touches that have stood the test of time.
Fond memories? Meh. Mid-table twice and one decent cup run.
Best to wear it? David Ginola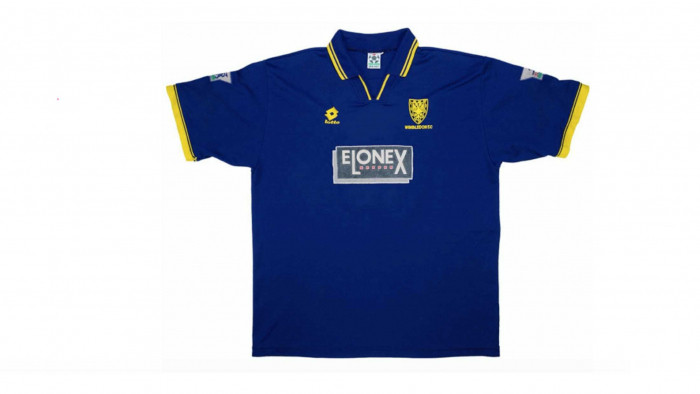 Who made it? Lotto
Why is it great? This was Wimbledon FC (RIP) at their most established. A kit that didn't make them look like top-flight gatecrashers, but rather one of the big boys. Smart with no unnecessary features, this was more attractive than the (admittedly effective) football they played in this era.
Fond memories? Absolutely. In their first season wearing this they finished eighth (just five points off Uefa Cup qualification) and reached the semis of both domestics cups.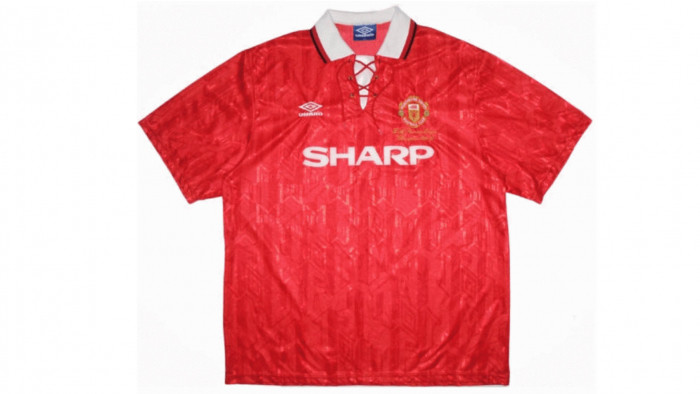 6

. Manchester United 1992-94
Who made it? Umbro
Why is it great? It changed the game. Umbro, having taken over from Adidas as United's kit supplier made the bold step of adding a lace collar and a patterned fabric without it ever looking to0 busy. Within a year everyone was looking to the past for inspiration as Sky beamed this instant classic into everyone's home every 30 minutes (or so it felt).
Fond memories? Wearing this United won their first title since the 1966-67 season. With the monkey off their back they've been winning them ever since (including both seasons in this kit).
Best to wear it? Eric Cantona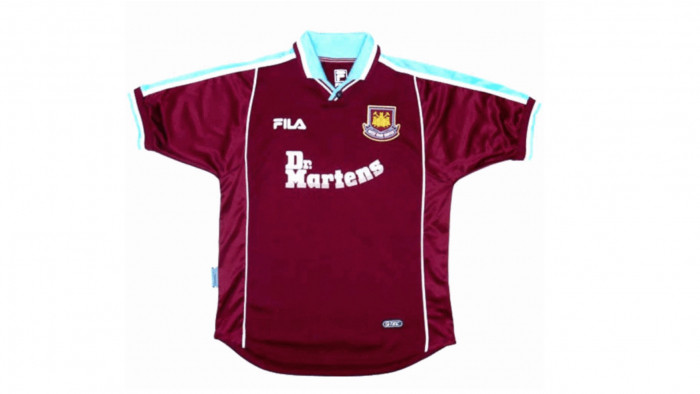 7

. West Ham United 1999-2001
Who made it? Fila
Why is it great? Fila doesn't make many kits over here but when it does they're pretty damn cool. The thick blue arm stripe really pops and gives the whole thing a very modern edge. Nice sponsor logo, too. The 2015-16 kit by Umbro, the last to be worn at the Boleyn Ground, has the chance of overtaking this one but for now this reigns supreme.
Fond memories? They won the Intertoto Cup in this kit so draw your own conclusions.
Best to wear it?Paolo Di Canio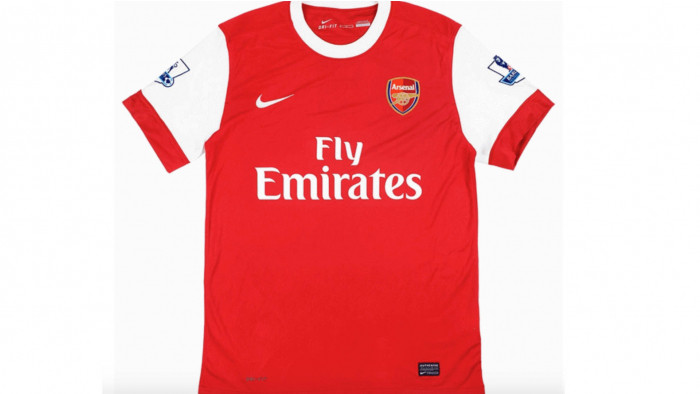 Who made it? Nike
Why is it great? Arsenal has probably had the most consistently good-looking kits since the Premier League's inception but this is the best of the lot. Clearly inspired by those worn at Highbury in the Sixties and Seventies, this has a classy round collar in white and is a beautifully unfussy shirt.
Fond memories? Nope. This was worn during the League Cup final defeat against Birmingham City.
Best to wear it? Cesc Fabregas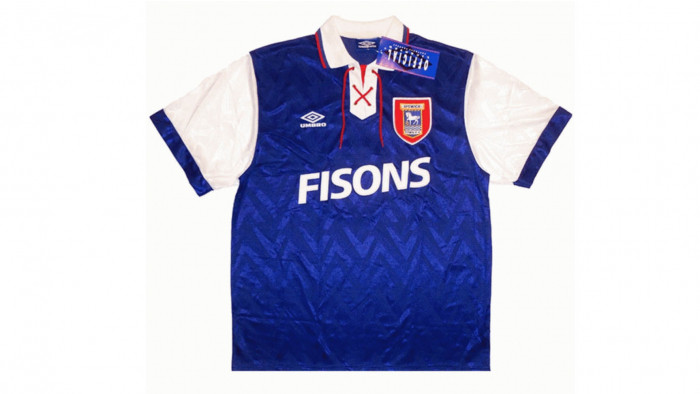 Who made it? Umbro
What makes it great? A classic example of the faux-heraldic aesthetic pioneered by Umbro in the early days of the Premier League. As the new broadcaster added fireworks and cheerleaders (whither the Sky Strikers?), venerable British football brand Umbro sought to emphasise the heritage of the clubs it supplied, leading to this absolute peach. Red, white and blue, daring lace colour and iconic sponsor word mark: the best post-Uefa Cup shirt the Tractor Boys have worn.
Fond memories? Worn for two Premier League seasons, relegated in neither, so let's say yes.
Best to wear it?John Wark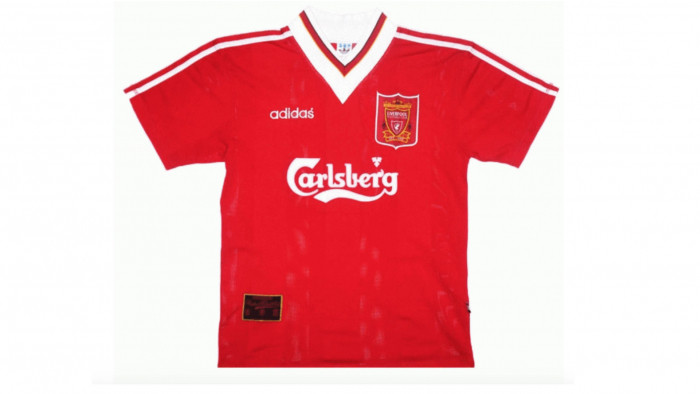 Who made it? Adidas
Why is it great? No brand has made Liverpool look better than Adidas has (the Reebok kits were so, so boring; let's gloss over Warrior) but narrowing it down was a challenge. We plumped for this effort, a radical departure from the previous few, all of which prioritised Adidas branding over the LFC aesthetic and were just colour-swap versions of the ones worn by the likes of Sweden. Notice the welcome return of the three-stripe arms and retro-inspired thick V neck alongside the Liverpool crest within an Umbro-style shield. It's actually a bit barmy but so was the club back then.
Fond memories? A mixed bag. Finished third but way off the top two. Reached the FA Cup final but lost (in their away kit) to Manchester United, who clinched the double. However there was that incredible 4-3 win over Newcastle, still considered one of the best matches in Premier League history.
Best to wear it? Robbie Fowler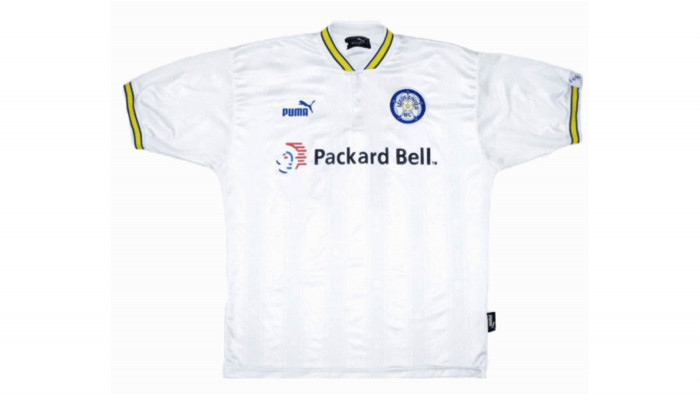 11

. Leeds United 1996-1998
Who made it? Puma
Why is it great? This may not be the first shirt that comes to mind when you think of Leeds but it should be. No shirt has ever pulled off the club's classy colour scheme of white, blue and yellow quite so well. The later boom-and-bust teams wore very stark Nike kits but this Puma effort has its own clean style while also boasting flourishes.
Fond memories? For the most part. They were mid-table in the first season of this shirt and a solid fifth – with Uefa Cup qualification – in the second, under new manager George Graham.
Best to wear it? Jimmy Floyd Hasselbaink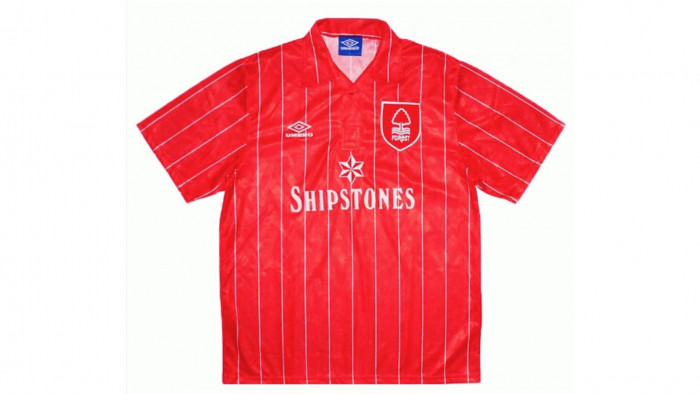 12

. Nottingham Forest 1992-93
Who made it? Umbro
Why is it great? Vintage Nineties Umbro on display here as a slick pinstripe was added to the traditional Forest red. Note classic local brewery as shirt sponsor rather than Canadian interloper Labatt's.
Fond memories? Not really. They finished bottom in this shirt's only Premier League season (although it was worn in the Football League the following year as Forest earned immediate promotion). It's also notable as the shirt worn by Teddy Sheringham when he scored the first Premier League goal to occur live on TV.
Best to wear it?Roy Keane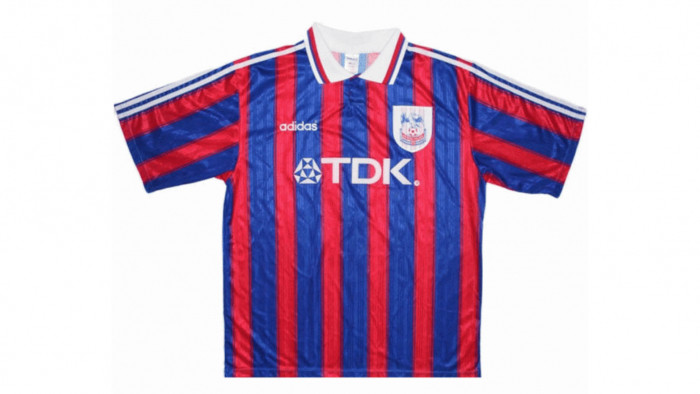 13

. Crystal Palace 1997-98
Who made it? Adidas
Why is it great? For some reason, brands like to tinker with the Palace design. Frequently the stripes are too wide, too red, too truncated or too faded. This strikes a perfect balance.
Fond memories? Yes and no. It was used in 1996-97 in the Football League and worn for the triumphant Playoff Final. But it was also in use for a Premier League season that saw Palace finish dead last.
Best to wear it? Attilio Lombardo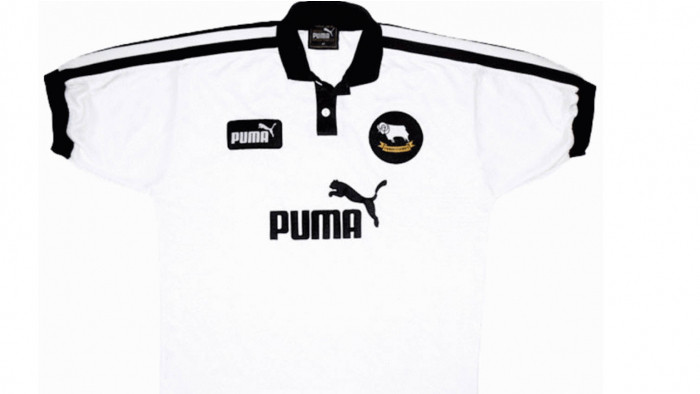 Who made it? Puma (duh)
Why is it great? Teams that play in white generally have the worst kits, but the use of thick black elements elevates this to a spot in our top 20. Having the two chest logos on black backgrounds is simple but hugely effective.
Fond memories? Certainly. The club finished ninth wearing this and just missed out on a Uefa Cup spot on the final day of the season.
Best to wear it? Paulo Wanchope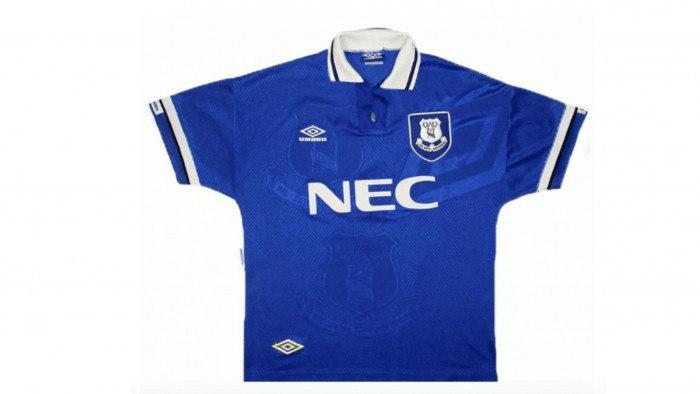 Who made it? Umbro
Why is it great? Before Chang came along, an Everton shirt didn't feel complete without NEC on it. Another early to mid-Nineties beauty from Umbro, with the badge in a regal looking shield and patterns on the fabric. Their kits went off the rails after this: black trim replacing white, NEC swapped for Danka and, in 1997-99, totally the wrong shade of blue.
Fond memories? Sort of. Both seasons they were scrapping to avoid relegation but they did win the FA Cup in 1995. Sadly they didn't wear this shirt on the day.
Best to wear it? Tony Cottee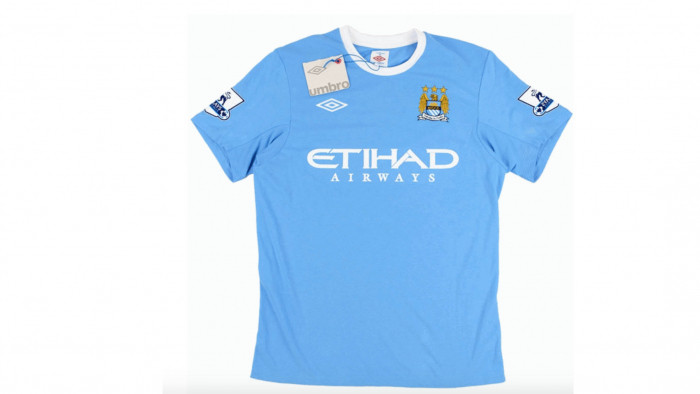 16

. Manchester City 2009-10
Who made it? Umbro
Why is it great? It's one of the the few club shirts under the 'Tailored By Umbro' banner and it's a beauty. It takes design cues from the ones City wore from 1961 to 1975 and could only be improved by the badge being round. The club is, sensibly, set to reintroduce a circular design.
Fond memories? Up to a point. It was the first season they started to look like the City we know and loathe right now but they failed to crack the top four this time.
Best to wear it? Carlos Tevez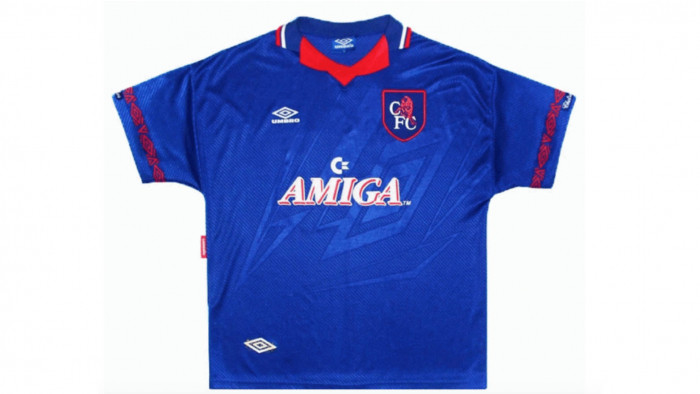 Who made it? Umbro
Why is it great? Because almost all Umbro kits of this era were impeccable. The esoteric collar and effective use of red as an accent combine with a wonderfully retro sponsor. We miss the Amiga. The 2015-16 shirt will probably reach cult status like this one has: a way of showing people 'I was supporting Chelsea when they were rubbish'.
Fond memories? Although they finished in the bottom half of the table the did reach the FA Cup final for the first time in 24 years. But wearing this they lost 4-0 to Manchester United at Wembley. It was enough to put them in Europe for the first time since the early Seventies however.
Best to wear it? Glenn Hoddle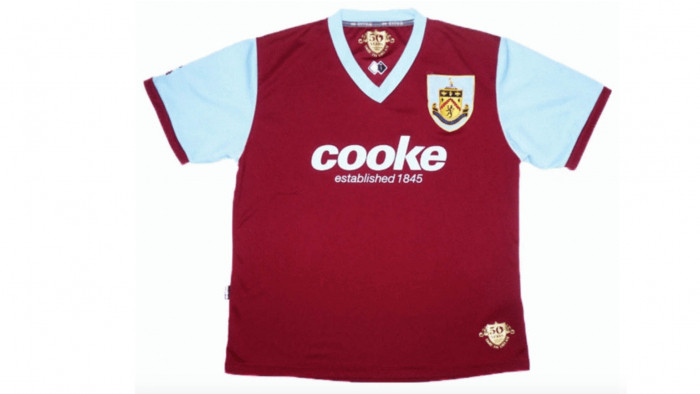 Who made it? Errea
Why is it great? Just look at it. The retro-inspired beauty was a tribute to the Burnley team that had won the title 50 years earlier, and was able to showcase this achievement in the Premier League no less.
Fond memories? Just about. It was a great achievement for Burnley to reach the Premier League, especially in such a special anniversary year, that this should overshadow the fact they got relegated.
Best to wear it? Steven Fletcher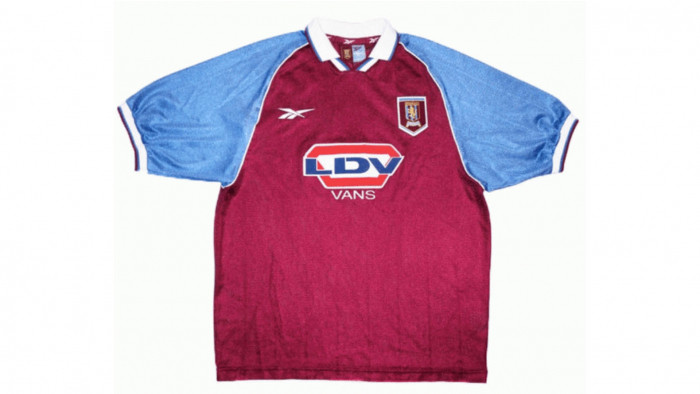 Who made it? Reebok
Why is it great? If any club has struggled to look good from a sartorial perspective it's Villa. There have been so many weak designs from the likes of Asics and Diadora in the Premier League era, so it comes to something when Reebok is the one that has made them look best. It's simple yet distinct, using plenty of blue. The rare use of white piping helps the colours stand out.
Fond memories? Not especially. They sold Dwight Yorke early in the season yet were top at Christmas. They faded so badly they didn't even qualify for Europe, some 12 points off a Uefa Cup spot.
Best to wear it? Paul Merson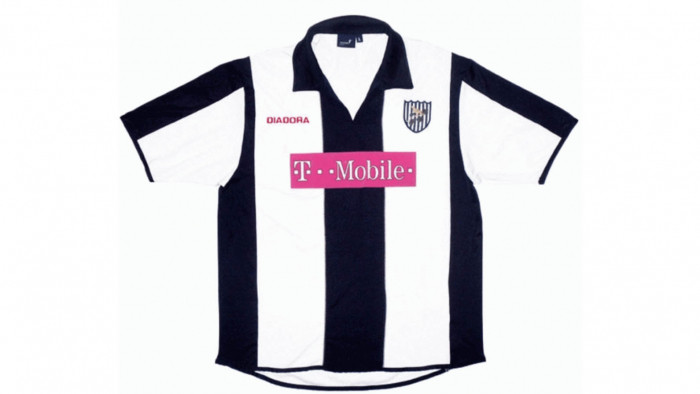 20

. West Bromwich Albion 2005-06
Who made it? Diadora
Why is is great? Quite what possessed Diadora to model its third West Brom shirt on those worn intermittently in the Seventies and Eighties is a mystery but we're glad it happened. The wide stripes and proper collars are a revelation
Fond memories? Certainly not. After failing to win any of their final 13 fixtures the Baggies were relegated from the Premier League.
Best to wear it? Nwankwo Kanu
Related Reviews and Shortlists