ShortList is supported by you, our amazing readers. When you click through the links on our site and make a purchase we may earn a commission.
Learn more
Sonos Roam review: a perfectly portable powerhouse
The new Sonos speaker is the cheapest yet and the most versatile.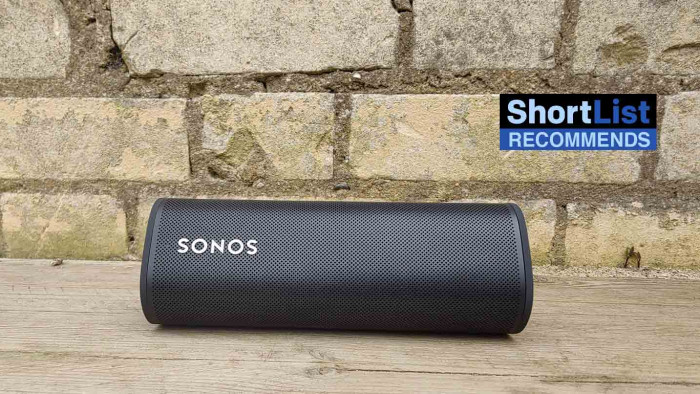 Roam is where the heart is for Sonos right now. The smart speaker company has unveiled its latest speaker, called the Sonos Roam, and we have been lucky enough to be among a select few in the world to try it out first.
UPDATE: The Sonos Roam is now available in three new colors: Sunset, Olive, and Wave. Nothing else has changed about the speakers but as you will read in our Sonos Roam review, this is already one smart speaker that can't be faulted. This isn't the first time Sonos has gone portable - the chunky Sonos Move takes that accolade - but this is the smallest portable speaker it has ever created, placing it into a whole new product category and lowering the price for those who are ready to jump into Sonos' ecosystem
What did we think about the Sonos Roam? Here are 5 things to know…
1 Setting up the Sonos Roam was simple The initial setup of the Sonos Roam takes about 10 minutes but that's mostly because the speaker we were reviewing needed an immediate software update for it to work.
If you already have Sonos in your home, then it will connect up to that network. It is all done through the Sonos app and is pretty seamless - just head to Add Product and it will appear. You need to have the speaker plugged and in the house, so it can find your Wi-Fi network.
2 The Sonos Roam is smaller than you expect The Sonos Roam really is a dinky, portable speaker. If you have tried the Sonos Move, then you will know that while it is portable, it's a hefty piece of kit - it's pretty much a Sonos speaker with added battery weight. The bonus of this size means that you get deeper, more immersive audio (more on this later) but it's not exactly a speaker you can sling into a rucksack.
The Sonos Roam is about a sixth of the size of portable bedfellow (168 x 62 x 60mm) and weighs just 430g (compared to the Move's 3kg). This small size makes a huge difference. This really is a speaker you can take anywhere and not just one that can be used outside - for places such as bathrooms, where it's notoriously difficult to wire up a speaker system, the Sonos Roam will allow you to continue your Sonos listening. But it's when it's outside that it comes alive.
3 The Sonos Roam is built for outdoors Despite its small size, there's a decent amount of ruggedness to the Sonos Roam which means you won't be scared of taking it outside and letting the Great British weather do its thing on it. The top and bottom are made from the same rubber-like material (the top is where the controls are), while the side of the device has small rounded feet for when it's placed horizontally.
The speaker grill design that Sonos has adopted since the Play:5 is also on board, meaning that it looks like a Sonos speaker but one you'd happily throw in a bag to take to the beach, or wherever lockdown allows you to go right now.
It's IP67 water- and dust- resistant and can handle a few drops (and more than a few drops of water, given you can dunk it into water a metre deep), though we did start to see a little scuffing on the rubber bits.
4 The Sonos Roam sounds great and switches smoothly The Sonos Roam has two guises: a portable device for the home that links up to the rest of your Sonos speakers and an outside Bluetooth device. We used the Sonos in the bathroom and it worked a treat, carrying the same music that was going on in the rest of the house and has enough gusto that it doesn't sound like a portable speaker, just a smaller version of our Sonos One.
It even has voice control like the Sonos One and the Sonos Beam, with Alexa being our voice assistant of choice (you can also use Google Assistant).
Take the Sonos Roam outside and this is where things get interesting. Here the device switches from using Wi-Fi and goes into Bluetooth territory. Take it outside and it will link up with your phone using Bluetooth - this does mean that the voice assistant tech can't be used (this needs Wi-Fi) but it then acts as a separate Bluetooth speaker that sounds great out of the house. You can also use AirPlay to use the thing, too.
There's also the ability to keep listening to the music that you have been outside, by holding down the pause button and this will sync your speakers together so you are playing the same music you were listening to.
In tests this worked well - it sounds more complicated than it is to actually do. Sonos really has created a portable speaker that can work standalone, as well as part of your existing Sonos setup.
As for the actual audio, inside is a tweeter for the highs, a mid-woofer for the rest of the sound. Four Tet sounded earthy like it should through the thing, while there was decent bass when we blasted out The Other Side by Unkle.
The sound didn't seem to change when we listened to speaker vertically and horizontally, while the Auto TruePlay worked well (this isn't on by default but Sonos will ask if you want it on the device) to differentiate the different surroundings, especially when we were outside.
5 Battery life is decent 10 hours is the reported battery life and we got a little under that with the Sonos Roam. We tested it while on Wi-Fi and Bluetooth and there didn't seem to be much difference in the battery drain between either. Cranking it up didn't do too much to impede battery life, either.
We were lucky enough to have a few days' sun while testing the Sonos Roam and it became our little portable companion, and taking it out for eight or so hours was fine with some left over when we got home.
Charging was good, too, through the USB-C port, although we wish we had the wireless Qi charging dock but that is sold separately. The Sonos Roam does got into sleep mode automatically when not in use and this really does seem to help with the battery life.
Sonos Roam: Final Verdict The Sonos Roam is exceptional as a Bluetooth portable speaker and brilliant as a Wi-Fi-equipped Sonos speaker. It's well built and fun to use, has a brilliant design and for £179 the price can't be faulted.
While we like that you can pair a par for stereo sound, these are crying out to be speakers as part of a home theatre setup. This isn't available right now which is a crying shame but there is still so much to like about the Sonos Roam, and is certain to welcome a whole new crowd to the Sonos party.
The Sonos Roam is available to buy now in Shadow Black and Lunar White.
Related Reviews and Shortlists