ShortList is supported by you, our amazing readers. When you click through the links on our site and make a purchase we may earn a commission.
Learn more
Margot Robbie and Jurnee Smollett-Bell's Top 5 Most Badass Female Characters In Film
Birds of Prey stars reveal the women they admire that kick some ass.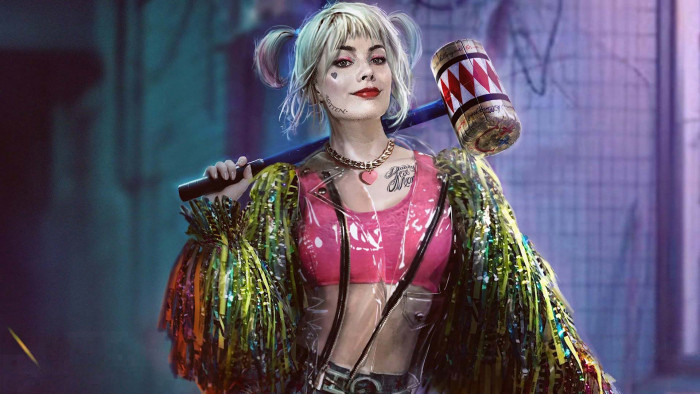 Birds Of Prey or, to give it its full title, "Birds of Prey (And the Fantabulous Emancipation of One Harley Quinn)", explodes into cinemas this week in a violent, technicolour extravaganza. It may also be the most action-packed superhero film ever.
Though barely connected in plot, the spinoff to 2016's 'Suicide Squad' finds Margot Robbie's Harley Quinn wallowing in Gotham having broken up with her partner in both love and crime, the Joker. According to her titular emancipation, Harley is going it alone: finding herself, and also finding kinship in a gang of similarly ragtag, murderous but lovable women in the process, the Birds of Prey.
They team up against an even more villainous bad guy, Roman Sionis (Ewan McGregor), a maniacally unhinged Gotham City club owner who has a nasty habit of carving off the faces of those who don't fall in line. The Birds of Prey gang introduces us to a new circle of violent and vibrant badasses Black Canary (Jurnee Smollett-Bell), Huntress (Mary Elizabeth Winstead), Detective Renee Montoya (Rosie Perez) and master pickpocket Cassandra Cain (Ella Jay Basco).
In honour of our the cinema's least-fucks-to-give superteam ever, we sat down with stars Margot Robbie and Jurnee Smollett-Bell to discover their five most fantabulous, badass female characters in film of all time. You wouldn't want to get on the wrong side of these action heroes…
'Birds of Prey' hits cinemas 7 February 2020.
Harley Quinn (Birds of Prey, Suicide Squad) Margot Robbie - "She's fun and weird. I love her because she has the full spectrum of emotions. She can be incredibly vulnerable. She can love with all of her heart, and she can hate with all of her heart. She has a really dark, bad side, and she makes really shitty decisions and hurts people, and it's fun to constantly have this conscience that's wrestling with itself. Something in her brain tells her that she should do the right thing sometimes, but 90% of her just doesn't understand what that even entails.
"But I also love that she's a real people person. She loves being around other people. She loves getting to chat to Black Canary, she loves getting to hang out with the other girls. And playing her, it's pretty satisfying to say, "I'm Harley fucking Quinn!""

Black Canary (Birds of Prey) Jurnee Smollett-Bell — "In our film, we tried to capture the essence of Black Canary, Dinah Lance, from the comics. It's an origin story, so we're going to watch her become the Black Canary that we know and love - this really powerful force. But she's not quite there yet when we meet her in the film.
"She's a nightclub singer, at Roman Sionis' (Ewan McGregor) club and she's really trying to find her voice. She's stifled herself to the point of literally suffocating her voice because she doesn't want anyone to know she has these powers. She is this crazy, fierce street fighter, but she picks and chooses when to use it.
"She watched her mother be killed from cleaning up Gotham, and she wants nothing to do with doing the same because of that. So when she comes into contact with all these strange characters, she is forced to make the choice as to whether or not she will truly own her full potential or not."

Leeloo (The Fifth Element) Margot Robbie - "I love that she was incredibly vulnerable. She's this all-powerful super-human, but she's incredibly vulnerable and just trying to understand the world. I love the moment when she finds out that war exists and she's so hurt to find out that humanity could do such atrocious things, and has this kind of crisis of faith, of, 'Why save this place?' I always loved that moment. Plus, I loved her outfits so much. We even paid tribute to her in this movie: I have these orange suspenders paying homage to her, like the orange suspenders that Jean Paul Gaultier designed for 'The Fifth Element'. Jean Paul Gaultier did all the costumes for that film, actually. That's why they're so sick." –

Lorraine Broughton (Atomic Blonde) Jurnee Smollett-Bell — "I love Charlize Theron in 'Atomic Blonde'. That one-take stairway fight scene - I still don't know how they did it! I mean, it's on the staircase, and then they move down, and it doesn't stop - and then the scene moves into a room and they're still beating each other up. I just want to know how they filmed it. Like, when do they apply the blood? Those are the things that I'm thinking about when I'm watching: HOW did they make this happen? It's so, so good."

Erin Benach – real-life costume designer (Birds of Prey) Margot Robbie — "The costume in our film is so fun. I actually have one of Black Canary's tops. You know, like the black leather crop top thing? Yeah, I've got that. Not the one Jurnee was wearing on set, but a back up one. I wear it now."

Jurnee Smollett-Bell — "You do? I was gonna say, can you give it to me? But if you wear it, I guess you should have it. I'm glad you do. Plus, I took the belly chain and like some earrings."
Related Reviews and Shortlists