ShortList is supported by you, our amazing readers. When you click through the links on our site and make a purchase we may earn a commission.
Learn more
Best steam cleaners 2020: great steam mops for any budget
Make your floors feel squeaky clean with one of our best steam cleaners.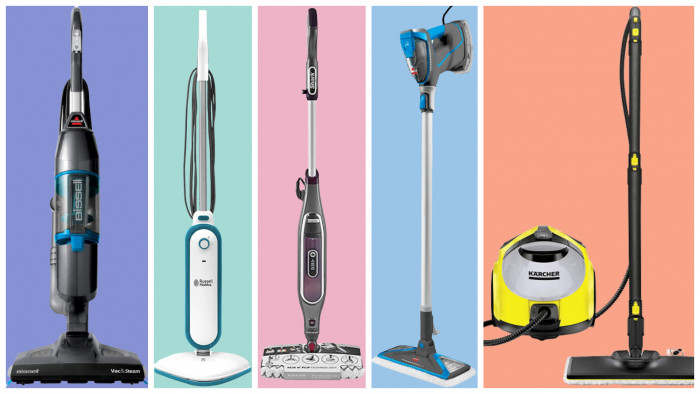 We've put nine of the best steam cleaners to the test over the last month. Are much-loved brands like Shark, Karcher and Russell Hobbs actually good value for money?
UPDATE: Bissell has just added a new cleaner to its CrossWave collection. Meet the CrossWave Cordless 3-in-1 Multi-surface cleaner - designed to make life in a big family home that little bit easier. It's 25 minutes of run time allows you to move from room to room cleaning, vacuuming and drying floors as you go. It also has a two-tank system so all the dirt, dust and other debris will be kept separate from the water tank. Available now for £299.
Only one point separated the top two models but Beldray's 12-in-1 Flexi cleaner beat all the big names. Impressive cleaning ability and versatility across all floor types make it our winner.
Our best value steam cleaner - the Russell Hobbs Steam & Clean - wasn't far behind, coming an impressive third overall. It was the cheapest option we tested but it kept up with the bigger capacity cleaners, with good cleaning capabilities, a decent run time and the ability to get under furniture and into those hard to reach corners - all for under £30.
Best steam cleaners: best buys

Best Value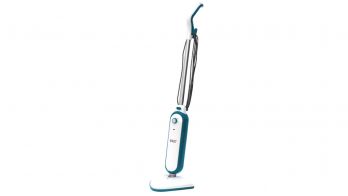 Russell Hobbs Steam & Clean
£39.00
You won't find much cheaper than this Russell Hobbs steam cleaner. With the ability to go on carpet as well as hard floors, it has a decent run time, and is lightweight and easy to store.
Buy now at Amazon
It may seem a little simple in comparison to others we tested but its small size makes it lightweight, easy to store and to manoeuvre. It doesn't have the biggest water capacity, but the tank can still hold more water than some cleaners twice the price.
Best Overall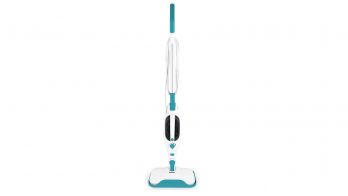 Beldray 12-in-1 Flexi
£43.11
This cleaner works on hard floors, carpet and can be turned into a handheld machine. It produces an impressive amount of steam, has a 'flexi hinge' for ease of cleaning under furniture and is ready to use in less than a minute.
Buy now at Amazon
Beldray may not be as well known as many of the brands tested in this review, but this steam cleaner holds its own. It costs less than £50 but performed consistently through the tests. One of the big selling points is the temperature dial. Rather than having two or three set temperatures, this steam cleaner has a dial so that you can incrementally change the steam giving you more control.
The price of a steam cleaner ranges from £30 to hundreds of pounds making it pretty difficult to know if you're getting a good deal or not. So to help you out, we tested nine steam cleaners over 45 hours to see how well they fared on different floor types. The steam cleaner to come out on top was the Beldray 12-in-1 Flexi Mop thanks to its multiple functions, smart steam controls and small stature.
The shortlist: best steam cleaner
Best steam cleaners: how we selected
You can spend anything from £30 to upwards of £400 on a steam cleaner and not all made with the same jobs in mind. Some excel on hard floors. Others are meant to be "jack of all trades" and come with an abundance of attachments to clean everything from carpet to grouting.
With such a range of prices and uses, it's worth knowing whether splurging you cash on a £300 steam cleaner is ever worth it. Which floor types it can be used on is a good place to start, along with water capacity and how easy it is to fill, empty and store. Now, we accept this is a slightly excessive checklist, so we've done the hard work for you. We have narrowed down the selection to just nine steam cleaners, handpicked for their features, prices and size.
All these models have been chosen with household use in mind, come with at least one attachment and can all be used on a range of hard floors (as a minimum). This meant we could rule out models purely designed to be used handheld as they did not offer the versatility we think is required, along with not confusing the testing with steam cleaners designed for clothing rather than household use.
Finally, we chose two budget picks - which in this case cost under £50 - along with a couple of choices of high-end models. The rest were mid-range cleaners.
Those who met our criteria include models from Shark, Russell Hobbs, Karcher, Bissell, Vax, Beldray and Thane. This pitted well-known household brands such as Shark, Bissell and Russell Hobbs against underdogs such as Thane and Beldray.
Best steam cleaners: how we tested
Each steam cleaner was marked out of 9 across a total of 15 categories. There were also two bonus points available if they could become handheld models or work on carpet. These categories were based on a combination of each steam cleaner's specification and how well they performed on a range of different flooring types.
For the specification scores, we considered features such as price, the number of attachments provided, size, weight, water capacity and their cable's length. How loud they were, along with how easy they were to fill, empty and store were also considered.
Our most expensive model, the Karcher SC5, received the lowest score (1) for its price but was scored highly (9) for its water capacity. Likewise, the Shark Flip n Klik tested well for how light it was (8) but fell short when it came to attachments. We then analysed the steam cleaners' performance. We saw how well they cleaned wood and lino flooring, along with an agility test around furniture. There were also scored for how long they took to heat up, how long they lasted before needing a refill, and how loud they were.
For each floor type, we used the steam cleaners in their upright position with main heads attached to test how well dust, dirt and hair was removed from the floor. We used this same test to time how long the water lasted; first at the lowest setting and then in their respective high or 'blast' settings.
We then went on to test how easy it was to manoeuvre the steam cleaners under a table and chairs and under a sofa, to see how well they cleaned in hard to reach places. During the cleaning of each floor, we monitored how warm the body of each cleaner became at 10-minute intervals.
Best steam cleaner: the test results
All of the steam cleaners we tested were capable - to varying degrees - of cleaning both hard floors well, and are clearly a vast improvement to any run-of-the-mill mop and bucket. However, there are some clear distinctions to be made between models in ease of use and versatility.
At the top of the class are the Beldray 12-in-1 Flexi Mop, Vax Steam Fresh Power Plus and Russell Hobbs Steam & Clean. These steam cleaners prove you don't have to spend a lot on appliances to get a great product.
We found Vax's steam cleaner the easiest to set up. We put it together in just 57 seconds. The Russell Hobb model was by far the lightest at just 1.8kg. This makes cleaning super comfortable, especially if you need to carry it from room to room. However, it is worth bearing in mind that its small size (and limited water capacity) meant that it lasted the shortest amount of time when cleaning. The Beldray 12-in-1 Flexi Mop won top spot thanks to its unique 'flexi hinge'. It bends in the middle, to make cleaning under furniture a breeze.
Those falling somewhere in the middle include both Bissell models - Powerfresh Slim Steam Mop and Vac & Steam- and the Karcher SC5. The Vac & Steam made easy work of cleaning both hard floor types, receiving the highest possible score (9), but fell down the rankings when it came to the noise and manoeuvrability.
Bissell's cheaper model, the Powerfresh, was a little top-heavy but had the added bonus of being able to become a handheld steam cleaner. Our favourite feature of this model was the bundled handy tool kit. The kit holds all cleaner's accessories and can be attached to the top of the cleaner for ease of use.
The Karcher SC5 had the biggest water capacity by some margin, which meant it lasted over an hour, but wasn't the easiest to carry around the house.
Finally at the lower end we have Thane's H20 HD, the Shark Klik n Flip and the smaller Karcher model - the SC3. The H20 HD cleaner lost points for being the only model to require a screwdriver to put it together, but its folding handle won some back for making it easy to store. The Shark Klik n Flip has some of the best manoeuvrability of any of the cleaners we tested. Its head sits on a swivel joint, so no need for the traditional back and forth. It glides across the floor and around obstacles easily. However, it barely lasted more than 15 minutes on its highest setting.
The best steam cleaner reviewed:
Beldray 12-in-1 Flexi Steam Cleaner, £44.99
Belday is not a famous name in the world of household appliances, but has made cleaning equipment since the 1950s. Fun fact: it lays claim to being the first manufacturer to produce height- adjustable ironing boards.
The Beldray 12-in-1 Flexi was an all-round pleasant surprise, beating steam cleaners up to seven times the price. Its our best steam cleaner pick. But being realistic for a second, the price means there are a few downsides.
First, it definitely won't win any awards for its appearance. Its white plastic body with bright turquoise accents is a long way away from the sleekness of the Shark and Bissell models. But for the price that is to be expected, and it's going to spend much of its life in a cupboard (when not in use) so its slightly basic aesthetic is fine. It also doesn't have the biggest water capacity. Its water tank was one of the smallest of cleaners we tested. And although the water did last just over half an hour on its highest setting - plenty of time for us to clean all the rooms in our two bedroom flat (carpeted rooms included) - it may require an additional refill if you're planning to use it in a much bigger house.

Talking of refilling, this model doesn't have a removable tank. The steam cleaner comes with a jug and funnel to make filling it easier but emptying it would be easier if it was removable. It wasn't a deal breaker for us simply because the steam cleaner is pretty light so easy enough for us to tip, but it's something to be aware of.
Now for the good bits. After taking a mere 50 seconds to heat up, it performed admirably on both wooden and lino flooring picking up (a shocking amount of) dirt and dust that wasn't even for the most part visible. This was largely due to the great quantities of steam it produced with very little noise.
The Beldray's dial-style steam controls also gave us greater control over the amount of steam we were using on the floors. We were able to incrementally change how high or low the settings were rather than being forced to use two or three predetermined options. Its 'flexi hinge' is also a big selling point. When activated with a push of a button, it bends backwards to make it easier to clean under furniture. It also made cleaning much more comfortable, especially for our back, because it did not require us to bend as low as the other models to get under the sofa.
If that wasn't enough, the swivel hinge of the head provides additional flexibility. It means the pad can twist to negotiate corners and those hard-to-reach places we all have in our homes. Finally, it also did a great job of freshening up the carpets thanks to a carpet glider attachment, which simply clipped onto the bottom of the cleaner. It can also be turned into a handheld model and includes attachments for steaming windows, mirrors, tiling and even clothing. The Beldray 12-in-1 Flexi is fantastic all-rounder: consistent, easy to use and a great price to match. Buy now at Amazon
The best value steam cleaner reviewed
Russell Hobbs Steam & Clean, £29.97
With a price of under £50, the Beldray 12-in-1 Flexi Mop could also be crowned best value (as well as our overall winner). However, we want to give the Russell Hobbs Steam & Clean the kudos it deserves.
As the cheapest cleaner we tested, just £29.97, we expected it to be a little lacklustre. While this is a no-frills steam cleaner, it did perform consistently well across the different cleaning tests - placing middle in all the flooring tests. However, it did gain an extra point as one of the six cleaners able to clean carpets too. It leaves very little water residue on the flooring so there's no awkward waiting around while the floor dries and it's easy to move around as the lightest on the test, weighing just 1.8kg. That is 1.48kg lighter than Beldray's model. The triangle shape of its head makes it ideal for cleaning in corners, and makes up for it not being quite as manoeuvrable as the Beldray steam cleaner.
Its small size and weight also make it super easy to store. And it stands upright on its own, so there are no awkward attempts to balance it against the wall to avoid it falling. As you'd expect, there are a few things to be aware of. Due to its small size, it only lasts 20 minutes maximum - and that drops to just over 10 minutes if you really pump the steam. While it did just about get around our flat without needing a top-up, it would need at least one refill to get around a family home.
The Russell Hobbs Steam & Clean also does not have any specialist steam settings, just a simple on/off switch. However, it did still manage to tackle any sticky patches it came across without a higher setting, and heated up in less than a minute.

If you're just looking for a little steam cleaner to run around your kitchen floor once a week, you can't go far wrong with this Russell Hobbs model. Buy now at Amazon
The rest compared
The Vax Steam Fresh Power Plus put in a valiant effort, coming just one point behind our winner (with 94 points). It came with an army of accessories and earned maximum points for how easy it was to empty, one of the few steam cleaners to have a removable tank.
It also lasted a very impressive 40 minutes on its lowest setting, and a less impressive, but still decent, 20 minutes on high. The tank did, however, become hot to the touch after just 10 minutes of use and the detergent ran out much faster than the water, so needed topping up as we cleaned.
Those who want a cleaner with a lot of oomph should consider the Karcher SC5. Coming in at fourth (with 70 points), this cleaner did best when it could show off just how big and powerful it is.
Its huge 2L water tank lasted over an hour without needing a refill. This makes it fantastic for quickly speeding round a big family home, but its size is also its downfall. This cleaner weighs a hefty 6kg - 4.2kg more than the smallest - making it a bit of a chore to carry up stairs. Your arms will feel it after an hour of cleaning. And while the cylinder-style design makes it pretty short, you do need more floor space for storage than an upright cleaner.
That being said, it is incredibly quiet especially when you consider it is by far the most powerful. The initial clicking as it heats up quickly fade into silence, and it comes with a number of accessories to help clean the hob, tiling, blinds and even a spotlight nozzle to help clear drains. There are also more attachments - including a carpet glider - available to buy online.
Bissell's Powerfresh Slim also comes with a number of accessories, all of which come in a handy tool kit that slots onto the top of machine so that you'll never lose them again.
It was a little fiddly to set up. We spent a full five minutes putting it together, four minutes longer than some of the models. And it then took another three minutes to heat up before we could get cleaning. When we did get cleaning the hard floors it did a decent job - it was small enough to go under furniture relatively easy, though it doesn't have any kind of swivel joint for cleaning around corners.
It also has a long 7.6m cable so you're not restricted by your plug sockets, and floors are dry in less than a minute so there's no waiting around. The Vac & Steam from Bissell is the chunkier brother of the Powerfresh Slim. Designed to hoover and steam clean at the same time (though they can be used independently), this model did a spectacular job at cleaning the hard floors. The vacuum element also means you do not have to sweep the floor beforehand (as was the case with most of the other models).
Instead you could immediately get cleaning, knowing any bigger bits of dirt would be sucked up. You then simply remove the dirt tank and empty as necessary.

The Bissel Vac & Steam is fairly simple, quick to set up and touch digital controls on the front of the machine make switching between the high and low modes easy. However, it is pretty noisy, it can't be used on carpet and the upright hoover style - although it does look relatively sleek - is bulky and weighs a substantial 4.8kg.
Coming in neck-and-neck with the Vac & Steam was the H20 HD. Its slime green colour definitely won't be for everyone, but this small steam cleaner heats up fast and weighs just 3kg, so is a good option if you just want to quickly whip round the house. It can be converted into a handheld machine, too, and comes with 11 different attachments. It was, however, a bit of a pain to set up. It was the only cleaner to require a screwdriver to put it together, and while there was only one screw that needed fitting, this meant it took the longest to set up (5 minutes in total).
For the same price (£99), you can also buy the Shark Klik n Flip. This was the most stylish steam cleaner we tested and its flexibility was rivalled only by our winner, the Beldray 12-in-1 Flexi Mop. However, there aren't any accessories included in the price, it can't be used on carpet and there's no handheld function.
It is simply a light, relatively quiet steam cleaner. It did a fine job cleaning the hard floors, and the steam blast feature - designed to remove stubborn grime - is especially effective. The Klik n Flip faltered with a few basic practicalities. It struggles to stand upright on its own as it is quite top heavy, is awkward to empty because the tank cannot be removed and struggled to last 20 minutes on its high setting.
Finally, we have the Karcher SC5's smaller sibling - the Karcher SC3. With just 65 points, the SC3 wasn't the most user friendly cleaner. It took four and a half minutes to set up once the pieces were taken out the box, which includes setting the local water hardness level on the machine and slotting in the decalcification cartridge.
It did a reasonable job at cleaning the floor, but it did have the shortest cable at just 4m and while it can be used on carpet - like the SC5 - you have to buy the additional carpet glider online to do so. It is smaller than the SC5 though at just 35cm long and 25 cm tall, making it much easier to store and still providing a good 50 minutes of use.
One to avoid Unless you have hard floors throughout your home, the Bissell Vac & Steam vacuum and steam cleaner in one is probably not for you.
Don't get us wrong, Bissell's Vac & Steam does a fantastic job cleaning the floors themselves, having come top when tested on wooden and lino flooring, but it has some pretty major pitfalls.
It can't be used on carpet so you'll still need a separate vacuum cleaner to clean those areas of your house - and considering that this model's selling point is that combining the two functions saves time - that's a little annoying. It is also not the lightest and its upright vacuum cleaner style is not the most flexible.
Its steam cleaning reservoir also only lasted 15 minutes when on high and, considering our winner costs £95 less, it's hard to justify purchasing the Bissell Vac & Steam when there are so many cheaper options available.
Related Reviews and Shortlists