Smart displays are pretty hot right now. The best smart displays offer a new form of media hub, and hands-free assistant for the home.

Break any smart display down into its constituent parts, and it might look rather familiar. This ostensibly fresh gadget basically combines a smart speaker with a tablet - then throws in a stand to keep it upright while you go about your business.

UPDATED: Following months of playing with the Amazon Echo Show 5, Shortlist have concluded that it is the best smart display on the market. But wait, there's more smart display news to deliver! Google has announced it is reducing the amount of audio it stores for human review, alongside new hotword sensitivity options.
The changes to its audio retention policies are set to be introduced in the coming months (after increased scrutiny surrounding how audio is stored and for how long) and will ask users to re-affirm their decision to opt-in to the program - great news for those concerned about complete strangers listening to your every conversation. The tech giant will also offer users more hotword detection options, making it less likely for the device to detect and record unintended audio, y'know, for those moments when you don't scream 'Hey Google!' across the room.
That's not to undersell the impact this product mash-up is having, however. Being able to have all kinds of information and media at your beck and call while cooking, cleaning, and working is a powerful thing indeed.

The flexibility of interacting with that content through touch or vocal prompts makes the smart display the ultimate all-in-one home assistant. And it explains why multiple tech and internet companies are trying to gain a foothold in the smart display market.
Here are eight of the best contenders. Upvote your favourite.

Our Pick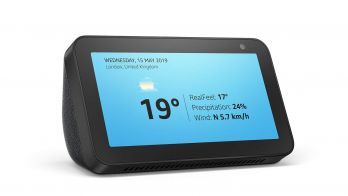 Amazon Echo Show 5
£49.99
The Amazon Echo Show takes everything that was right with the original Echo and replaces everything that's wrong. This is a brilliant-looking, compact device that's everything you want from a smart display. The price is superb, too.
View now on Amazon