ShortList is supported by you, our amazing readers. When you click through the links on our site and make a purchase we may earn a commission.
Learn more
Fresh, handmade pasta is all the rage in restaurants up and down the UK right now. It has left plenty of burgeoning home chefs wondering if they can clear their cupboards of half-empty bags of penne and make the good stuff themselves.

There's a huge variety in the types of machines available, though, from traditional hand-cranked mechanical rollers all the way up to fully automated devices that do just about everything except cook the stuff.

The best mechanical roller we tested is the Marcato Atlas 150, an Italian-made machine that costs a little more than most but justifies it with ease of use, build quality, and a huge range of extra pasta cutter options.

Our favourite automatic machine is the Philips HR2332/11 Viva Collection, which does absolutely everything for you and takes less than 15 minutes to turn flour, eggs, and water into fresh pasta.
Best manual pasta maker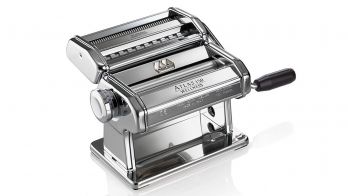 Marcato Atlas 150
£50.65
The Marcato Atlas is the best pasta machine if you want to get your hands dirty.
View now at Amazon
With ten thickness settings, a sturdy clamp, and comfortable handle, the Marcato is the best way to make pasta by hand we've tested. It loses points for shipping with just two cutters - taglioni and fettuccine - but more are available to buy if you fancy.

Best automatic pasta maker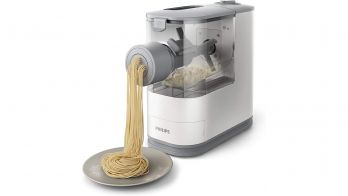 Philips HR2332/11 Viva Collection
£168.99
If you want fresh pasta without the effort, the Philips Viva is by far the quickest and easiest machine we've tested.​
View now at Amazon
If you want to be able to come home from work, turn on your pasta machine and get fresh pasta within 15 minutes - after only adding the ingredients and hitting a single button - the Philips Viva is the machine for you. The final pasta isn't as good as the manual options, and it doesn't reward experimentation, but for pure convenience this can't be beaten.
How does a pasta maker work? It varies, and there are plenty of different types out there.The most common - and traditional - are mechanical rollers. These require you to first make your dough by hand before passing it through the hand-cranked rollers, which squeeze it flatter and thinner.
The resulting sheets of pasta can then be cut by hand for lasagne, filled for ravioli, or separate bladed rollers can be used to quickly slice the sheets down into strands for tagliatelle, linguine, or other shapes.
Extruders are slightly different. While rollers limit you to the pasta shapes you can make by cutting up sheets, extruders squeeze the pasta dough through shaped holes - think Play-Doh toys and you're not far off - letting you create more complicated shapes like penne, fusilli, or spaghetti.

Then there's automation to think about. While traditional machines require you to make the dough itself by hand, some automatic machines can mix the dough for you, while others will save you the effort of passing it through the rollers or extruders by hand.
How we chose the pasta makers to test

With so many different types of pasta machines on the market, drawing up a shortlist to test proved a bit of a challenge. There are all sorts of pricings and functionalities to factor in.

We wanted to focus primarily on manual pasta rollers. They are affordable and save you slaving away with a rolling pin for hours while remaining manual enough to avoid feeling like too much of a shortcut for those who want to enjoy making an afternoon of it.

They still require you to make the dough yourself, which takes twenty minutes or so, plus some time to let it rest before rolling - usually another half an hour should do.

We limited the selection to 150mm rollers. This is the friendliest size for a kitchen counter-top or dining table, wide enough to quickly roll enough pasta for a family, but narrow enough to still comfortably fit in even cramped quarters. The Marcato Atlas 150 was an obvious choice - an acclaimed Italian brand with a huge range of optional cutter attachments for the real pasta purists, and a higher price to match.

To balance the Marcato out, we looked at cheaper models. Lakeland's own-brand machine jumped out for the inclusion of a third cutter attachment despite its low price, while the Nuvantee machine had some of the best user reviews on Amazon and a design that apes the Marcato at around half the price.

If you're wondering why you'd even buy a machine if it's manual anyway, you can do it all properly by hand - all you need is a rolling pin and a knife. We're also fans of the Pasta Evangelist kits, which throw in a few accessories like a gnocchi shaping board and ravioli cutters, which would complement any of these machines just as well too. Then there are the automatic options. We wanted to test at least one that automates the entire process - from flour to fresh pasta - and the Philips Viva Collection pasta machine is the only one that delivers on that promise and actually has positive user reviews across multiple online retailers.

Finally, we decided to include the KitchenAid pasta attachment since it would be the first consideration for anyone who already owns a KitchenAid, and it strikes a nice balance. It automates the tiring parts of the process while requiring enough user input that you still feel you're doing some of the cooking.

How we tested the pasta makers

With such a variety in the types of pasta makers in our test, it was impossible to come up with a single set of objective scores that would fairly cover all five machines.

However, there are some common factors - price, size, design, variety of settings, ease of use, cleaning, and final pasta quality - and so each machine was tested and scored with these in mind.

For the manual machines, we also considered how stable the included clamps were, how smoothly the rollers ran, and how uniformly they applied pressure to the pasta sheets.

With the automatic machines, speed became a factor, along with noise levels and how well the machines handled variation in dough recipes.

Each machine - manual and automatic - was tested with both one regular egg pasta dough and one variant - either harissa or lemon & cumin. The roller machines were tested for both ravioli - which requires especially thin sheets - and tagliatelle. The Philips was used to make both spaghetti and penne, using the included extruder discs.

The resulting pasta was compared for uniformity of thickness, texture, shape, and the least objective measure of all: deliciousness. One final pasta nerd note: many of these pasta machines claim to have a cutter for spaghetti.
Technically this is a bit of a fib, as spaghetti's round strands require an extruder, so of this rest only thePhilips can make true spaghetti. However the thin-cut strands that the rollers achieve is close enough to count, so for ease I'll follow the manufacturers and let them get away with calling their roller-cut versions spaghetti.

The best pasta maker: test results

The most expensive of our manual makers, the Marcato Atlas 150, proved that sometimes you do get what you pay for. It achieved the highest scores of any machine we tested. Top scores for size and design, and consistently high results across the usability & quality factors helped make up for the higher price.

However, the Nuvantee machine came an unexpectedly close second. It missed out on the top spot by falling just short of the Marcato across a few factors, and not offering the same range of colours and cutters. The automatic Philips Viva came third. This won by far on speed and how easy it is to both use and clean, but a high price, questionable design, and some inconsistency in the final pasta quality held it back somewhat compared to the manual machines

The KitchenAid nabbed fourth place, with ease of use and quality making up for the fact that it's absolutely massive, and very expensive. The attachment alone is almost the price of the Philips machine, and that's not counting the stand mixer itself.

Finally, the Lakeland version lagged behind everything else. The third cutter wasn't enough to make up for an unstable clamp, uneven roller pressure, and a handle that just kept falling out.

Best manual pasta maker:

Marcato Atlas 150, £59.99

It shouldn't be a surprise the most expensive manual machine we tested turned out to be the best - but on the other hand, with each of them so similar on paper the Marcato Atlas 150had to work hard to justify the extra cost.
It's worth remembering that at £50-60 (the online price fluctuates) this is still much cheaper than any automatic option.

Straight out of the box it helps that it's one of the few manual pasta makers that gives you a choice of colour beyond chrome. Numerous bright colour choices turn the machine into something you'll want to keep on display, rather than tuck away into a cupboard (yes, our review model is still chrome). It's compact enough to keep out too, though not in our cramped tes kitchen, and to be honest all the manual machines are about the same size and style anyway.
You'll need a stable table or work surface to clamp the machine too, but once attached it's surprisingly stable and sturdy, so it didn't rock about during use. The handle for the rollers and cutters is also pretty stable once it's attached, and turns smoothly.

When it comes to actually rolling your pasta, the Atlas 150 includes an almost excessive ten thickness settings. That's important, though, as to reach the thinnest levels you have to pass the dough through each stage in turn - the more settings there are, the more gradually you can thin the dough, which helps keep it smooth and silky, and reduce tears or bulging.

In our testing the Marcato rolled our dough smoothly and simply, without any of the tearing or inconsistent pressure that the cheaper machines occasionally introduced. That not only helped with quality, but also saved time - there was no need to repeat stages or laminate the pasta by folding it up and rolling it out from the start again. The included pair of cutters detach from the body, meaning you can keep them out of the way until you need them. The included cutters are for fettuccine and tagliolini (which is ever so slightly thicker than spaghetti), but Marcato makes a whole range of additional attachments, from shapes you've heard of (ravioli, linguine) to slightly more niche fare (mafaldine, trenette).

If you get tired of turning, there's even an additional motor attachment, though we haven't tested it - and at an additional £110 it isn't cheap. Cleaning is a little fiddly, but that's true of all the manual machines. You can't use water at all or they'll rust, so you will be stuck brushing flour out of the rollers for a little while - though once again the option to detach the cutters proved helpful here.

There's no single feature of the Marcato Atlas 150 that justifies the jump in price from the Nuvatee, and many people will be happy enough with that cheaper model. But it's just that little bit better across the board, and together with the extra cutter options that makes this the better investment if you hope to make fresh pasta for years to come.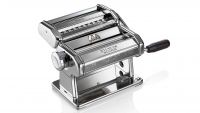 View now at Amazon
Best automatic pasta maker:

Philips HR2332/11 Viva Collection, £179

If you've got more money and less time you might be more tempted by the Philips HR2332/11 Viva Collection pasta machine.

The Viva is about as automatic as they come, producing fresh pasta from beginning to end with just one button press - and it does it all in about fifteen minutes, making it by far the quickest and easiest pasta machine we tested. It couldn't be much simpler to use. Attach your extruder end of choice (penne, spaghetti, fettuccine, or lasagne), add the flour and liquid, then turn it on. It will first mix the dough, and then once it's ready will automatically start to extrude it - there'll be a warning beep, but you won't want to stray far from the machine so that you're ready to catch and cut the pasta it pushes out.

The benefit of this is that you don't really have to do anything at all. The downside is that you don't really have to do anything at all. If you want a machine that gives you fresh pasta with none of the work, this is great. But if you actually want to get stuck into making it yourself, this is so automated that it cuts you out of the process entirely.

The final pasta quality is mixed too. Following the included recipe & instructions yielded pasta that was a little soft, and didn't quite have the silkiness of the manual machines. Straying from Philips's suggested proportions yielded a dough that the machine simply couldn't extrude, no matter how hard it tried, and since the whole thing stops if you open the lid it's hard to make adjustments on the fly. So you do have to follow the included recipe formula closely - though helpfully Philips suggests various recipes, including for different flours, pastas with spinach or tomato, or even a few Asian noodle varieties. With a bit luck, that should help you resist the urge to experiment that could otherwise lead you astray.

The only other downside from an actual cooking perspective is capacity. You can make between 200 and 400g of pasta at a time, which is enough for a family of four or five, but you'll have to run it twice for larger groups. It also means you can't make a single portion, which detracts slightly from a design that otherwise puts convenience front and centre.

Other than speed, the other area where the Philips comes out top is cleaning. Every component that could get dirty is dishwasher-safe, so after getting rid of any big clumps of dough you're basically safe to just dump it all in the dishwasher if you have one, though handwashing is also easy enough. The only exception is the extruder disc itself - this is still dishwasher-safe, but we found the small holes got too gunked up for our washer to handle.

The Viva is also surprisingly compact for what it does, with a slim, tall design that should be easy enough to stash away and includes an internal compartment to store the accessories. It's not as attractive as the manual makers, but wouldn't look too out of place in a suitably modern kitchen.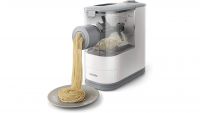 View now at Amazon
The rest compared

The Nuvantee manual pasta machine came in a close second to the Marcato, and is easy to recommend to anyone with a tight budget or who only expects to make fresh pasta occasionally.

The core design is essentially the same as the Marcato, with a pair of detachable cutters, and build quality is roughly comparable. There are only seven thickness settings however, which makes it harder to gradually move down thickness steps, and you may find that you need to pre-roll the dough a little more by hand before you can even use the first level.

You don't get the choice of colours or additional cutter attachment options, but the main machine is just as compact and simple to use, with comparable quality in the final pasta.

Our other automatic option, the KitchenAid, sits in a funny position. If you don't already own a KitchenAid mixer, and have no desire to buy one otherwise, then there's really no reason to opt for this option, as between the two you'd spend almost £500. If you already have the stand mixer it could be a lot more tempting, though, striking a bit of a sweet spot in terms of automation. The main mixer will make the dough for you - and in only a couple of minutes - but since it's an open mixing bowl it gives you a bit more freedom to play with recipes than the Philips Viva.

And while the roller and two cutters are powered by the mixer motor, you still need to manually pass the pasta dough through and adjust the thickness, so it still feels like you're involved in the process.

End-to-end it's not quite as quick as the Philips (especially if you take the time to rest the dough before rolling, an option the Philips doesn't give you), but it's almost as easy and gives you more control over the process.

The big downsides are size - the stand mixer itself is messy, even if the attachments are compact - and price. Even if you already own a KitchenAid mixer, at £155 this attachment set is still three times the price of the manual Marcato and almost as much as the simpler Philips Viva.

One to avoid

The worst performing model on our list was the Lakeland pasta machine. Yes, it's cheap, but at the same price the Nuvantee model is better on almost every count. The addition of a third roller (tagliatelle, linguine, and spaghetti) helps, but isn't enough to overcome the numerous flaws.
The weak clamp leaves the machine bouncing around during use, the handle falls off half the time when you're not holding it, and having the cutters built into the body makes the whole thing bulkier and harder to clean.
Related Reviews and Shortlists