ShortList is supported by you, our amazing readers. When you click through the links on our site and make a purchase we may earn a commission.
Learn more
Best cocktail recipe books for budding home mixologists
Who needs bars when you have these amazing guides?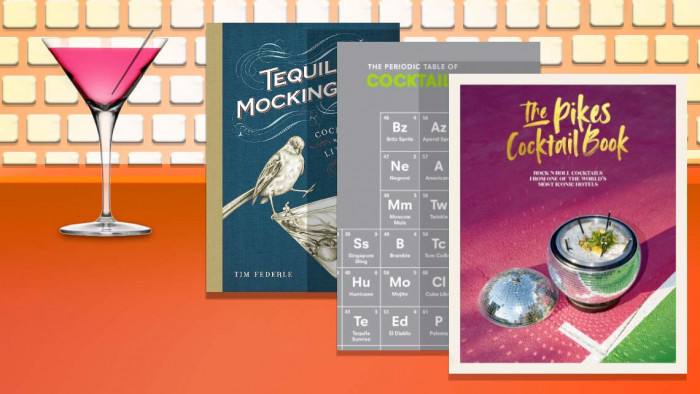 Drinking an exquisitely made cocktail is one of life's greatest pleasures.
While your drinks trolley probably doesn't match up to a cocktail bar in terms of range of supplies, there's absolutely no reason you can't indulge that pleasure at home. And a cocktail recipe book will help.

Over the last few years, an increasing number of mixologists, bartenders and other experts have been sharing the secrets to their drinks in a series of books designed to help you make cocktails at home.
If the idea of diving straight in sounds a little daunting to you, there are currently plenty of social distancing cocktail masterclasses taking place online. With brilliant bartenders expertly guiding you through the cocktail making process, at home classes from the likes of Smith & Sinclair are sure to help you through.
Alternatively, if whisky is more your thing, Master of Malt's Pete Holland is guiding a live tasting session called Drinks by the Dram. All that's required is to purchase a set online for £24.25 and you'll be guided through some top quality whisky. The classes are also a great way to add a little human interaction to the learning process.
But whether you're a seasoned home bartender or your skills extend as far as a gin and tonic, these books will help, covering the basics you need to begin with and more complex techniques to take your drinks to the next level.

Don't forget to vote for your favourite – and let us know if we're missing anything essential.
Until then: bottoms up!
Best cocktail recipe books for budding home mixologists
---
Cocktail making advice while stuck indoors
Given we are all stuck indoors right now, it's all well and good having a cocktail book but if you haven't got all the ingredients, for whatever reason, it's a little difficult to make the cocktail of your choice.
With that in mind, we have spoken to Award Winning Mixologist Tom Dyer. He's been working with Jose Cuervo on an Instagram series helping Britons in lockdown make bar-quality tequila cocktails using everyday kitchen ingredients.
He's created five delicious cocktail using everyday ingredients found in the back of cupboards and fridges. If you want to see how he's done it, head to @josecuervouk on Instagram for episodes of Ready Steady Cuervo.
Here's his cocktail tips... 1. Use Jiff Lemon for lemon juice
You might struggle to find lemons in your local corner shop, I know I sometimes do. Why not try swapping Lemon juice with Jiff Lemon which millions of people will have left over from Pancake Day! It can be a little more tart, so you can mix with water to and a touch if sugar to dilute. Limes can also be used in place of lemons most of the time
2. Port is a GREAT Base

Sometimes the classic spirits is just too much and I want a low alcohol cocktail, so I go to the back of the cabinet and pull out the port. Don't use as much as your regular spirit but replace Rum for port in a Mojito for example and you might be surprise by the result
3. No cocktail shaker, no worries
There is plenty alternatives, some of which work better. A large pickle jar, a protein shaker or Tupperware container are all items you can try. Anything with a lid that closes will work. If you are doing multiple cocktails a large Tupperware container will do the job wonderfully
4. Use chickpea juice instead of egg white

Ever wondered how bartenders get the beautiful foamy texture on some of their cocktails. Normally they use an egg white, but if you're worried about using raw egg or want a vegan alternative, the juice from your chickpea can works great. Shake it Hard and you'll get that same foamy texture adding another dynamic to your drinks
5. Chocolate is a great replacement for sugar syrup

In our Cuervo Chocolate Orange, we used chocolate orange instead of sugar syrup..it adds taste, sweetness and texture to a drink. Blended with the other ingredients you have the delightfully delicious 'Cuerco Chocolate Orange'.
---
How to make the perfect Patrón Margarita We also spoke to the folks at Patrón about how to make the perfect margarita and they revealed to us this recipe...
What you need...
35ml Patrón Reposado tequila
15ml Patrón Citrónge Orange liqueur
20ml Lime juice
How to make...
Chill a coupe glass
Garnish glass with lime wedge and ½ salt rim
Add all ingredients and ice to a shaker
Shake and strain into glass
--- Secret Sofa is back Friday 15 May with a screening of Baz Luhrmamn's Romeo and Juliet. To celebrate the occasion Häagen-Dazs has collaborated with Piper-Heidsieck Champagne to create two 'Rival House Serves' using the luxurious Champagne and Häagen-Dazs Gelato Collection and they sound pretty tasty. Here's how to make them:
The Montague
Ingredients:

75ml Piper-Heidsieck Cuvée Brut
One 95ml mini cup of Häagen-Dazs Chocolate Drizzle Gelato
A sprig of mint (to garnish)
Method:
Pour Piper-Heidsieck Rosé Sauvage into a shot glass
Scoop the chocolate gelato into chosen coupé glass
Sprinkle with desire and raspberries
The Capulet

Ingredients:

75ml Piper-Heidsieck Cuvée Brut
One 95ml mini cup of Häagen-Dazs Caramel Swirl Gelato
A sprig of mint (to garnish)
Method:

Pour Piper-Heidsieck Rosé Sauvage into a shot glass
Scoop the chocolate gelato into chosen martini glass
Grab a sprig of mint leaves and garnish nobly
---
How to make a STARLINO Rosso Negroni Ingredients:
1 part Starlino Rosso
1 part Campari
1 part Old Fashoned
Garnish: orange peel and cherry
Method:

Add 25 ml Starlino Rosso, 25 ml Campari, 25 ml Gin to an Old Fashioned glass. Stir and serve with a twist of fresh orange peel and a maraschino cherry.

Buy from Amazon
How to make a STARLINO Rose Spritz Ingredients:
1 Part Starlino Rosé
3 Parts Prosecco
1 Part Soda
Garnish: Slice of Grapefruit
Method:
Add ice to a long stem glass followed by 1 Part STARLINO Rosé. Top up with 3 Parts Prosecco and 1 Part Soda and garnish with a slice of grapefruit.
Related Reviews and Shortlists