ShortList is supported by you, our amazing readers. When you click through the links on our site and make a purchase we may earn a commission.
Learn more
It's been some 15 years since the release of the first Kindle. Since then the e-reader has pretty much muscled out the rest of the competition, while having modest updates that have expanded the line-up somewhat and improved the device's build, screen and picture quality.
The fact is, though: no matter what Kindle you have, it does pretty much the same thing, allows you to read ebooks and has a battery which means you (almost) never have to worry about it running out of charge.
The Kindle Scribe is different. It is the biggest-ever change to the Kindle range; a device that is trying to entice a new audience to the market, with writing capabilities, by proving that it's much more fun to read and write.
We've been using the Kindle Scribe for a while now - here are 5 things to know…
---
1. Setup will be familiar to anyone who has a Kindle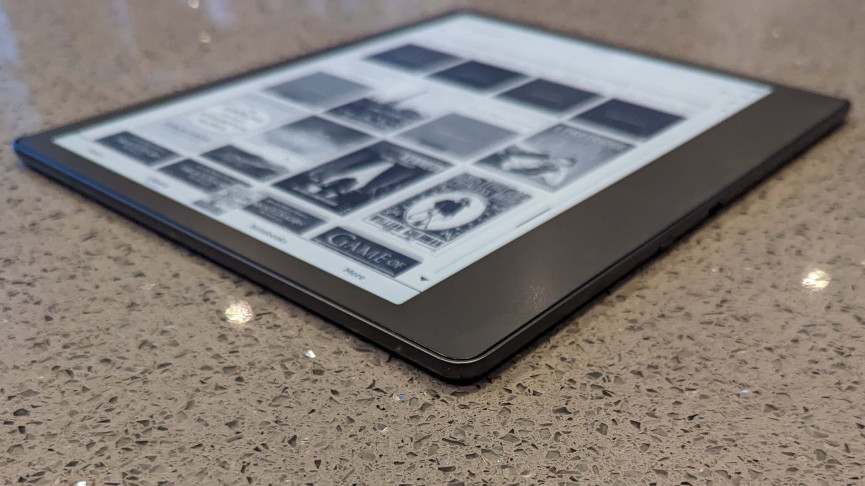 If you already have a Kindle account then setting up the Kindle Scribe is pretty simple. There is a prompt to use the Kindle app to search for the Scribe device, which takes the pain out of having to add in all your details again.
There was an update we had to do before we could use the Scribe but it was swift. In no time we had our Kindle library on the device - which looks impressive on the bigger screen - and were ready to start using the thing.
2. Build quality is impressive and 'tablet like'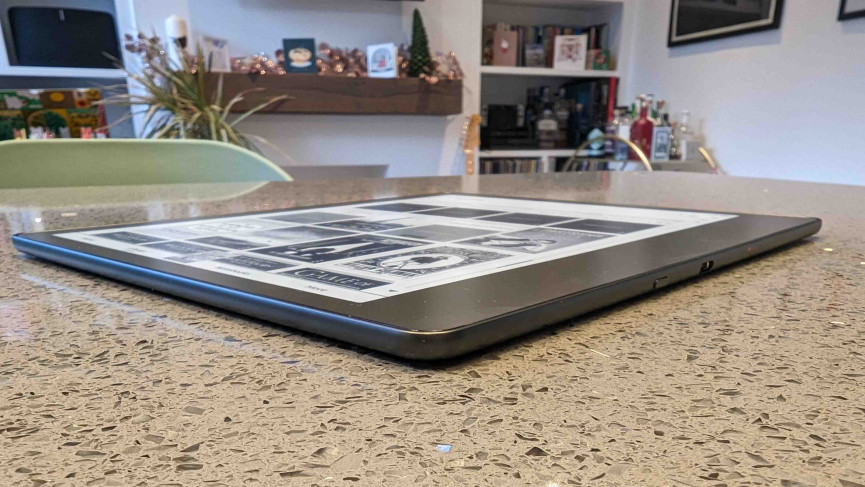 The Kindle Scribe feels like a fully fledged tablet, with its cool aluminium chassis, and has a lot in common looks-wise to the premium-level Kindle Oasis.
It's obviously bigger - the Kindle Scribe is 7.7 inches wide and 9 inches high, compared to the 5.6 inches wide and 6.3 inches tall Kindle Oasis - but has a similar flush screen.
The screen on the Scribe is 10.1 inches, 300-PPI Paperwhite glare-free, with some 35 LED lights to make sure you can use the thing in low-light conditions.
There's only one button on the device, the on/off button; this is on the side of the Kindle Scribe next to the USB-C charging port. Not that you will be using the port that often, as we were clocking three week's use out of the thing when scribbling. Amazon reckons it will go three months, if all you are doing is reading on it.
The sheer size of the screen means that this is a Kindle that will be used a lot more than just reading books, though.
That said, it's a great screen for any comics you may have in your Kindle library. We had a few volumes of Uncanny X-Men downloaded on our device and they were a joy to read on a screen this size, even if you are only getting them in black and white. You can double tap the comic as well to have close-ups of the panels, which also works well on the decent-sized Kindle Scribe.
Reading a book on the thing doesn't feel odd, either. Size wise, it's like tucking into a hardback so there's no worry that you will look strange on your commute with the thing.
3. Writing on the Scribe is a joy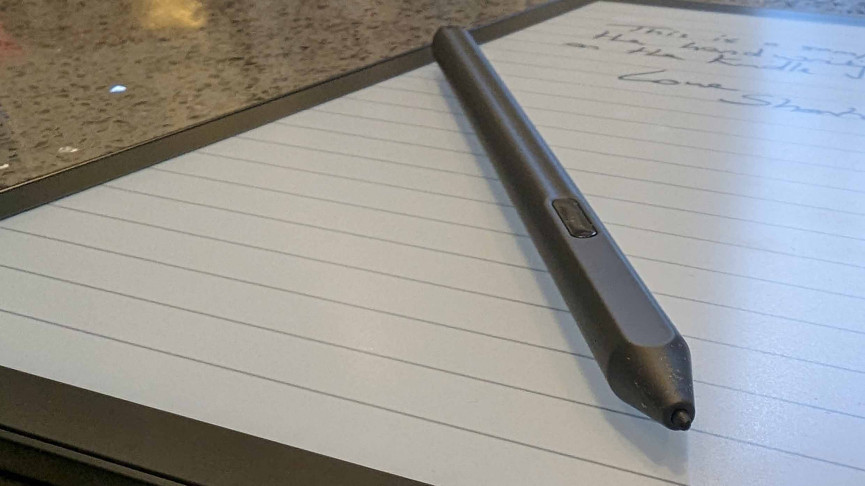 If you are like us, the actual physical act of writing probably isn't something you do that often anymore.
Personally, we didn't think we missed scribbling down notes. Most of our communications before the Scribe were texting and typing (we occasionally speak to people as well, but try and avoid that where possible) but this changed while using the Kindle Scribe.
That's because a stylus/pen can be used with the device. Amazon gives you the option of a Premium Pen or a standard one. If you do opt for Premium, then you get the ability to erase what you are writing, thanks to the handy 'rubber' at the top of the pen.
The pen is magnetic, too, so will stick to the side of the Kindle Scribe no problem at all.
As for the writing, it's superb. It has enough give to 'feel' like writing with a pen and not just tapping on glass.
We found having it on the thinnest setting looked the most like pen and ink and there was a pleasing lack of latency which made it a pleasure to use.
There is also a little button on the Premium Pen which is a shortcut to whichever feature you want. All you have to do is head to Settings > Pen > Pen Shortcuts and change it to your desired shortcut. We used it to quickly create a sticky note.
4. The note-taking functionality is decent...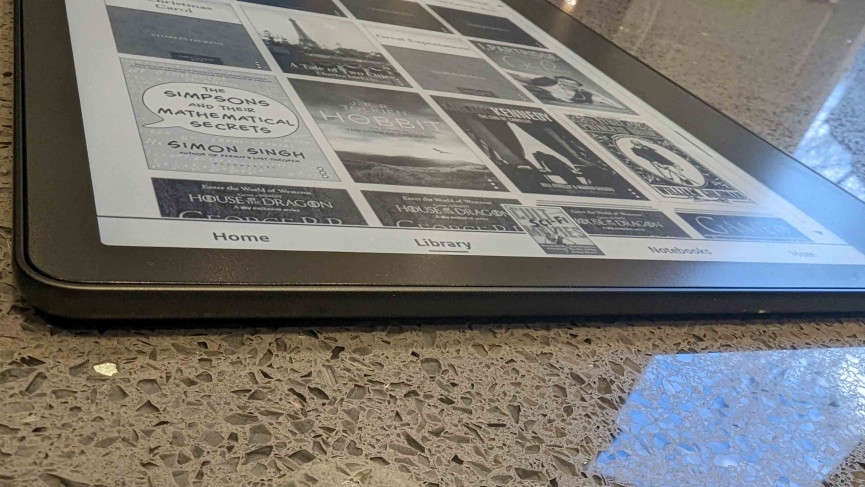 Let's get the good out of the way first. The new Notes section is a great place to write your notes on the Kindle Scribe and store them on the device to read back at a later date.
Open it up and there are 18 templates to choose from - just select the one you want and click Create.
The ability to write on PDFs is excellent, too, and something that can help if you have to sign documents and send them back, or just want to annotate them - all of this works really well.
As someone who is left-handed, it was also great that we could flip the pen features to the left side of the page with ease.
Unfortunately, we couldn't find a way to re-organise the notes we took (that's because their currently isn't a way) and you can only export your notes as a PDF (which isn't a bad thing but more options would be fun). Which brings us on to…
5. But the Kindle Scribe could do with more note features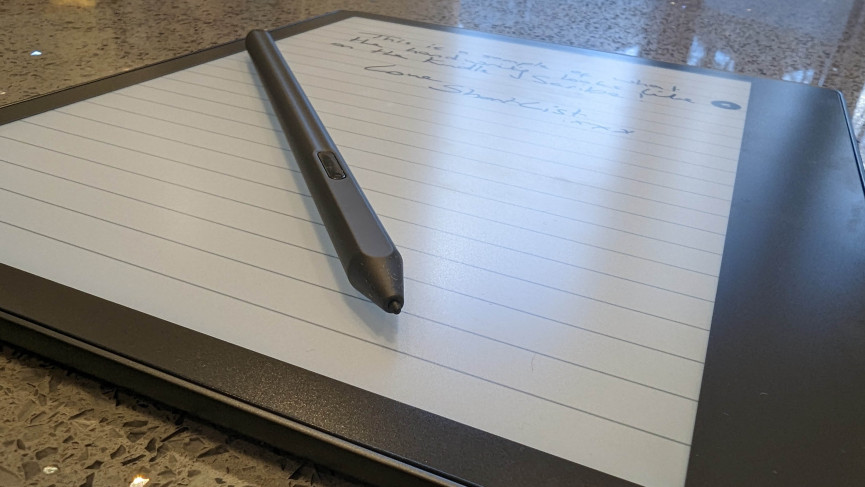 There are some things we would like Amazon to improve on with the Scribe. The first is note taking in books. Right now, the only option you have is to use a Sticky Note. This is 'fine' but as we had a Pen, we immediately started trying to circle and write in the margins of our Kindle books and found frustratingly that we couldn't.
The next feature is the big one for us: the Kindle doesn't yet change your scrawl to typed text. This is something other devices do well and it really is needed here. Especially when it comes to longer-form note taking. If you can switch up your handwriting to editable text then it really opens up the Kindle Scribe to many more user cases.
What is incoming is the ability to write into Word documents which will be a great addition. Saying that, once you have written something down in note form, you can only really look back on it on the device or within the Kindle app - opening this out to other places would be helpful.
Amazon Kindle Scribe: Final Verdict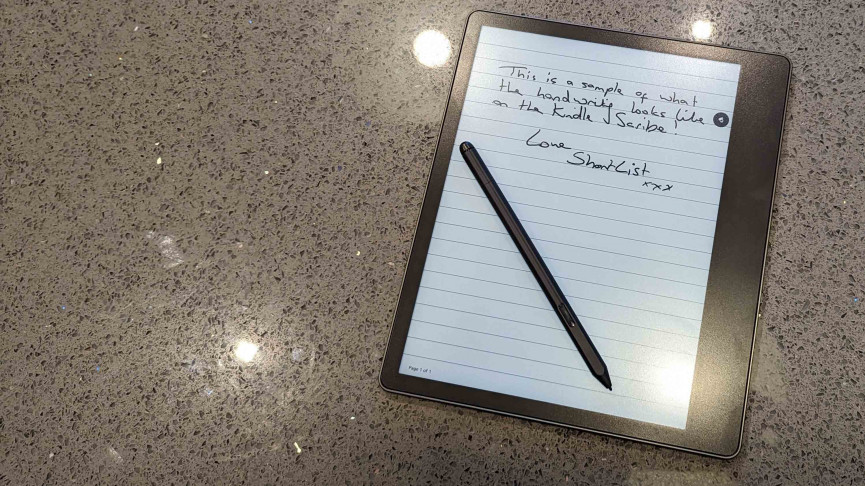 The Kindle Scribe is the most fun we've had with an Amazon gadget for a long time. It's a fantastic - if pricey - replacement for pen and paper and one that will only get better.
Once our niggles have been ironed out (which are mostly the software features it lacks that we're sure will arrive in updates to com) we have no doubt the Kindle Scribe will be a compelling device for the masses.
Right now, though, the Kindle Scribe gets far more right (write?!) than wrong and we can't wait for it to fulfil its full potential.
Buy now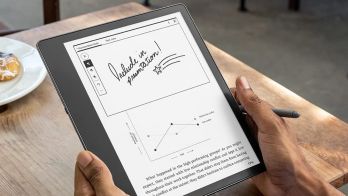 Amazon Kindle Scribe
£409.99
The Amazon Kindle Scribe is the Kindle for reading and writing - this price is with the Premium Pen.
Buy now from Amazon UK
Buy now Amazon Kindle Scribe
$459.97
This Kindle Scribe bundle comes with a 64GB Scribe, Premium Pen and Fabric Folio Cover.
Buy now from Amazon US
Related Reviews and Shortlists