ShortList is supported by you, our amazing readers. When you click through the links on our site and make a purchase we may earn a commission.
Learn more
We've tried the ​Bose QuietComfort Ultra Headphones: 6 things to know
Bose's big-bucks headphones add Immersive Audio...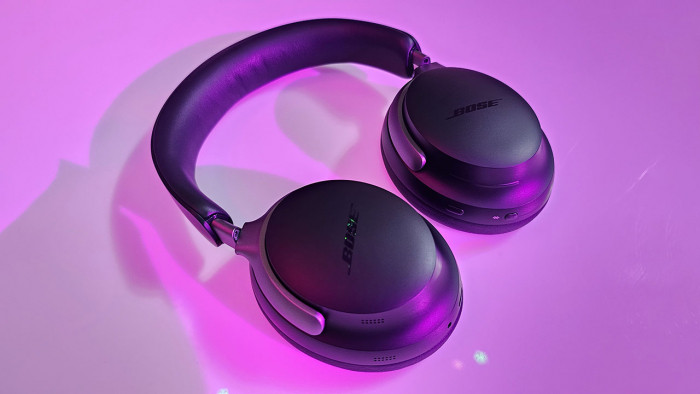 Bose never disappoints when it comes to innovation. Every year or so, the audio giant launches some form of fresh sound tech, be it headphones or speakers, that redefines how we listen to content.

This year is no exception.
Bose just launched its latest flagship over-ears the QuietComfort (QC) Ultra Headphones, at a swanky launch event in New York. Replacing the Noise Cancelling Headphones 700, they have new spatial sound technology. Bose calls it "Immersive Audio".
We were in town to give the new cans a try, to find out just how special this new audio tech really is. Here are six things you should know about them…
1. Bose Immersive Audio is breathtakingly good For the first time in any Bose product, the QuietComfort Ultra Headphones have Immersive Audio, and it sounds like a game-changer if you ask us.
It basically delivers spatial sound to your ears for more immersive listening, and does this by creating a multi-dimensional soundstage that immerses you in the content as if it were live in the room.
It sounded very impressive in our demo. Immersive Audio presents music as if it is being played live right in front of you. It even allows you to choose between two modes: 'Still' for a fixed sound when you're stationary and 'Motion' for when you're moving around.
The Still mode places the sound in front of you. When you move your head from side to side, the soundstage stays in one place, as if you are watching a live band. In Motion mode, it moves with you, which is ideal when you're on-the-go.
Immersive Audio can be turned off to preserve battery if you wish, but judging by how good it sounds, you probably won't want to do that. It also works alongside Bose's renowned noise-cancelling tech so it not only feels immersive, it successfully blocks out loud external sounds.
2. Chunkier but minimal design Bose's QuietComfort Ultra Headphones have undergone a complete overhaul since the firm's last flagship pair, featuring proprietary signal processing, advanced microphones, and a fresh aesthetic.
However, the design upgrade, while maintaining Bose's stylish and minimal appearance, doesn't quite have that premium touch we were expecting. The new, chunkier design lacks the slender curves seen in the Ultra's predecessor and the matt effect, in our experience, is prone to fingerprints and prevents the headphones from looking as luxe as their price suggests.
They do fold up nicely into an (included) compact storage case, though.
3. Clearer voice calls The QuietComfort Ultra Headphones have new, advanced voice tech, which arrives by way of a beamforming microphone array. This, Bose says, can differentiate your voice from 360 degrees of unwanted nearby sound, which means the QC Ultra Headphones can deliver "crystal clear calls with stunning accuracy".
We weren't able to test out this feature during our hands-on demo, but it's definitely something to make note of for those who use over-ears to call family and friends, or for work calls and the like.
4. 24-hour battery life
The Bose QuietComfort Ultra Headphones promise up to 24 hours of juice on a single charge. That's reduced to 18 hours when Bose's Immersive Audio feature is turned on.
While that's a fair few hours less than the rival ANC over-ears from Sony, the WH-1000XM5 headphones, it's still enough for long train journeys or a long-haul flights to far-away places.
5. Easier-to-use physical controls The Bose QuietComfort Ultra Headphones have new onboard controls, which we found make the headphones easier to use.
On the right earcup, you'll find three controls: a power/Bluetooth pairing button, a capacitive touch strip for volume control and shortcut access, and a multifunction button for toggling between listening modes, answering or ending calls and content playback control.
The left earcup includes an LED indicator, a 2.5 mm jack, and a USB-C charging port.
6. They're pricey
The QuietComfort Ultra Headphones will be available in a black or "white smoke" (basically an off-white) finishes when they hit the shelves in early October, but they won't come cheap at £449.95 a pop.
For comparison's sake, the new Ultra Headphones take over from Bose's last true flagship over-ears Noise Cancelling Headphones 700, which were launched over four years ago but are still available to buy for just £199.95. It's also a chunk of change more than the Bose QuietComfort 45 from 2021, which released at £319.99 but are often available online for less these days.
If you're worried about missing out, you can pre-order the Ultras now from Bose.com.
Bose QuietComfort Ultra Headphones early verdict
It was over four years ago when Bose last unveiled a flagship set of headphones, so the Ultras have been a long time coming. But costing a whole £250 more than their predecessor, are they really worth the extra dosh?
It's perhaps too early to say, not without proper testing of the Ultra over-ears over a longer period of time. But one thing we do know is that Bose has really upped the ante with its latest headphone release. The Immersive Audio tech adds a whole new dimension to the sounds coming out of these cans, offering a fresh and immersive sound experience that elevates the richness and realism of audio from any device.
As far as we can tell, these headphones are definitely something to consider if you're serious about audio quality.
Related Reviews and Shortlists