ShortList is supported by you, our amazing readers. When you click through the links on our site and make a purchase we may earn a commission.
Learn more
We visited Super Nintendo World in Hollywood - here are 10 cool things to do there
We followed in Mario's footsteps at Universal Studios Hollywood...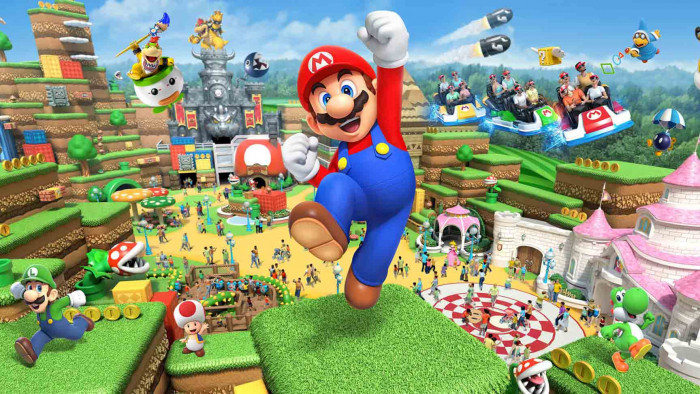 Hollywood has a new hotspot. As you'd expect it's full of stars, is a bit hilly, and the traffic is chaos.
Yes, Super Nintendo World has opened at Universal Studios Hollywood, and it's time to let your inner gamer run wild as it's the stuff of pure warp pipe-dreams.
The new land has officially launched at the original Universal Studios theme park, smack in the middle of buzzing Los Angeles and the first of its kind to open outside of Japan. ShortList, of course, was at the glitzy opening to discover the hottest spots of the all-new world that you'll want to jump in a kart and race to immediately.
From racing in real-life Mario Kart, to discovering hidden Nintendo easter eggs that will give you serious nostalgia, and trying out Toad's Cafe (and his cooking), here's your ultimate ShortList of the ten absolute coolest things you can do in Hollywood's real-life Mushroom Kingdom. 3…2…1: Let's-a-go!
---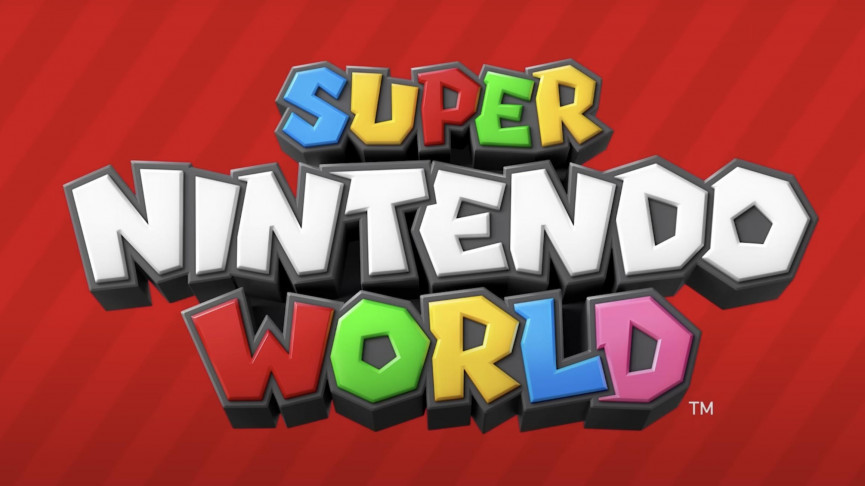 1. Explore the little details
Like warping into a real-life Super Mario game, Super Nintendo World is designed to be explored. This isn't just strolling through a park: you'll feel like you've been sucked into the Mushroom Kingdom. Abbye Finnan, show producer at Universal Studios Hollywood, tells us, "We've done something a bit different with this land, so that you truly get to interact and you're actually playing a game." That means little details to discover everywhere, she explains, "There are little easter eggs everywhere. Bowser's castle lended itself perfectly to that - who doesn't want to be able to walk through that and explore a little bit more?" For theme park fans who have visited the Japanese land, there are also new exploratory areas which aren't featured there, we're told.
2. Visit Bowser's Castle
On that note, you'll notice Bowser's epic lair marks the centrepiece of the park. It serves as the place where you'll queue for the Mario Kart attraction (more on that below), but it's also an experience for Nintendo fans in itself. You'll wander through a trippy dark-light forest, before seeing Yoshi and then entering the massive stone mouth entrance to Bowser's Castle, complete with self-aggrandising statues, his hall of prized trophies and a useful Bob-Omb factory. It's an extraordinary sight - and you should keep an eye out for hidden gags, reveals Finnan, "Pay attention in Bowser's study. The titles of the books there always give me a good laugh. The same things go for the Foundry room. There are little signs in certain places that really give, in this case, Bowser, life." It all adds up to feeling less like the real world and more like stepping into an actual video game level.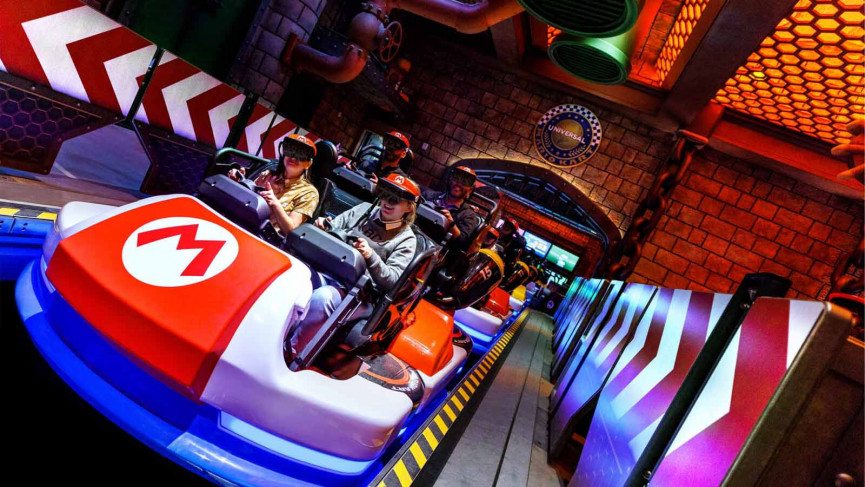 3. Race in actual, real-life Mario Kart
Yes, this is your chance to put the pedal to the metal on the actual Rainbow Road. Mario Kart; Bowser's Challenge is the main attraction in Super Nintendo World, and sees you join a Mario Kart race through iconic Mario Kart tracks, crashing through special item boxes and firing shells at your opponents on Team Bowser.
You're sat in a four-person 'kart', following an on-rails track. Rather than roller coaster drops, the thrill comes from the race playing out in front of you, which you'll see through a mixture of physical scenery and Augmented Reality. To experience the AR tech, you'll sport a Mario Kart with accompanying detachable AR visor, where you'll see the other racers and aim your shells at them. That means whipping your head around to see everything going on around you, and firing shells even quicker. It's family-friendly, fast-paced and madcap - with shooting off down the aforementioned star-powered Rainbow Road a particular thrilling highlight. With that in mind, we wanted some insider pro tips for maximum points.
"The hardest thing for me to wrap my head around on the attraction was, to aim the shell, you not only have to be looking at it, but stay looking at it! Don't get distracted by the other things going on," advises show producer Finnan, "That's how you'll really rack up the points."
The other thing you've got to pay attention to? Steering. "You're going to get points if you just steer - even if you only do that part. Oh, and make sure the visor is on tight enough!"
It's worth keeping steering and snug, as if you have a corresponding Super Nintendo Power-Up band, the ride will interact with it to save your score and add it to your in-app points.
4. Pop out of a warp pipe for the best profile picture
Look, if this isn't Instagram gold then we don't know what is. Spin, jump out or simply pose with the giant warp pipes you'll find dotted around the land - and then embrace your inner big kid by finding Yoshi, piranha plants, goombas and more patrolling the walls around you. You'll also find Mario, Luigi and Princess Peach waiting to meet you, here, too. Arguably one of the most photogenic theme park lands in the world, there are cute details to spot everywhere, so, make sure you've got plenty of phone storage to snap away with before you go.
5. Play minigames like you're in an actual Super Mario level
The feeling of stepping into a video game isn't just made by the characters, spot-on scenery or the in-game soundtrack engulfing you in the land: you can actually take on three different minigames around the park. Once you complete one, it'll be logged on your Power-Up band, and when you've won all three, you'll get special access to Bowser Jr.'s castle for a final boss battle of your own (and the most fun game of the lot!).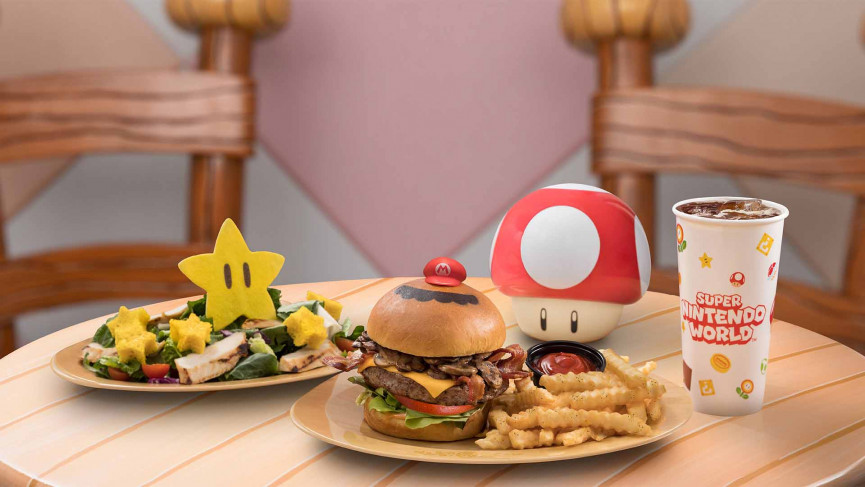 6. Visit the Toadstool Cafe
Hollywood's most in-demand new restaurant opening has a totally unique, curated menu, has people travelling from across the world just to experience it - and it's made by a little chef who has mushrooms on his mind, literally: Toad.
The adorable Toadstool Cafe combines authentically-designed Super Mario themed dishes with a homely wood-carved cafe, complete with digital 'windows' with views of the adorable chefs at work and the Mushroom Kingdom, making it a must-visit for Nintendo fans. Every dish on the menu is delightfully themed around Nintendo, and usefully for families, it's a combination of quick-service and table-service: queue and order your Piranha Plant caprese salad or Luigi burger at the counter, then be seated and relax st the Toad-approved table while you wait for it to be brought to you.
7. Speaking which… you'll want to try Chef Toad's special
This is not your average theme park food - and Chef Toad, it turns out, is a rather distinguished cook. Case in point: the Chef Toad Short Rib Special. Chef Julia Thrash, Vice President of Culinary and Executive Chef at Universal Studios, tells us that of everything on the year-in-the-making menu, it's her personal favourite. "They're actually braising the meat in-house. We're searing it, cooking it for four hours, and making the reduction from scratch. Then we're also making the polenta, which is served with the short rib, throughout the day. It takes a lot of time and skill."
Kids, meanwhile, will love the Mario Mini Burger Adventure Set, which comes complete with Mushroom Kingdom- appropriate truffle fries, and broccoli laid out as whimsical bushes around the burger.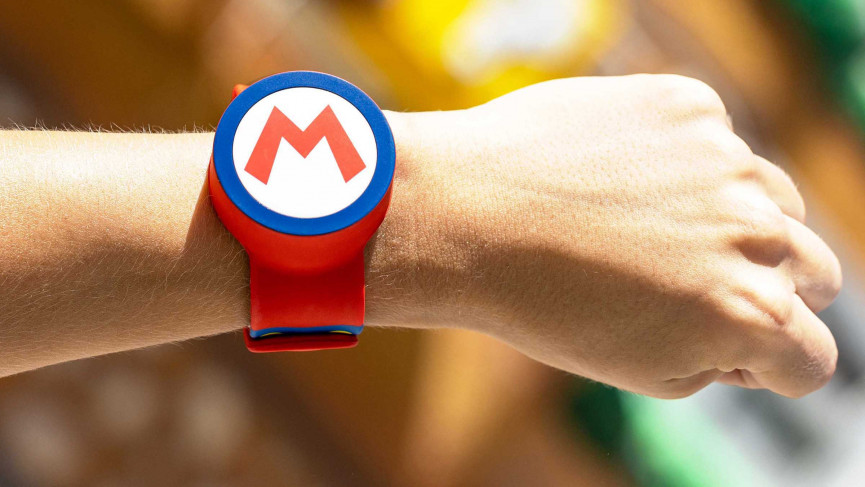 8. Feel the nostalgia
The new world may be technologically advanced, but the old-school gaming nostalgia here is very real. That's not just because of the Mario Bros. or the POW blocks around every turn. If Mario 64's your thing, the rippling paintings inside Peach's castle will make you want to double-jump right into them - while if you're more of an arcade cabinet connoisseur, look out for the 8-bit Mario sprites you can make magically appear by waving your Power-Up band in certain hidden spots around the land.
9. Stock up on Mario merch
Pack light, because if you're able to lay eyes on these Chef Toad plushies and not bring one home, you're made of stronger stuff than us (he wears his chef's hat on top of his mushroom, for crying out loud). There's also exclusive apparel and other souvenirs on offer that you won't find anywhere else, so you won't be short of gamer gifts for your pals (or for yourself, more importantly). 10. Get competitive and collect all the coins
What would a Nintendo experience be without collecting shiny gold coins and hearing the iconic 'blip' sound effect as you do. Question Mark, Pow and Brick blocks are found all around the park (and some in rather hidden nooks and crannies) - pound them with your linked Power-Up band on, and not only will you hear that satisfying coin sound, but you'll also nab coins for your leaderboard score, recorded for everyone to see on the daily park leaderboard.
Here's how it works: purchase a Power-Up band at the park (there's a choice of Mario, Luigi, Princess Peach, Princess Daisy, Toad and Yoshi designs), download the free Universal Studios app and pair with your band. Then, not only will your band interact in special ways around the park, but the linked app will keep track of the coins you win and the score you rack up on the Mario Kart attraction, allowing you to compare scores with the others in your party and see how you rank compared to everyone else in the park, too.
You'll even be able to take your winnings home, with your Power-Up band also interacting with your Nintendo Switch console back home to unlock special in-game goodies.
ShortList travelled to Universal Studios Hollywood with Virgin Atlantic. Five nights in Los Angeles from £1,499 per person: Five nights in Los Angeles, with Virgin Atlantic Holidays, including scheduled Virgin Atlantic flights from London Heathrow direct to Los Angeles, five nights' accommodation at Sheraton Universal, and the Universal Studios Hollywood buy a day, get a 2nd day free special offer ticket. Price is per person based on 2 adults travelling and sharing a Traditional Guest Room with a King Bed and includes all applicable taxes and fuel surcharges which are subject to change. Price is based on a departure on 17th April 2023. Virgin Atlantic Holidays is a member of ABTA and is ATOL protected. To book, visit www.virginholidays.co.uk.
Related Reviews and Shortlists