ShortList is supported by you, our amazing readers. When you click through the links on our site and make a purchase we may earn a commission.
Learn more
New on Netflix: all the movies and shows streaming this month
Here's everything new that's landing on Netflix...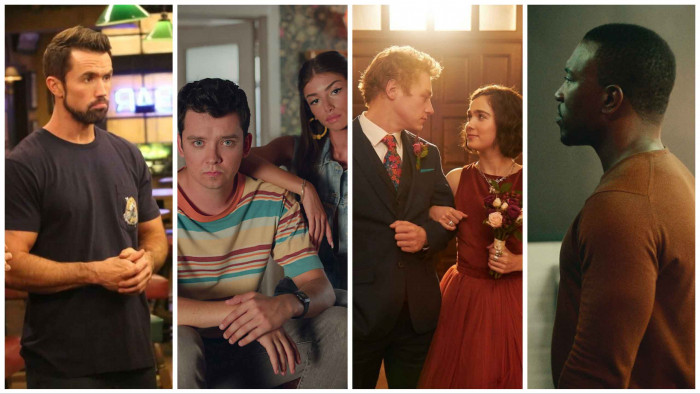 September is here which means the nights will be getting longer. And you know what that means? More time to settle down with the best Netflix has to offer.
If scouring the current selection of TV and movies on the platform wasn't enough, a shiny new batch of things to watch has arrived and there's a decent selection of new Original shows and films made by Netflix and some stone-cold classics waiting to be watched.
Highlights include We Anderson's short movie of The Wonderful World Of Henry Sugar, a new season of It's Always Sunny coming to the UK and the fantastic Band of Brothers and The Pacific landing on US soil.
And let's not forget about the final seasons of Sex Education and Top Boy!
Here's everything that's new on Netflix in September - we have indicated whether things are coming to the US and UK. If you are reading from a country different to this, then please check Netflix in your area.
What To Watch: a curated list of the best new things to stream weekly.
---
New on Netflix: TV 1 September
Disenchantment part five
Love is Blind: After the Altar season four
Bakugan (US only)
One Piece: 3D2Y – Overcome Ace's Death! Luffy's Vow to His Friends (US only)
One Piece Adventure of Nebulandia (US only)
One Piece Film: Gold (US only)
One Piece: Heart of Gold (US only)
3 September
Is She the Wolf? (US only)
4 September
Call the Midwife series 12 (US only)
5 September
Shane Gillis: Beautiful Dogs (US only)
6 September
6ixtynin9 The Series
Infamy
Reporting for Duty
Tahir's House
Predators (nature series narrated by Tom Hardy)
Scouts Honour: The Secret Files of the Boy Scouts of America
7 September
Dear Child
Top Boy series three
Virgin River season five – part one
Kung Fu Panda: The Dragon Knight season three
GAMERA -Rebirth- season one
8 September
A Time Called You
Burning Body
Selling the OC season two
Rosa Peral's Tapes
Spy Ops
Pokémon: To be a Pokémon Master: Ultimate Journeys: The Series part one
12 September
Michelle Wolf: It's Great To Be Here
Glow Up season five (US only)
13 September
Class Act (US only)
Wrestlers
14 September
Di4ries season two – part one (US only)
Thursday's Widows
Barbie – A Touch of Magic (US only) 15 September
The Club season two
El Conde (UK only)
Inside the World's Toughest Prisons season seven
Miseducation
Surviving Summer season two
Band of Brothers (US only)
The Pacific (US only)
Wipeout part one (US only)
Ancient Aliens season six and seven (US only)
Intervention season 22 (US only)
16 September
It's Always Sunny in Philadelphia season 16 (UK only)
18 September
My Little Pony: Make Your Mark chapter five
19 September
The Saint of Second Chances
Kountry Wayne: A Woman's Prayer
20 September
Hard Broken season one
New Amsterdam season five (US only)
21 September
Sex Education season four
Kengan Ashura season two – US
Scissor Seven season four 22 September
Love is Blind season five, episode one to four
Song of the Bandits
25 September
Little Baby Bum: Music Time
26 September
Who Killed Jill Dando?
Batman: The Animated Series (UK only)
27 September
28 September
Castlevania: Nocturne
The Darkness within La Luz del Mundo
29 September
Choona
Love is Blind season five, episode five and seven
Power Rangers: Cosmic Fury season three (US only)
---
New on Netflix: Movies 1 September
A Day and a Half
Friday Night Plan
Happy Ending
Arrival (US only)
Baby Mama (US only)
Couples Retreat (US only)
The Deer Hunter (US only)
8 Mile (US only)
Fast Times at Ridgemont High (US only)
Fences (US only)
Field of Dreams (US only)
Hacksaw Ridge (US only)
Jackass Number Two – Unrated Version (UK only)
Jaws (US only)
Jaws 2 (US only)
Jaws 3 (US only)
Jaws: The Revenge (US only)
Kung-Fu Panda 2 (US only)
Land of the Lost (US only)
Last Night in Soho (UK only)
Macbeth (2015) (UK only)
The Master of Disguise (US only)
Matilda (1996) (US only)
Miss Congeniality (US only)
Mr Bean's Holiday (US only)
National Security (US only)
One Piece (UK only)
Open Season: Scared Silly (US only)
Public Enemies (US only)
Resident Evil: Welcome to Raccoon City (UK only)
The Ruins (UK only)
Snitch (US only)
Stand by Me (US only)
Superbad (US only)
U-571 (US only)
Up in the Air (US only)
Vice (US only)
Wallace & Gromit: The Curse of the Were-Rabbit (US only)
Woody Woodpecker (US only)
2 September
3 September
Crank (US only)
Crank: High Voltage (US only)
5 September
Anchorman: The Legend of Ron Burgundy (US only)
Anchorman 2: The Legend Continues (US only)
Edge of Tomorrow (US only)
Godzilla (2014) (UK only)
Godzilla vs Kong (UK only)
6 September
The Little Things (UK only)
Locked Down (UK only)
99 Homes (UK only)
7 September
What If (2023)
The Card Counter (UK only)
The Swan Princess: A Fairytale Is Born 8 September
12 September
The Wolf of Wall Street (US only)
13 September
14 September
Ehrengard: The Art of Seduction
Once Upon a Crime
15 September
The Count (UK only)
Love at First Sight
16 September
My Big Fat Greek Wedding 2 (US only)
20 September
Judas and the Black Messiah (UK only)
Wonder Woman 1984 (UK only)
21 September 22 September
How To Deal With a Heartbreak
Spy Kids: Armageddon
The Black Book
23 September
Clifford the Big Red Dog (UK only)
27 September
Overhaul
Street Flow 2
The Wonderful Story of Henry Sugar
28 September
Love is in the Air (2023)
29 September
Related Reviews and Shortlists