ShortList is supported by you, our amazing readers. When you click through the links on our site and make a purchase we may earn a commission.
Learn more
Beer of the week: Toast Ale - Oat Pale Ale (Rise Up for Soil)
ShortList Recommends: great beers we've taste tested. Craft beer has now solidified its place in the world of drinks and there are now, according to some sources, over 3,000 breweries in the UK alone. While we have various lists dedicated to beer, much of the scene revolves around constant new releases.
These are often one-off or annual brews that, in the case of some beers, sell out on launch day. Some craft breweries don't even have a core range of regulars, instead preferring to make something new each time the kettle is fired up.
Craft beer has become, to some extent, a Pokémon-esque world of trying to catch 'em all so there's little point in adding those beers to our main shortlists only to find you can't go and try them.
So, our Beer of the Week is a chance to keep up with the latest releases as they come and go. It's all aboard the hype train - and this is our choice this week.
--- Saving the planet is pretty high on many agendas at the moment and Toast Ale is one of the breweries leading the way in the beer industry.
Its latest batch was brewed for World Environment Day and celebrates #GenerationRestoration, a global movement to restore ecosystems and transform the earth.
Oat Pale Ale is part of Toast's Rise Up series of limited-edition collaborations with other B Corps - businesses that balance profit and purpose - with each highlighting a different element of the ecological crisis.
This time it's with Rebel Kitchen, a 100% carbon neutral business that predominantly makes a plant-based alternative to milk.
The beer has been made using not only surplus bread but also organic British oats, with the aim to raise awareness about soil health and regenerative farming. This method uses modern nature-first processes to support soil systems and remove carbon from the atmosphere.
It reduces food waste, plus the beer has a lower environmental footprint and all profits go to the environmental charity Feedback which supports campaigning in the lead up to COP26, the UN's climate change conference in November.
This hazy pale ale is super quaffable but with enough complexity to offer your palette a range of flavours. The oats provide a sweet, creamy body and there's a hint of spice from the inclusion of rye.
That sweetness is balanced with a decent punch of bitterness from the hops - namely Cascade, Azacca and Wai-iti. There's both soft, peachy stone-fruit flavours and citrus notes of satsuma and lime. It's a good job it's only 4% abv considering how drinkable the beer is, and it will suit almost any occasion.
Oat Pale Ale is available at Toast Ale from £24 for a pack of 6. The first 500 orders will get free chocolate from another B Corp, Doisy and Dam. Previous Rise Up beers - including Mango IPA and Baker's Witbier - are still available while stocks last.
About the brewery
As you've probably already gathered, Toast Ale uses surplus bread in all its beers to reduce food waste and inspire change while making great beer.
The brewery has been on the forefront of this way of brewing since 2016 and to date has saved over 2 million slices of bread, 42 tons of CO2 emissions and donated almost £50k to charities along with various other planet-saving stats.
---
Previously on Beer of the Week...

Double-Barrelled - The Big Fruit Heist Summer seems to have finally arrived in the UK, and boy do we have a beer to go with the fabulous weather. Luckily Double-Barrelled brought forward the release of this fantastic sour brew just in time for the arrival of 20+ degree heat.
The Big Fruit Heist is a kettle sour beer, meaning it's been soured during the 'kettle' stage of the brewing process. More importantly, a whopping 620kg of fruit puree has been added to literally jam-pack it with flavour.
The fruits of choice here are mango and passion fruit and you can tell it's tropical just by pouring it into a glass. At first glance, you'd be forgiven for thinking it's simply a big glass of juice.
It's the colour of a Solero, completely opaque, and if you imagine a melted Solero, you're along the right lines for what this beer tastes like. It's thick like a smoothie and offers both sweet and tart fruit flavours.
A nice level of tang keeps you going back for more and it's especially refreshing when sipped out in the sun, sitting in a comfy chair. Be careful though as you'll be tempted to sink a few cans but it packs a punch at 6% abv.
As soon as the sun is out and you've finished work, grab a deckchair, hammock or comfortable recliner of your choice, open a Big Fruit Heist, shut your eyes and you'll be in a beery paradise.
The Big Fruit Heist is available in 440ml cans for £5 each or can be purchased in 6- or 12-packs providing a discount.
About the brewery Double-Barrelled Brewing is based in Reading and is named due to owners Mike and Luci's double-barrelled surname. The couple brewed beer as their wedding favours and after getting such positive feedback, wondered if home-brewing could be taken further.
Cue an 85,000 mile backpacking trip around the globe to all kinds of breweries and beer destinations to learn as much as possible. The pair now have a 24Hl brewhouse and one of the most charming and beloved taprooms in the UK - all after just a little over two years since opening.
---
Play Brew Co - Tropical Pineapple Fruity Sour Gose Beers are often given names that don't instantly tell you what style they are, but Play Brew Co must have been hearing echoes of Catchphrase's Roy Walker whispering 'say what you see' with this one.
It's a bit of a tongue twister but quite fun to say, and on the plus side you know exactly what you're getting before even reaching for the ring pull. This really is a case of 'does what it says on the tin' but that doesn't mean this is a simple beer by any means.
Close your eyes and give this beer a good sniff and you'd be forgiven for thinking it was just pure pineapple juice, such is the intense aroma of the unmistakable spiky fruit. This is unsurprising since the brewery has used real pineapples in the recipe - it's the star of the show here, no messing about.
This is a sour beer, though, so taste-wise it's not just like drinking fruit juice. The 'gose' (pronounced "go-sah") style of beer originated in Goslar, Germany where it's thought the distinctive flavour was due to the saline waters of the Gose River.
Over a thousand years later, salt is added to emulate this and is typically brewed with lactobacillus - a friendly bacteria which, as the name suggests, is often found in dairy products. In this case, it makes the beer sour by producing lactic acid rather than alcohol during fermentation.
History and science lesson over; the combination here results in that sweet, juicy pineapple being balanced out with a nice punchy tartness along with a subtle salty finish. At 4.5% abv it's also brewed to the historic strength for the style.
If you're new to sours then try drinking this out in the afternoon sun or with some food - it'll go with almost anything including grilled meat, seafood and cheese. You might be surprised at how refreshing and quaffable it is.
Tropical Pineapple Fruity Sour Gose is
available as part of a 6-pack
with other new releases including a west coast IPA and DDH pale ale for £27.
About the brewery Play Brew Co is Middlesbrough's latest craft brewery and taproom, born out of a love of nostalgia and home brewing. Owner, Phil Layton says the ethos is "to make beer that surprises people and makes them smile."
This is certainly apparent in the bold, eye-catching artwork and while there are plenty of popular styles like IPAs, Phil also has a real sweet tooth and you'll see this in many of the beers. With examples including a marshmallow and peanut cookie dough ice cream stout, who knows? Perhaps Play Brew Co could be the UK's answer to Omnipollo.
---
Previously on Beer of the Week...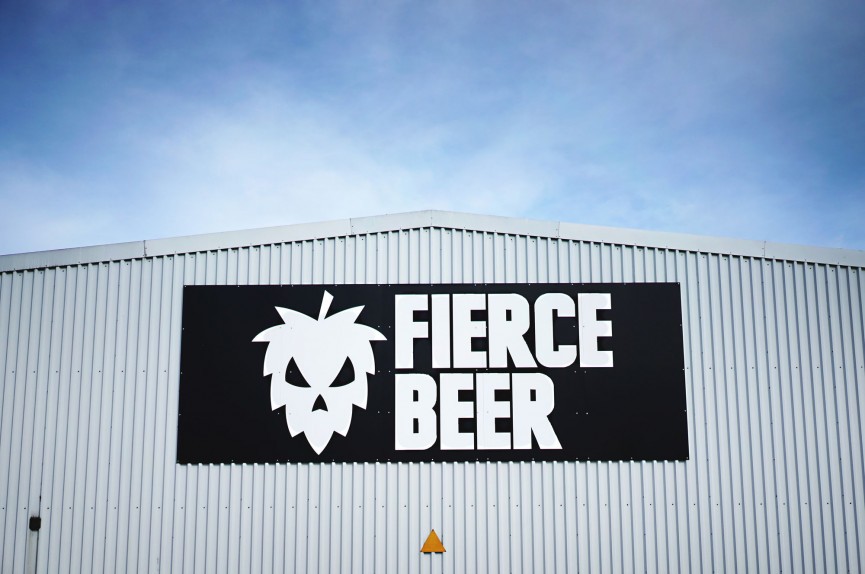 You've probably heard of barleywine, an historic beer style (check out
#barleywinewednesda
y on Twitter) but this is an oat wine, a sort of sub-style.
Very Big Flapjack (VBM) has been brewed especially to celebrate Fierce Beer's fifth birthday, with the Scottish brewery looking back at the journey from brewing in a tiny unit to winning multiple awards at last year's Scottish Beer Awards.
VBM is part of a set of six birthday beers consisting of both totally new brews and returning favourites, some of which are collaborations with Fierce's favourite breweries from over the years. The set includes a bourbon maple imperial stout, an imperial orange ice cream ale and a New England triple IPA.
This is Number One of the six and a collaboration with Brew York from, well, York. The brewery first impressed Fierce with its Imperial Tonkoko, a 7.5% milk stout made with tonka, vanilla, coconut and cacao nibs.
Fierce has a great track record of brewing big beers and this is no exception. While Very Big Flapjack doesn't contain confectionary-like adjuncts, it's not short on flavour and comes in at an even bigger 11% abv.
As the name suggests, VBM is brewed with shedloads of oats providing a rich flavour and a slightly creamy body, which, combined with the high alcohol content, provide a smooth and velvety texture similar to a liqueur.
'Flapjack' really is the best way to describe this beer, with a strong golden syrup flavour and a hint of spice from the inclusion of rye. It's very sweet and while hops are not something that matter much here, there is a slight acidity to stop it being too sickly.
This is an excellent after dinner beer and you can be sipping on it for £8.25 for a 440ml can.
About the brewery
In the brewery's own words, Fierce Beer was "Born from a desire of escaping the oil and gas industry," created by co-founders Dave Grant and Dave McHardy who met on a brewing course.
Since their first commercial brew in May 2016, Fierce Beer has made a solid name for itself in the craft beer world from its bse in Aberdeen, successfully running two crowdfunding campaigns and opening bars in both Edinburgh and Manchester.
---
Previously on Beer of the Week...
Bet The Farm (Fermata Release)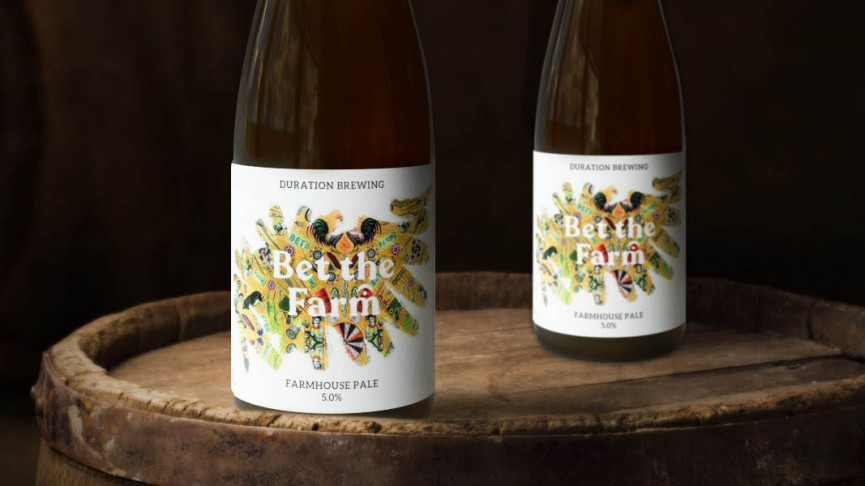 Setting up a brewery just before a pandemic is far from ideal but Duration has lasted, well, the duration and we're all the better for it.
Bet The Farm, an apt beer name from a couple who have put everything into this brewery, is Duration's core range continental pale. This Fermata Release, denoted by a Fermata over the 'm' of farm, is a special version.
Fermata is a musical symbol placed over notes that are to be paused, or held on beyond their natural duration. So for this version, it means the beer has been aged in a foeder, a large wooden vat.
Having spent 13 months tucked away, this beer isn't amped up like some barrel aged beers but certainly has more complexity compared to the regular edition.
There's a more vinous but still tropical aroma that already hints to this being a different beast to its counterpart. Although the aroma gives an impression of sourness the flavour is more subtly tart, with dry oaky tannins and hints of vanilla with moderate funky yeast esters.
It pours a straw colour with good carbonation providing a robust head and body with a blend of hops including Cashmere and Saaz offering up fruit flavours including peach, lime, melon and along with earthy and floral tones.
Crisp pilsner malt is accompanied by wheat giving a slightly creamy texture and the 5.2% abv strength is enough to be noticeable without being overpowering.

Well balanced beers are the most drinkable and this is a great example of everything a farmhouse pale should be. Bet The Farm (Fermata Release) is available in 375ml bottles at £7.50.

About the brewery
You'll find Duration in the West Norfolk countryside in the village of West Acre, run by husband and wife team, Bates (formerly of Brew by Numbers) and Miranda. Both left bustling London lives with the aim to create a modern destination farmhouse brewery.
Literally in an old barn - which underwent significant restoration - the brewery aims to make 'beers that belong' with a 'nod to the past and present' from a setup with sustainability in mind.
---
Small Beer - Summer of '21
Not all beer needs to blow your head off with high alcohol strength. In fact, it's great to have tasty low alcohol beers around for the right moment and that's what Small Beer specialise in.
Alcohol is just one part of beer and let's face it: not everyone wants to get drunk. They're also useful if you want to have a couple and still be safe to drive, if you find higher alcohol levels in the hot sun to be a bit much or simply because it's a school night.
This Summer of '21 limited edition is an English IPA and comes in at 2.3% - sufficient alcohol to notice but little enough to be very sessionable. It's less than one unit per bottle and only 87.5 calories, too.
Alcohol does add body to a beer but this is highly carbonated which balances things out. It just means pouring out from the bottle is recommended if you don't want to feel bloated.
Pour it into a glass and you're greeted with an almost clear, marmalade colour beer with a dense foamy head.
Small Beer has used all-organic, locally sourced ingredients for this IPA with hops from Worcestershire, barley from The Cotswolds and oats from Wiltshire.
There's a lightly sweet and floral aroma from Sovereign, a quintessentially English hop variety that also brings a little earthy herbal tone as well. It doesn't dominate, though, so you also get a hearty scent of fresh malt.
The most drinkable beers are well balanced and this is a great example with flavours of hobnobs drizzled in a little honey, along with savoury fresh bread. A crisp, dry finish rounds things off and you'll realise a bottle didn't last long at all.
About the brewery
Small Beer brews low alcohol up to 2.8% from its site in South Bermondsey. Owners Felix and James call it the "world's first dedicated small beer brewery" and even have a custom brewing kit made for the job.
This allows all the beers to be brewed to strength, avoiding the task of removing alcohol. Perhaps surprisingly, they use twice the ingredients per percentage point compared to a regular strength beer.
You can buy Small Beer - Summer of '21 for £55 for a case of 24 bottles (350ml).
---
Previously on Beer Of The Week...
Torrside Brewing - Erasmus (2021.1)
Torrside is well known for smoky beers, and that flavour often comes from smoked malt, but Erasmus gets its smokiness from something completely different.
Now in its third edition, this Islay IPA is part of the 'Cats of Chaos' series as a more middling abv and experimental alternative to the big 'Dogs of War' beers, which are typically imperial stouts or barleywines.
They're all barrel aged and as the style suggests, Erasmus has been given the treatment of whisky barrels from the famous Scottish island. For this 2021 edition, Torrside has taken its flagship IPA I'm Spartacus and transferred it straight from the fermenter into a second use Laphroaig barrel, where it aged for two weeks.
The result is something like a boilermaker, whether you prefer to have the beer and whisky in the same glass or not.
Erasmus pours with little carbonation giving it a cask-esque vibe, and offers a slightly marmalade orange hue. If you didn't know any better, it would look like a fairly unassuming pint.
On the nose, the peaty Laphroaig smoke is more of a hint as if a neighbour down the road is having a bonfire you can faintly wiff. Really, the aroma of Simcoe hops dominates with an intensely fruity smell of mango, passionfruit, mandarin along with some pine, too.
Take a sip and the peat really hits as if the wind direction has changed and given you a good blast of smoke from a fire pit. However, it's balanced out with the bitterness and fruitiness of the IPA.
A few more sips and things mellow as the palette adjusts, so don't judge it too quickly. If it still sounds a bit much, try pairing it with some food such as a steak or cheese. And if this sounds like your kind of thing, the other Cats of Chaos beers for 2021 consist of a Rum Barrel Red-and-Black IPA and a Peated Highland Whisky Barrel Strong Ruby Mild.
About the brewery
Torrside Brewery is run by three long-practicing homebrewers, Chris, Nick, and Peter, and their motto of 'Hops. Smoke. Monsters' tells you a lot about what to expect. The brewery gets its name from the Torrs Riverside Park, a 70-foot-deep gorge cut by the River Goyt in the Peak District.
Erasmus was Nick's cat and is sadly no longer with us, but lives on in the label design of Emma Sidwell, who is married to Peter.
Head to Torrside's official store to grab yourself a bottle, which costs £10 (750ml).
---
Previously on Beer of the Week...
Northern Monk - Green Heathen
New England IPA (NEIPA) is arguably the most popular beer style of the last few years but the juice bombs can get a little samey. However, this collaboration between Northern Monk and London's Green Times Brewing is unusual.
This twist version of Northern Monk's flagship NEIPA is infused with CBD oil. CBD stands for cannabidiol, which along with THC, is one of the main compounds found in cannabis and has various benefits such as relaxation, mood-enhancement and anti-inflammatory properties.
The beer is free of THC, which causes the 'high', of course - this is what makes CBD oil legal in the UK - and pours incredibly thick, looking much like many whisky sours we've had in the past.
Each can of Green Heathen contains 10mg of CBD oil which is often a recommended starting daily dosage. Whether you feel any effect will be personal but at 7.2% abv, you'll likely feel the effect of alcohol more prominently anyway.
As well as CBD, there's also terpenes; an aromatic compound found in many plants but often associated with cannabis. In fact, hops and cannabis belong to the same cannabaceae family of plants so it's about how it works with the other ingredients.
The terpenes enhance the heavily dry-hopped NEIPA style which is the classic combo of Citra and Mosaic here. So Green Heathen is incredibly dank and grassy with a strong piney, resinous and herby aroma and flavour.
It's also possible the CBD oil is adding some subtle orange peel and floral notes, along with bitterness.
Heavily hopped beers that are freshly canned are often described as 'green' so it's a very apt name for this version of Heathen. It's an intense beer for sure, but it might taste a little more balanced in a week or two when the raw hoppiness mellows a little, giving the tropical fruit and creamy flavours more prominence.
About the brewery
Based in Leeds, Northern Monk has become one of the powerhouses of the UK craft beer industry over the years, with a solid core range as well as countless limited editions covering all styles.
The brewery's Patrons Project sees collaboration with artists, photographers, athletes and more, with 7 curated beers in each series. Northern Monk also holds its own festivals such as Hop City and Dark & Wild City at its Refectory.
Northern Monk's Green Heathen is available now for £5.30 (440ml cans) from Northern Monk's official shop.
---
Little Earth Project - Blackcurrant & Rye Sour
This week we travel to rural Suffolk for a beer for the sour fans out there. And we're in towards the deep end of the sour world here with a lip smacker that's made with blackcurrant and rye.
The beer pours a thick, opaque deep purple probably best described as aubergine in colour. A foamy, raspberry pink head quickly dissipates, leaving behind an intense aroma of the juicy fruit and a slight hint of the beer underneath.
If you're new to sours then this may be a little intense but you can always try pairing it with something sweet - perhaps a creamy panna cotta. There's long-lasting sourness here with added dryness from the oak barrels the beer has been fermented and aged in.
Little Earth Project initially made a base beer with a decent amount of rye, fermented over many months in the barrel using its own mixed culture. While there's a slight sweetness of the beer apparent, along with some spice from the rye, the star of the show is the blackcurrant.
It's like drinking Vimto sour sweets in beer form with subtle funky esters from the yeast. There's also a pleasant lingering bitterness and the beer is a nicely middling 5.2% abv. It has a best before of 2026 so you could drink some fresh and see how the beer ages over time.
Blackcurrant & Rye Sour will be available from 22 April from retailers including Beer Gonzo and Hoptimism.
About the brewery
You're unlikely to happen upon the Little Earth Project microbrewery as it's set deep into the Suffolk countryside between Ipswich and Bury St Edmunds. Run by Tom and Dani, they specialise in historic, farmhouse and sour beers.
Many of the ingredients used are either grown locally, on brewery grounds or foraged from nearby. The White Horse Inn next door is owned by the brewery and there's also a campsite and two self-catering chalets which you can visit.
---
Burning Sky - Recusant
It's always nice when a former 'beer of the year' contender gets a rebrew, but it's never a given with many lost into the archives never to return.
Luckily, Burning Sky has made another batch of its fantastic wild Belgian style ale called Recusant, meaning to refuse to submit to an authority or to comply with a regulation.
Burning Sky specialises in Belgian styles so you know you're in good hands and Recusant is stunning. It's made Pilsner and Vienna malt along with typical ale yeast but is also fermented with Brettanomyces, a strain of wild yeast that is often shortened to 'Brett'.
It means 'British fungus' and although this particular strain, Bruxellensis, is associated with the Senne valley near Brussels, it still gives the beer a moderate but not overpowering funky and earthy barnyard flavour along with a hint of sweet apricot and a crisp, dry finish.
The beer pours a golden straw colour and is one of the closest UK-brewed beers to the classic Trappist beer, Orval. The similarity is very much intentional.
Unusual for a Belgian pale ale, Recusant has been dry-hopped but the New Zealand hops from the previous version are gone. Instead, Burning Sky has kept things simple with a traditional hop variety in Styrian Golding, providing spicy white pepper and floral honeysuckle aromas.
The beer hides the 6.3% abv strength well and while it's a complex marriage of aromas and flavours, it's ever so easy to drink.
It'll taste great alfresco in the warm sun along with copious amounts of bread and cheese. As this version is canned, it's not designed for ageing like a lot of Brett beers but it doesn't make it any less delicious.
About the brewery
Burning Sky 'Artisan Brewers & Blenders' is nestled in the countryside of the South Downs in East Sussex and led by Mark Tranter, formerly of Dark Star and the creator of the extremely popular and iconic Hophead.
The farmhouse brewery's first beers arrived in 2013 and quickly started to win awards achieving the 4th Best New Brewery in the World 2014 by Ratebeer and plenty of others since. Burning Sky was the first UK brewery to install oak foudres to age beer in.
---
Elusive Brewing - Vortex
Double IPAs might be all the rage but a Double Black IPA is a rare find, like getting a shiny in your pack of Pokémon trading cards.
The brewery is well known for its dark beers with owner Andy Parker causing something of a Black IPA revival over the last year or so with his #BIPACOMEBACK hashtag on social media.
To make this beer, Elusive has taken its multi-award-winning BIPA, Shadow of the Beast, and ramped it up into an imperial version.
Vortex pours like a viscous oil and you get a huge and thick tan coloured head, almost like a nitro beer. This, along with the inclusion of wheat, gives a luxuriously smooth and creamy texture making it very drinkable for an 8% beer.
Dark Crystal malt and roasted wheat bring flavours of coffee, toast and chocolate giving a stout vibe and there is also a strong dark berry character with a subtle marmite umami note in the background.
This is still an IPA, so you still get a big hit of pine and citrus from the Cascade, Mosaic and Citra hops. Black IPA might not be a style for the masses but it's totally worth trying if you want to push the boat out.
About the brewery
Elusive Brewing sits a stone's throw across the yard from Siren in Finchampstead (which is celebrating its eighth birthday this week), near Reading, with much of the branding related to retro gaming including plenty of 8-bit labels.
Andy, known as 'the nicest man in beer', set up the brewery in 2016 after winning The Craft Beer Co. National Home Brewing Awards in 2014 for his American Red Ale, Level Up. He wrote CAMRA's Essential Home Brewing book which includes over 30 commercial recipes.
Elusive Brewing - Vortex is available now for £5.50 a bottle.
---
Westmalle Extra
This week we travel to Belgium for the launch of a new Trappist beer - a rare occasion in the beer world.
Well, new in the sense that this is the first time it's been available outside the monastery walls. Extra has been brewed for decades but was previously reserved for the monks themselves or lucky visitors offered a taste.
Westmalle is known around the world for its strong Dubbel and Tripel beers but Extra comes in at a much more sessionable 4.8%. In some ways, it's like a smaller version of the brewery's Tripel.
Extra pours a pale gold colour with the slightest haze. Like its siblings, this is bottle conditioned providing plenty of carbonation to achieve that thick and luxurious head that Belgian beers are known for.
The high levels of carbonation also aid the body and result in a slightly creamy texture. The yeast is the star of the show here with bags of banana esters along with spices such as cardamom.
There's more to the beer, though, with citrus aromas, white bread flavour from the malt and a surprisingly bitter and dry finish compared to other Belgian blonde beers.
About the brewery
Westmalle is one of just five authentic Trappist breweries in Belgium, meaning the beer is brewed and overseen by monks in a monastery. Being a Trappist brewery also means that it's a not-for-profit venture so proceeds go back into the brewery or to charity.
Westmalle is credited with first using the term 'Triple' for its strong pale ale, originally made in 1934.
Westmalle Extra Trappist beer costs £2.99 a bottle and is available to buy now.
---
Budweiser Budvar Reserve
No doubt you've had Budvar from the pub or purchased cans from the supermarket, but this Reserve version is something very different and quite special - relaunched in a new bottle and branding.
This is no regular lager to drink by the pint, not at 7.5% abv. This is an imperial lager or ''Extra Matured Czech Lager' having been lagered (meaning 'stored') in Budvar's underground cellars for no less than 200 days.
It's a long time considering many commercial beers are produced in less than a week and regular Budvar rests for 90 days.
The result is a rich and smooth beer that could be described as the barleywine of the lager world, pouring a clear golden amber colour into a glass.
It's sweet and boozy at first, with a luxurious whisky liqueur-like body. There's a strong bread-dough and biscuit flavour from the malt accompanied by a hint of spice and herbal quality from noble Saaz hops.
While it's rich and indulgent, a crisp and dry finish will have you coming back for another sip before long. It drinks perfectly well on its own but will go very nicely paired with a cheeseboard.
About the brewery
Along with Pilsner Urquell, Budvar is the major beer brand in The Czech Republic and has been brewing in České Budějovice (aka Budweis), South Bohemia, since 1895. The brewery uses local ingredients and even has a Protected Geographical Origin status from the EU.
The brewery is not to be confused with Anheuser-Busch's Budweiser which was trademarked in the USA. With Budweiser meaning 'from Budweis' in German, it's an understandable confusion.
The history of this dispute is long and debated, but going by Budvar's version, the two breweries located in Budweis protested at first - they had been exporting Budweiser beer to the USA for five years. However, in 1911 a contract was signed for compensation and the validity of the US registration.
Regardless, to this day, you'll still see 'Original Budweiser' on Budvar cans and labels and it's definitely not from America.
Buy Budweiser Budvar Reserve now Related Reviews and Shortlists