ShortList is supported by you, our amazing readers. When you click through the links on our site and make a purchase we may earn a commission.
Learn more
Meet Last Night In Paris, the collective changing London's creative scene
Instagram? Invented it. Fashion? Nailing it. Ah, the internet. A vast (literal) web for us to bind our creativity, come together and change the world. That and relentlessly catapulting memes at each other and accidentally liking your best friend's ex-girlfriend's new boyfriend's sister's Facebook picture from 2011.
One group using it for good rather than evil is Last Night In Paris. The creative collective have used the internet to train themselves across music, art, fashion and film so that now they're a self-sufficient machine.
We sat down with co-founders Taurean and Jordon, along with KC and Vonnie, to talk music, art, fashion and that time they nearly invented Instagram. Who are Last Night In Paris?
Jordon: We're a self-sufficient, creative collective that thrive on making the best content we can with what we have. Music, film, fashion, art and lifestyle events are our core, but we're always developing.

How did you all meet?
Jordon: Fate brought us together in South London. Me and Taurean grew up together, so we knew each other from zero. Then KC and Vonnie lived in the same area and we met them when we were 15. It's a family.
Have you always been creative?
Taurean: When we were in nursery, me and Jordon used to build robots out of Lego. We spent all of our time making stuff – we started drawing comics when we were six, then we got into fine art. We've been making stuff forever. KC was already singing, Vonnie was already stylish, so we've always been creative.
You dropped out of art school after four days. What happened there?
Taurean: In the art world you could be an amazing artist, but also be broke as hell. You need to go out into the real world and make your art work for you. We didn't want to be in school for another three years just to leave with a piece of paper. If you do art, you do art full stop. Your portfolio will speak for itself.

Jordon: With the internet and mass media, you don't need a degree, you just need the ideas. We were supporting each other more than our school was. When we looked at our art school peers we were like, 'You're not serious. You're not one of us.'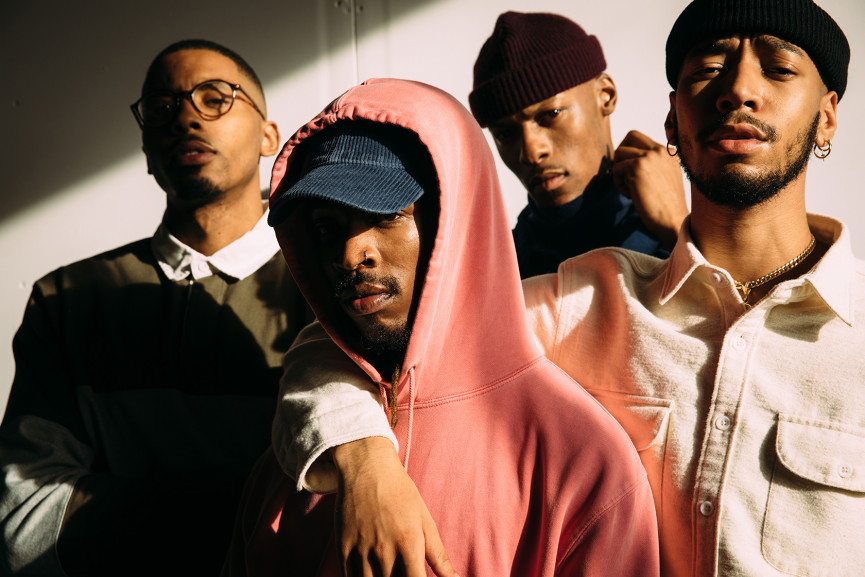 What makes you different to other collectives in London?

KC: Before I joined the gang, I didn't see anyone doing art for the love of it. I felt like they was doing it for the clout, because it's cool.
Taurean: We were doing it before Instagram, before we could even show people! We were developing an app with filters and stuff before Instagram. People were laughing at us going, 'Why are your pictures purple and pink?'
Jordon: We used to have beef all the time and now look at us! We're all Instagrammed out. They hit us with, 'If you want to make this app, it'll cost £30k' and we were 16 and like, 'OK, that dream's over.'
Your whole approach is very much under the radar. Why don't you want to be famous?
Jordon: From observing the industry and how it works, everything is hot for a period of time. Everyone's shoving their craft in your face going, 'Look at me!' Nobody is going, 'Don't look at me!' What we're doing is reverse psychology – people want to know what they don't know. Once they know, they won't care any more.
Vonnie: No one even knows what LNIP stands for. Last Night In Paris… What does that even mean? We're not telling you. Not until that big reveal.
What's the advantage of doing things as a collective instead of individually?
Jordon: You need multiple people that know their stuff. Our individual idea of success will be achieved when the overall machine's idea of success is met. I feel like when you're working by yourself, you get a lot of insecurities and you don't quite know who to trust.

Taurean: It's about using the tools we have, our friends and whatever we have around us to help get to our idea, then coming together to create a vision.
You don't do gigs, you do Soirées across London. What's the difference?
KC: It might be in a cinema where we show some of our films. We might do a pop-up shop. We might take over a hotel and then we might perform at these Soirées. We'll tell you a couple of days before and if you know, you know.
Taurean: We also do headline shows, but at our Soirées we do our thing. We might perform, we might not. You might just see us chilling for the whole night. Or you might not even see us.
Jordon: Our Soirées are another extension under the brand LNIP. Most of the time the fans ask for them. We go to other people's parties, see where they went wrong, then make ours even better.
Apparently you have a massive fanbase in Russia. How did that happen?
Taurean: Some kid basically dedicated his life to just sharing our stuff in Russia. He made a page on VK – some Russian equivalent to Facebook – and posted every story, every snippet, every flyer that we put out.
Jordon: We've got people in Russia with LNIP tattoos on their back. Some of them have massive posters of Taurean…
Taurean: It was the first time I'd ever been to Russia and I was seeing fans with posters of my face. I was like, 'How?'
Why is style an important part of LNIP?
Jordon: I think it's a Jamaican thing! We got it from our parents.
KC: Yeah, it's the Caribbean culture. If you give a stereotypical Jamaican man a hat, he'll be like, 'Nah' then twist it to the side.
Jordon: You've always got to do your own spin-off, but I feel like style is the norm. Everyone is stylish in their own way, whether you're in J.Crew or your brother's old shirt.
Do you find that you influence what each other wears?
Taurean: Even though everyone looks individual, you can still tell that we're friends.
Jordon: We're individual, but we fit as a little gang. KC's the same height as me, so he'll see things that I wear that he can, too. Or I'll see things that Vonnie wears and I'll be like, 'I can't wear that! That's a Vonnie thing.'
---
KC wears: Stripe Long Sleeve Rugby Shirt, J.Crew, £69.50; Slim Fit Cargo Trousers, J.Crew, £79.50, all at John Lewis & Partners.
Taurean wears: Heavyweight chamois workshirt, £98, J.Crew; Italian Cashmere Ribbed Beanie Hat, £40, John Lewis & Partners; Slim Fit Stretch Chinos, £68, J.Crew, all at John Lewis & Partners.
Jordon wears: Polar Fleece Overshirt, £98, J.Crew; Cotton Solid Roll Neck Jumper, £75, J.Crew; Slim Fit Stretch Denim Jeans, £120, J.Crew; Italian Cashmere Ribbed Beanie Hat, £40, John Lewis & Partners, all at John Lewis & Partners.
Vonnie wears: Classic French Terry Hoodie, £79.50, J.Crew; Corduroy Baseball Cap, £29.50; Slim Fit Stretch Chinos, £68, J.Crew, all at John Lewis & Partners.
---
Find your crew with J.Crew. Shop the collection now at John Lewis & Partners online and in store.
Related Reviews and Shortlists