ShortList is supported by you, our amazing readers. When you click through the links on our site and make a purchase we may earn a commission.
Learn more
There are dogs in the 'John Wick: Chapter 3' trailer but they all seem to be OK
More Keanu! More amazingly-choreographed gunplay! Jerome Flynn, somehow!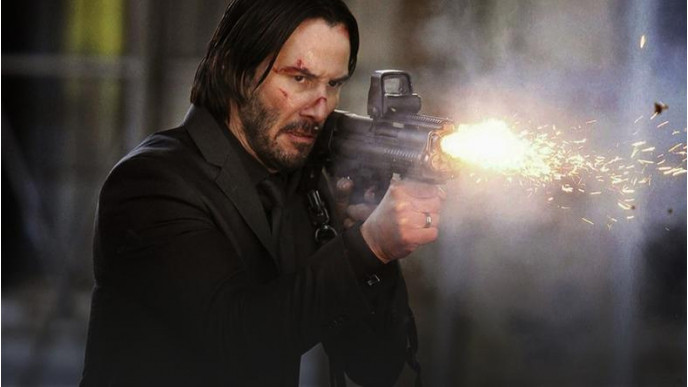 There's a new trailer for John Wick: Chapter 3 – Parabellum, a film brave enough to use both a colon and an em-dash, a film where an awful lot of people will get things stuck through their heads, things that have no right getting stuck through a human head.
Here's the trailer:
A few quick thoughts:
Amazing, obviously.
Jerome Flynn is in it. Jerome Flynn does an amazing Tommy Cooper impression. There is a chance – a small chance, but a chance – that Keanu Reeves has now seen Jerome Flynn do his Tommy Cooper impression. 
He's not listed on IMDb as being in it, though. Weird.
Marc bloody Dacascos is in there, of The Crow: Stairway To Heaven, Brotherhood of the Wolf and Drive. Not the Ryan Gosling Drive, the Marc bloody Dacascos Drive. Marc Dacascos is excellent and in a just world this will make him an A-lister.
There are two Oscar winners in this – Anjelica Huston won one for Prizzi's Honor, and Halle Berry for Monster's Ball. Laurence Fishburne got nominated for one, for What's Love Got To Do With It. The key to Oscar success: have an apostrophe in the film title.
What a lot of fighting!
This is probably the most violent film in history to feature a Kinky Boots poster.
It is always a pleasure to see one of those things where someone's cut all the pages out of a book and uses it to keep trinkets in. Other things that are always excellent but you don't see often enough: a man throwing a machine gun at a dude's head; people on motorbikes fighting with swords; people on horses fighting in urban environments.
It looks a lot like Keanu Reeves punches a book through a man's mouth. 
John Wick: Chapter 3 – Parabellum is out on May 17th and is clearly excellent.
Related Reviews and Shortlists