ShortList is supported by you, our amazing readers. When you click through the links on our site and make a purchase we may earn a commission.
Learn more
I taste tested Bushmills' whiskey range - including delicious drams you can't buy
We get a sneak peak at what Bushmills is doing behind closed doors...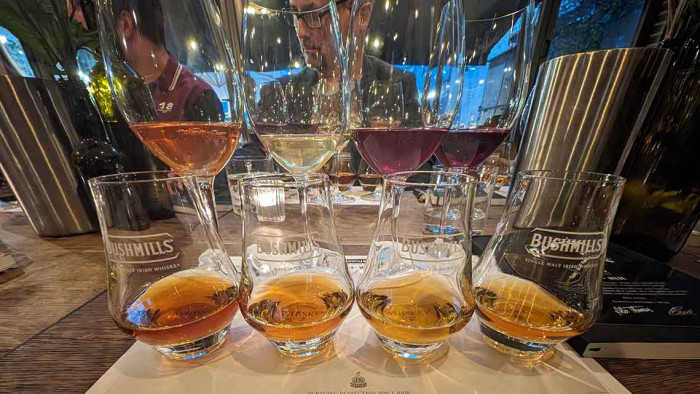 It's been a brilliant year for Bushmills. The Irish whiskey producer passed 1m cask sales for the first time, doubled its production capacity with its new Causeway Distillery and hosted ShortList for what was a fantastic night of wine and whiskey pairings that let us get to know the distiller that little bit better.
Okay, so that final point maybe wasn't a highlight of the calendar for Bushmills but it certainly was for us.
The idea of the evening was simple: try out some experimental whiskies that may never see the light of day, but have one thing in common: they were all finished in wine casks.
To taste test, we tried Bushmills whisky that was finished in 2013 Barolo barrels, 2012 Burgundy casks, 2004 Cuvee and a 2002 Ramandolo casks. All of these were 1st fill and all changed the taste of the spirit quite dramatically. With the burgundy cask, there was a blackcurrant and raspberry sweetness, the Cuvee gave us a blast of honey and citrus, while there was a stunning oak finish with the Ramandolo, with a taste of cherries and chestnuts.
Perhaps the best of all was Barolo. I loved the strawberry and vanilla taste notes, while there was a real spice on the nose. A hint of liquorice at the end rounded things off nicely.
Each of these whiskies were paired with a number of wines by Sager + Wilde. Francoise Martinot champagne from Chervey was sipped, as was a delicious La Morra Barola and an AMI Burgundy.
I had to guess which wine was from a similar barrel as where the whiskies were finished. "The layers of complexity that wine offers to whiskey is beyond belief," said Bushmills Master Blender Alex Thomas at the event.
"Those flavours and colours can be taken on literally from day one and you just let it be to see what happens. That's the fun thing, the wonderful thing of being a blender and being able to experiment with a company like Bushmills that are not scared to be different.
"We want to push the boundaries as much as we possibly can and we are capable of doing it."
I got three out of the five right on the night which proves that there's work to do on my palate but it was a great way to get thinking about how whisky can change, depending on how it is matured. This attention to detail is what makes Bushmills what it is, something Thomas re-iterates.
"We never put any cask out at an age when it's not ready," explains Thomas. "So if we're looking for a 16 year old that does not mean it's only 16 in that bottle. We wait until the flavour profile hits the 16 year old profile so it might be 17, 18 years before it goes in there and that's what makes Bushmills special."
The experimental whiskies I tried were fantastic and I have my finger's crossed that some of them will see the light of day, but even if they don't at least they show the changing nature of whiskey right now and a peak behind the curtain at what Bushmills is doing to broaden the appeal of the spirit.
"No longer is whiskey seen as an old man's drink that's only brought out on special occasions. That has all changed," notes Thomas.
"We all want to experiment and we want to try new things and find a whiskey that suits your palate. And if there isn't one there, then I will make you one!"
Related Reviews and Shortlists