ShortList is supported by you, our amazing readers. When you click through the links on our site and make a purchase we may earn a commission.
Learn more
"It was like a pair of my grandma's f**king curtains on my head": Gordon Ramsay talks hair and cooking
Just the six F-bombs in our early morning chat with the superstar chef
Morning, Gordon. You're in LA and it's very early. Sorry.
It's not too bad – 7am. I've been in the gym. I usually get up around 4.30am and then train for an hour.
You've got a love for LA's In-N-Out Burger. Have you indulged on this trip?
In-N-Out has a drive-thru – it's quite nice to not be spotted. [Gordon's wife] Tana will sit in the driver's seat, I'll nip into the back seat so nobody can spot me, and we'll do an In-N-Out treat at weekends.
You've also said you manage to smuggle them into the airport lounge before flying home…
I don't know who's been doing your research…
I have. It's on your Reddit AMA. Your own words.
[Mutters] Fuck's going on about smuggling frikkin' burgers into a bloody airport lounge?
OK! Soccer Aid's this weekend. Has it sunk in yet that you'll be sharing the Old Trafford showers with Eric Cantona this year?
Ha, I'll definitely be sharing the pitch with him. It's going to be an amazing moment. I've been involved in Soccer Aid since day one, and the players it attracts now is just extraordinary. From Zidane to Maradona, and now Cantona. Everything I never got in my own football career has been relived through Soccer Aid. It's raised in excess of £24m. But it's definitely still competitive.
---
---
That competitiveness was nicely summed up by Teddy Sheringham, when he sneakily floored you in 2012.
"Sneakily floored" me? He nearly knocked me out. It'd be nice if he put his boots back on again one day, so I can return the favour.
Did you not manage to settle the score afterwards?
Er, no. I was in an ambulance on my way to the hospital.
Where does a guy with size 15 feet buy his boots?
Ah, yes, my canoes. I saw Usain Bolt [team captain] last year for dinner, and even he remarked at how massive my feet were. I think the sponsors are building a pair especially for me. I just hope they don't get nicked – size 15 boots aren't the kind of thing you can just go into a shop and buy off the shelf.
Are you aware that you're part of an elite stable of celebrities, alongside Bieber and Beckham, who can make global headlines by getting a new haircut?
I'd love to know where you're getting this information from because I have no fucking idea whatsoever.
The internet. Fresh off the internet. Your recent 'do on MasterChef Australia was international news.
OK. Well, it's not a mid-life crisis. I have an amazing 18-year-old son, Jack, who keeps me updated with the latest fashions. He did style that one in a way that made me look like Elvis's fucking grandad, but he reassured me that it was very cool. So I'll put that down to Jack, keeping me on-trend.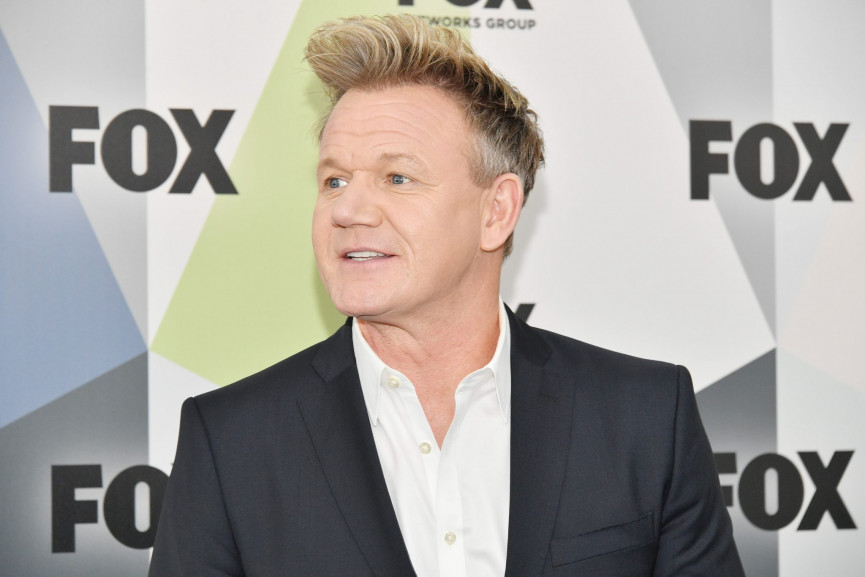 What's the haircut that you regret the most?
There's that picture from when I was in the under-18s at Rangers. I swear to God, it was like a pair of my grandma's fucking curtains on my head.
What role do you assume at a summer barbecue?
I'm a barbecue police officer. The grill referee. Everyone's so shit-scared of eating raw chicken they'll come up to me asking if their food's cooked properly. I end up refereeing these barbecues, in a way that sees me standing to the side, declaring what food is done and what isn't.
That sounds… a bit rubbish.
It is. But I'm not very good at hanging around barbecues. They all look so disastrous. I just think, "Look, let me get in there for 15 minutes, move over, and I'll show you how to do it."
I've never had the balls to send a dish back to the kitchen, even when I've hated it. Teach me how to complain, Gordon.
When something's really shit, you should not be paying for it. And you need to speak up – that's how chefs become better. A dish doesn't have to be undercooked for you to complain – complain if it's bland, too. The worst thing to do is eat and then complain. That makes no sense. Be straight to the point and identify the fact that it was undercooked, bland or even just needs seasoning. But the amount of people that season food before they taste it…
Oh God.
…which drives me f*cking insane.
Oh no.
…it's ridiculous.
I do that too, Gordon.
Don't fucking do it.
Point taken. Finally, you're the only human we know who can answer the following question: what's more terrifying – meeting Putin or eating puffin?
Meeting Putin was way scarier than eating a puffin's heart.
Watch Soccer Aid for Unicef on 10 June from 6.30pm on ITV

(Images: Getty)
Related Reviews and Shortlists