There are over 350 cars in Forza Horizon 3.
Over 350 metallic, shimmering dream machines ready to be taken for a drive through the game's eclectic Australian environments - across outback tracks and jungle paths, expansive beaches and urban blocks. Ferraris, Fords, Lamborghinis, Landrovers, McLarens, Nobels. 
But it's not the cars that cause your mouth to dry up and your eyes to widen. It's the sky. The epic, fabulous sky. The most beautiful sky you've ever witnessed on a television screen. The kind of sky that makes you want to lie down to gain a better view of it, to write bad poetry about it, to conjure up thoughts on life and love and other philosophical crap that skies can provoke in man. The fucking skies, man.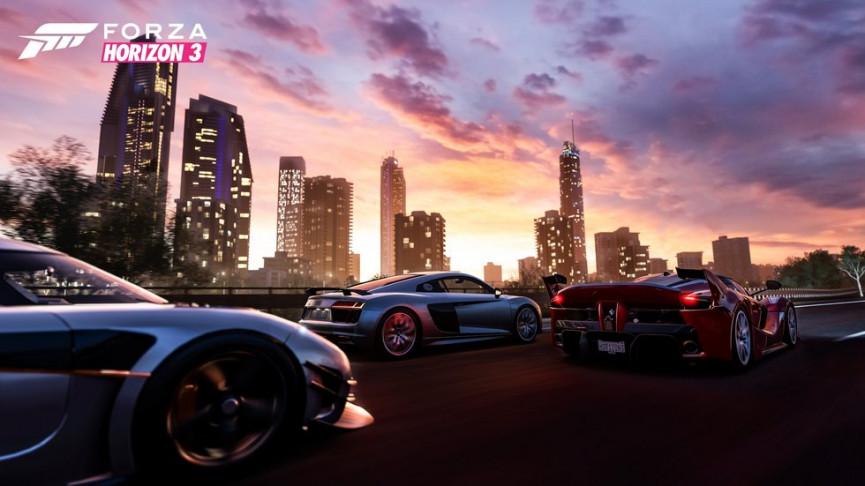 Okay fine - Forza Horizon 3 isn't the best driving game ever made because it has pretty clouds. That would be ridiculous. You're possibly on the verge of giving up on reading the rest of this article if it's just going to bang on about nephophilia (a love of clouds). 
The point is this: the amount of work that the developer team of Playground Games put into their clouds is a fitting lens through which to view the rest of the game and its achievements. It's a process I had described to me at the E3 games expo by Benjamin Penrose, art director at Playground Games. 
That sky, with all its clouds, sunsets and sunrises, is the result of Playground Games sending a team to sit in a lonely field in Australia all summer with a custom-built 12K HDR camera rig. This team would then take thousands upon thousands of photographs of the shifting skyscape. Sunburnt and shattered, they returned to the comparative gloom of the Playground Games studios in Royal Leamington Spa with more HDR images of clouds than you'd ever possibly want to look at. 
"We put them all through a custom made process back at the studio to allow it to be played back in the game," explained Penrose. "That means we get a fully dynamic evolving skyscape that we hope is unlike anything you'll have seen in a video game before. It looks really because it is real."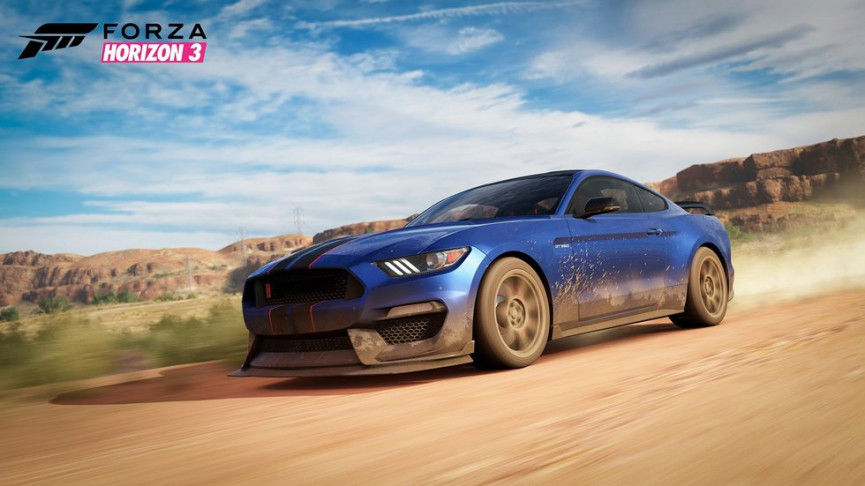 The game engine of Forza Horizon 3 is thus able to draw on this gluttony of sky data to create shifting, dynamic weather. As a storm forms in the distance, rolling toward your race with grim menace, several things happen at once: the game's weather system will cue up appropriate rain and water effects, changing the handling of the road surface you're hurtling across in several thousand pounds of exotic super car. The game's HDR lighting system will also adjust in real time, as the baked tarmac and metal cease to gleam, but rather become as sodden as an English spring. 
Right, that's enough about clouds.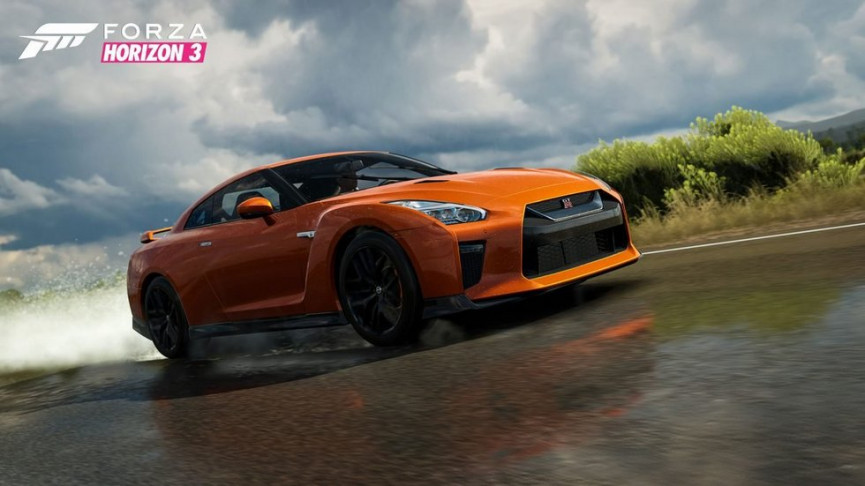 Since 2005's Forza Motorsport drove into the hearts of Xbox owners (sideways, with tyre smoke), the series has become something of a titan of video game racing.
While the Motorsport entries - currently on their sixth title, under the direction of Turn 10 Studios - focuses on providing an exacting racing simulator, laden with vehicles of numerous classes and punishing driving challenges, the Horizon games give the franchise a chance to indulge in open-road, 'do what you want' driving. Forza Horizon 3 is the pinnacle of that indulgence. 
You're cast as the head of the Horizon driving festival - an event that could sit snuggly in the heart of a Fast & Furious script that sees the best drivers of the world descend upon an area (Australia, in this iteration) to engage in a variety of car-based antics: street races, time trials, speed trap tests, point-to-point races, ridiculous stunts, the results of which earn you points to spend on better and bigger events for the festival. 
Yes, there are better racing simulators out there. Much better. Horizon 3 isn't a game to sit down a race lap after perfect lap against a fleet of other cars, hoping to shave 0.3 seconds off your lap time as you inch toward victory. This is more of an arcade experience, a pursuit to find the perfect angle to take that corner whilst flying sideways in a beach buggy as you challenge your mate to a co-op race as you pass them in game at 120mph. It's immediately accessible, from the glowing racing line that ploughs through the middle of the road to the 'Y to rewind' time travel function that instantly undoes your mistakes with the press of a button, culminating in an experience that's hugely addictive. You'll find yourself at half midnight knowing you should go to bed, but every fibre of your being will want to drive over to the next town to challenge that racer who's been bad mouthing you all festival. 
While it's not an exhaustive simulation, this is a game for car nutters. People who queue up to take photos of Aston Martins in the street. Those of you who'll be getting an Amazon Prime subscription just to watch The Grand Tour.
The only thing Playground Games took more photos of than the sky, were cars. Thousands upon thousands of them, covering angles underneath door handles to what's lurking in the backseat of a Nissan GTR. This, coupled with masses of data from laser measurements of every surface, provides you to a garage of the best looking cars you've ever seen in a racing game. Ever.
You're probably never going to own a Ferrari FXX K - but if you own this game, you don't really care, because you've probably studied every inch of the model in more detail through the game's Vista showroom feature than 40 real-life owners ever have.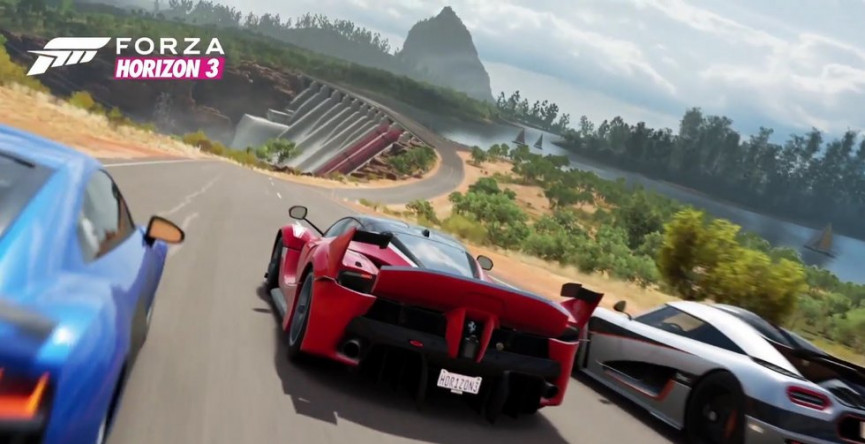 If you're the type to stop and turn as a fancy car drives down the street, revving at unsociable levels, or asked your dad to speed up on the motorway to sit behind an Italian convertible, or fallen in love with the adrenaline rush of kart racing, you need to play Forza Horizon 3. It's an experience curated specifically for you, for your love of cars you're never going to drive, for you to realise your dream of driving too quickly through locations that aren't quite this perfect in real life. 
It's the best racing game ever made. 
Forza Horizon 3 is out on XBox One and PC now