ShortList is supported by you, our amazing readers. When you click through the links on our site and make a purchase we may earn a commission.
Learn more
Exclusive interview: Gabrielle Aplin shares her must-have vegan products
As she heads out on tour, these are the products the songwriter couldn't live without.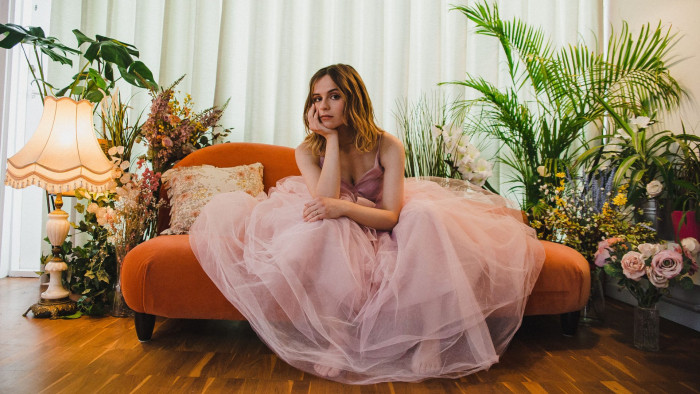 Singer-songwriter Gabrielle Aplin has been working on her third album for the last three years. She sounds physically relieved to talk about it when we caught up with her.
"It is interesting to start the year knowing what I am doing," she explains. "I haven't necessarily had that these last three years. It's nice to have a plan."
And with Dear Happy out on 17 January, followed by a series of signings, meet-and-greets and a UK tour in starting in March - Aplin is definitely going to be kept busy.
But, why did the album take so long to write? Aplin says it's because after becoming unwell in 2016, she needed to go away and "work out who she was".
"I released that at that time that, in the music industry, success can be unsustainable because you feel like you can't say no to things and you have to keep going and going and going," she explains.
"I had to work out what I wanted to say no to so that it didn't make me ill...before I used to run on adrenaline and then as soon as I had a day off, I would crash."
The result? Dear Happy, an album that delicately balances pop bops, such as Like You Say You Do, with feelings of anxiety, depression and heartbreak. Something Aplin was keen to do as she explored "what happiness really is".

"I wanted to be honest and deep but sometimes everything is just too much," she laughs. "I don't have to be clever and be like 'look what I can do with my words'. I just didn't care.
"I wanted an album that makes me feel comfortable and happy. I didn't want to feel like my music was beating me up. And, no one comes to see me on tour and goes 'I wonder what her thoughts have been for the last three years'."
In the three year wait, Aplin did devised a way to keep providing new material for fans - in the form of a vegan cookery series on YouTube.
Having started the series in 2018, her #FoodWithFriends series now brings in upwards of 22,000 views each video as she shares recipes for mac and cheese, banoffee pie and buffalo wings (all vegan, of course). For Aplin though, it's not about the likes.
"I love eating," she laughs, "And, I find it hard to be online all the time but I am aware as an independent artist that it is really important that I am online and interacting with my fans.
"I was already cooking in my house all the time and having friends over so, I just thought - why don't we film this? It is not something that has loads and loads of views but I enjoy it."
We have to admit, with Aplin being such a massive foodie and Veganuary ongoing, we saw an opportunity. Luckily, Aplin was happy to oblige and the below shortlist was born. These are the vegan products Gabrielle Aplin swears will keep you on track this month.
Gabrielle Aplin's third album, Dear Happy, is out on 17 January.
Gabrielle Aplin's favourite vegan products
Related Reviews and Shortlists