ShortList is supported by you, our amazing readers. When you click through the links on our site and make a purchase we may earn a commission.
Learn more
Excellent! A non-bogus 'Bill and Ted' sequel is finally actually properly happening
Don't believe us, believe Keanu Reeves and Alex Winter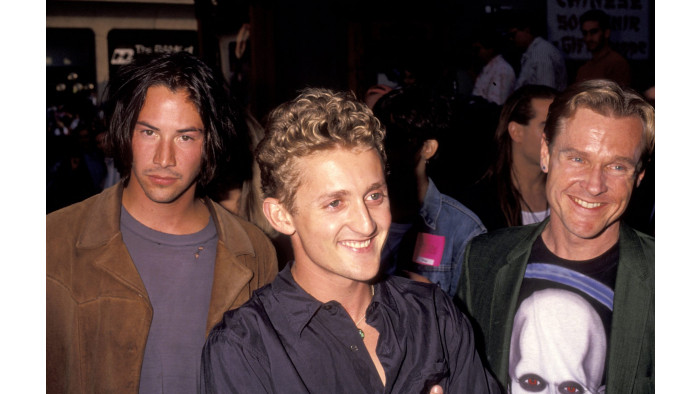 Apart from some moments of incredibly unnecessary 1980s homophobia, Bill & Ted's Excellent Adventure almost entirely holds up. It's got a beautiful combination of very clever jokes and very stupid jokes, perfect casting in Keanu Reeves and Alex Winter, an impossibly cool supporting turn from the late George Carlin as Rufus, Napoleon shouting "Shit!" a lot in French… everything!
The sequel is a bit patchier, but has one of the best-ever cinematic takes on the Grim Reaper, a remarkable use of Poison lyrics and the magnificently silly Station, the most intelligent being in the universe.
The best thing they both have, though, is the interplay between Reeves and Winter, perfectly cast as the dumb and dumber members of Wyld Stallyns. Reeves was and continues to be the handsomest man in the world as well as the most underrated actor of his generation (name someone else who could have done this, Speed and The Matrix), while Winter somehow made wearing a belly-shirt seem totally doable.
And now, at long last, the oft-teased part three, Bill & Ted Face The Music, is happening:
God damn it Keanu Reeves, how do you do it? How are you still the total best? Like, whatever happens to your hairline, whatever effects ageing has on your face, whatever greyness comes in here and there, it all somehow adds up to make the handsomest whole there is.
There's obviously every possibility that this'll be rubbish – if anyone saw Dumb & Dumber To (which admittedly had the best possible title that film could ever have had – it's the wrong "to"! because they're dumb!) they'll know the agony of seeing once-hilarious characters being pissed into the ground by the people who created them. There's also something intrinsically less funny about really stupid characters in their fifties, especially in the world we currently inhabit when so many people fitting that description are in positions of power. A stupid teenager can learn, you know? Stupid 5o-year-olds are why we're all broke.
But hope springs eternal! There's so much goodwill surrounding this whole thing, and nobody involved needs to do it but are doing so out of affection for the previous films. Reeves is a bona-fide movie star, and Winter has a very successful career in tech documentaries.  
Bill & Ted Face The Music is, theoretically at least, out on August 21st, 2020.
Pic: Getty
Related Reviews and Shortlists