ShortList is supported by you, our amazing readers. When you click through the links on our site and make a purchase we may earn a commission.
Learn more
Eddie Izzard channels Fringe spirit with launch of limited edition Edinburgh Gin
The comedian's new offering contains ingredients spelling out the word 'believe'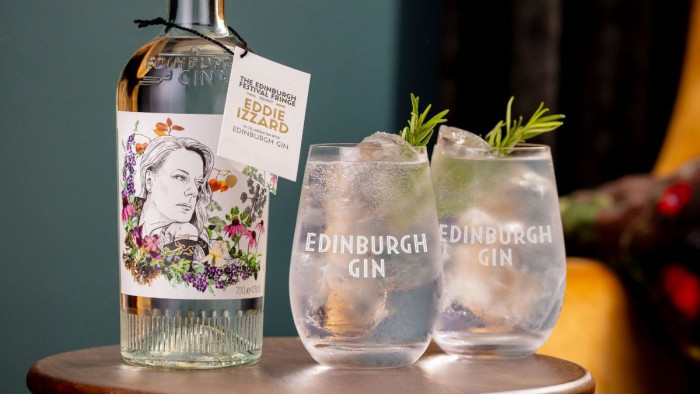 Acclaimed comedian Eddie Izzard has put her name to a brand new gin in a bid to raise money for the Edinburgh Fringe.
The limited run, which is set to consist of 2,400 bottles of Edinburgh Gin, is expected to fly off the shelves, with bottles available to buy from today (August 8) in the Edinburgh Gin shop.
Priced at £35, all profits from the sale of the gin will go to support artists hoping to perform at next year's festival.
The comedian, film, television and theatre performer has returned to the Fringe numerous times since starting out in comedy in 1981 and has proved to be a loyal supporter of the arts.
According to Edinburgh Gin, Izzard "was a natural choice of partner for Edinburgh Gin" and has stated that "working together, they have co-crafted a one-off recipe and bottle design".
It's the second time Edinburgh Gin has released a limited-edition bottle, with Flea Bag's Phoebe Waller Bridge launching the initiative in 2021.
Izzard, who now goes under the name 'Suzy' and prefers to be referred to using the pronouns she/her, recently finished a stint playing 19 characters in the theatrical adaptation of Charles Dickens' Great Expectations. Speaking on the release, Izzard explained: "As someone who performed from 1981 in 12 Festival Fringe shows over 13 years, I have a strong connection with the great historical city of Edinburgh.

"The seven letters of 'believe' each represent a different botanical that has gone into the creation of the new and limited-edition recipe."
A recipe which includes classic Edinburgh Gin botanicals, hints of juniper, coriander seed, angelica, liquorice and orris form the base for each bottle.
However, as Izzard explains, additional botanicals - the initial letters of which all spell out the word "Believe" - are also added to create a truly unique offering.
The recipe sees the addition of Bladderwrack Seaweed, Elderflower, Lemon myrtle, Inca berries, Echinacea, Verbena and Elderberries. On the palate, the gin is light, fresh and slightly sweet, with elderberries and inca berries provide a juicy mouthfeel.
Citrus flavours are provided by myrtle and verbena coming through in the aftertaste.
Described as a "soft gin" by the company, this sip-able offering can be drunk neat or as the perfect mixer when mixed with tonic.
Speaking of the new release, the comedian continued: "This means a lot to me as I have performed in different languages, acted in a lot of films and run multiple marathons despite many setbacks, but I know anything is possible if you believe."
Izzard added that she "hopes the funds raised will help give others an opportunity to bring to life their own self-belief on the stage at the career-defining Edinburgh Festival Fringe".
Related Reviews and Shortlists