ShortList is supported by you, our amazing readers. When you click through the links on our site and make a purchase we may earn a commission.
Learn more
This brilliant diagram shows you everything that could happen after today's Brexit vote
It's all to play for!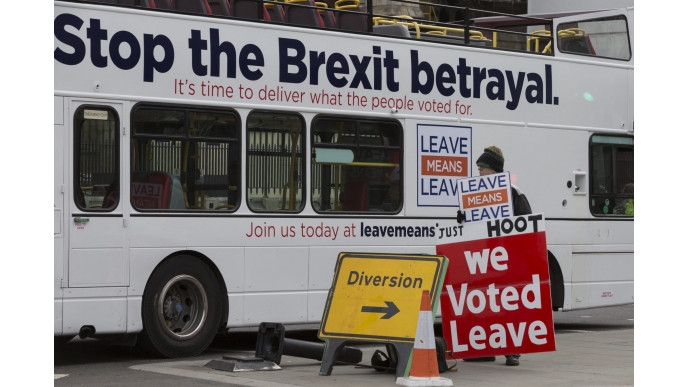 So, after two and half years of arguing, mudslinging, debating, investigations, negotiations, resignations, delays and hot air, we finally come down to the moment of truth: the meaningful vote on Theresa May's Brexit deal.
For an extremely long time, Brexit apparently just meant Brexit, but now we actually know what Brexit looks like in reality, and MPs will have to decide whether they will accept it, or reject it.
Of course, as you will not have failed to have picked up: it's not quite as simple as that.
Because Theresa May's Brexit is but one type of Brexit, with others claiming that other, better Brexits could have been achievable while, of course, 48% of the country - and almost certainly a majority of MPs - do not want any sort of Brexit in the first place.
And let us not forget: this deal is only the deal to achieve Brexit - any sort of new trade deal with the EU is still to be negotiated in the years ahead.
Even for seasoned political observers, confusion reigns (and, given the results of the referendum and the last two general elections were predicted by virtually none of them, their opinions should be treated with caution) with people wondering exactly what will happen next.
Trying to predict is a mug's game, so our best shot is simply to present the many, many options and routes that could follow in the wake of the Commons vote passing, or otherwise, tonight.
Fortunately, teacher Jon Worth has provided us with just such a tool in the form of this superb diagram - simply follow the arrows - helpfully annotated with likely probabilities of their occurrence - and see what happens next.
For full disclosure, Jon lives in Berlin and describes himself as a European Citizen, so we're going to stick our necks out and suggest he's a Remainer; still, the diagram is essentially neutral in simply offering the options, so we're happy with it.
What will happen? No idea. But here's what could.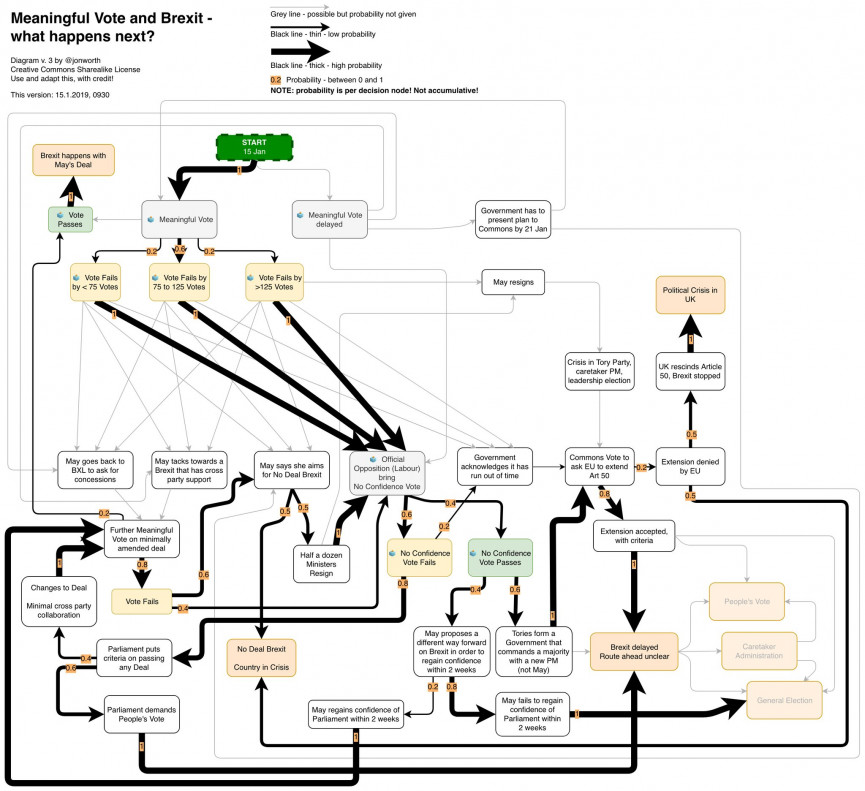 The vote comes at the end of five days of debate in the House of Commons, with voting expected to begin at around 7pm.
The deal suffered a huge defeat in the House of Lords on Monday night, with peers backing a Labour motion by 321 to 152 - albeit the vote carries no actual weight.
However, it suggests that Theresa May faces a tough task to get her deal through Parliament - and what happens if it doesn't is anyone's guess.
(Images: Getty/Jon Worth)
Related Reviews and Shortlists