ShortList is supported by you, our amazing readers. When you click through the links on our site and make a purchase we may earn a commission.
Learn more
Nanoleaf Shapes Hexagons review: 5 things to know about the smart lights
Nanoleaf does it again with its latest smart light setup.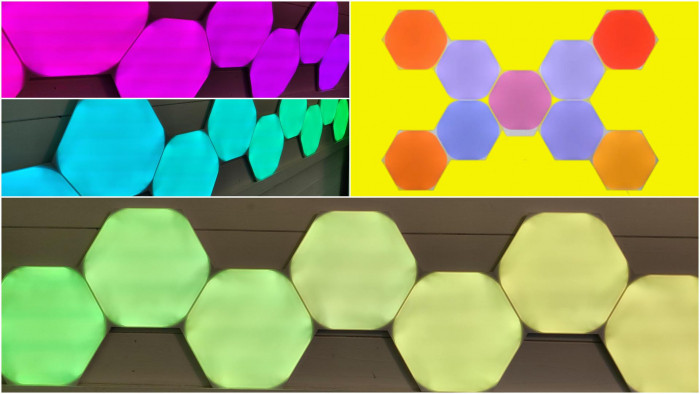 We're no stranger to Nanoleaf at ShortList, having already enjoyed the original Nanoleaf Light Panels on our wall for some time now. So when a new range from the smart light specialists was announced, we were keen to test them out.
Nanoleaf has been a shining light in the smart light space, melding smart light nous with design to make light fixtures that don't so much illuminate a room but enhance it, with their myriad patterns and programmed light shows.
Nanoleaf's latest are the Nanoleaf Shapes - Hexagons. This is the third product to come from Nanoleaf, the first being the original Light Panels (triangle in shape) then the Nanoleaf Canvas, which uses squares so you can fill up an entire wall with light if you have the inclination (and, more importantly, the money to do it).
Shapes is Nanoleaf's most advance smart light system yet and we've had fun having the hexagons on our wall.
After some weeks of testing, here are five things to know about Nanoleaf Shapes - Hexagons before you buy...
1. Setup is a cinch There are two sides to the Nanoleaf Shapes setup process and, thankfully, both are straightforward. The fiddly bit is actually sticking the things to your wall. You need somewhere that doesn't have wallpaper or any sort of texture really for them to stick properly.
It's worth getting a level out to make sure things are straight but after that it's as simple as peeling off the back of the mounting tape and sticking them on.
We recommend you have an idea of the shape you want to end up with first - we went with a simple up/down line - and go from there. Each panel slots together with a linker (that carries the electric feed) and you will have to place the power supply and controller somewhere - the good new is that they can be connected to any panel in the setup.
If you want to try before you stick, then there is a handy AR layout assistant available in the Nanoleaf app. The box also comes with a card with myriad layout ideas, with the shapes depending on whether you have gone for a 5, 9 or 15 panel setup.
Once the Nanoleaf Shapes is on the wall, you have to plug it in and use the Nanoleaf app to find the Hexagon panels. Unlike the original Light Panels, a special code isn't needed (although you can find it on the plug) to sync the panels to your Wi-Fi setup, as you can do this through a QR code situated on the box.
2. There's a decent amount of personalisation you can do Once you have physically set up the panels (it took around 15 minutes for us to get our basic design up on the wall), the app is where you can personalise as much as you want.
The app is fairly intuitive to use. At the top it will tell you what light design you are currently playing and it gives you a whole host of options for changing the look of the lights.
If you hit the plus sign to look for new scenes you'll find they all have fancy names like Beatdrop, Cocoa Beach, Date Night etc, and many have been programmed by a burgeoning network of Nanoleaf users.
If you have another Nanoleaf panel already set up, then you can swipe between the two and get them in sync, or use different scenes for each.
You can go pretty deep into the customisation if you are that way inclined. There are options to make dynamic scenes where you can control the palette and the motion of the lights. You can also schedule scenes to turn on or off at a certain time.
3. Once setup, using your voice is the way forward As with many a smart home addition, you don't have to use the app provided once you have gone through the standard setup. That's because Google Assistant, Apple HomeKit and Amazon Alexa all recognise Nanoleaf.
Our own home setup is with Amazon Alexa and you can control the panels through the Alexa app and by asking Alexa all sorts of things - including dimming the lights, playing scenes, turning the lights on and off.
It's a much more fun way to control your setup, but we still recommend the Nanoleaf app if you want to dig into the scenes a little more.
4. You can also use touch gestures First found in the Nanoleaf Canvas, the Nanoleaf Shapes also support touch control. This is a good thing to use if your light setup is beside your bed or conveniently placed in touching distance.
In the app it is fairly easy to assign different touch gestures to the panels. For instance, you can tap one of the panels twice to turn the system on and off. You can also assign certain controls to swiping up, down, left and right - we added an up and down swipe to ours which let us change the brightness.
Again, this is a simple thing to set up and adds to how you interact to your Nanoleaf setup. Even if you don't assign the touch controls, you can run your hand over the panels and they will interact with your touch.
5. Matching them with music really does work There is also a lot of fun to be had with music and the panels. This is the first time we've used a Nanoleaf that interacts with music and it's a lot of fun.
All we needed to do was assign a scene that has the music note option (called a rhythm scene) and then crank up the music. The lights interact with the beat and it was a much better effect than we were expecting.
Like Philips Hue, there's also a screen mirror function - where the lights will ape the colours of what you are watching.
Nanoleaf Shapes - Hexagons: Final Verdict

The Nanoleaf Shapes are a superb smart light setup. They are fun to use and really do brighten up your room. When you aren't using them they are unassuming but it's worth noting that you can't get away from the feeling that you just have bits of plastic stuck to your wall (because, well, you do) but when the lights are on they are beautiful to look at and a joy to use.
Nanoleaf Shapes are currently pretty popular, with pre-orders sold out - but you can sign up to be on the waitlist. They are available in 5, 9 and 15 packs and retail from £119.
Related Reviews and Shortlists