ShortList is supported by you, our amazing readers. When you click through the links on our site and make a purchase we may earn a commission.
Learn more
Hands on: Samsung Galaxy S23 range: 5 things to know
Samsung gives its latest phones a punchy power-up.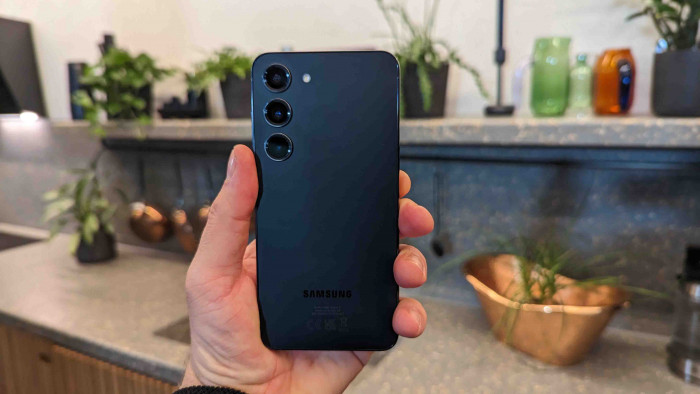 The Samsung Galaxy S23 comes at a time when smartphone sales are slumping. According to The International Data Corporation, handset sales fell by some 18 per cent at the end of 2022 which is an eye-watering amount. With a cost-of-living crisis eating away at everyone's hard-earned, who could blame them?
That doesn't mean that there aren't those out there who are looking to get their hands on a shiny new gadget - it just means that it's going to take your average phone buyer a bit more convincing than it once did. And quite rightly, too.
Enter the Samsung Galaxy S23 range. A three-fold series of phones which consists of: the Samsung Galaxy S23, the Samsung Galaxy S23 Plus and the Samsung Galaxy S23 Ultra.
I have been reviewing phones for well over 15 years now and have seen a huge amount of innovation in that time. Innovation, however, takes a huge amount of processing power - something Samsung may well have cracked in its latest handsets.
I was lucky enough to get hands-on with the new Samsung Galaxy range recently: here are five things to know…
---
1. Design is distinct but very familiar Choosing between the S23 and S23 Plus all depends on size preference. The Samsung Galaxy S23 and S23 Plus are practically the same phone hardware wise, with just battery- and screen-size the, albeit big, differentiators.
With the Samsung Galaxy S23 you get a 6.1-inch screen (a dynamic OLED with Vision Booster tech); the Samsung Galaxy S23 Plus' display is 6.6 inches, with the same tech. Both screens offer 120Hz scrolling, so judder is a thing of the past.
In my hand, the S23 was the better fit but there was something endearing about the S23 Plus. The screen is a smidge under the size of the iPhone 14 Pro Max and the Google Pixel 7 Pro (both 6.7 inches) and the build quality of the thing meant that it was nowhere near as slippy as the otherwise impressive Pixel 7 Pro.
We are now in an age where a once chunky 6.1-inch screen now feels modest but, for me, it was plenty of real estate. I was impressed with the brightness of the screens, too. Samsung has definitely improved this with the S23 range, but if you want a real bump in brightness then head over to the Galaxy S23 Ultra
2. Ultra stands for 'ultra' cool The Samsung Galaxy Ultra is one good-looking handset. I was impressed with the design of the thing, even if it's not a million miles away from the look of the S22 Ultra (we couldn't really tell the difference until we flipped the thing over).
It's quite a bit boxier than its S23 Plus and S23 brethren, with its edges squared off. This is complemented by a 6.7-inch curved screen which clocks in at an ultra-bright 1,750 nits.
It's protected by Gorilla Glass Victus 2 which is a good thing as you wouldn't want anything to damage the rather beautiful 6.8-inch Super AMOLED display.
While the screen is curved at the edges, Samsung is offering a flatter display than before which is great for the all-important S Pen. This stylus was first introduced into the Ultra range last year and this marked the end of the Note line.
It makes sense having the S Pen on board and I found it incredibly easy to use. It felt like Samsung has improved the latency of the stylus but I couldn't get this confirmed. And I really like the Air Gestures functionality that the stylus offers.
The biggest differences for the S23 range from its predecessor, though, is two-fold: the cameras and the processing power. First up, the cameras...
3. Camera go to infinity... and beyond The design of all three handsets from the S23 range may well look similar to what has gone before but flip the phones over and the camera arrays really stand out - actually, the reason that they stand out is because they actually don't!
Instead of having a camera bump, the lenses are built straight into the chassis, which makes for a unique and, I think, fantastic and much cleaner look.
The S23 and S23 Plus have the same camera specs. There's a 50MP wide lens, a 12MP ultrawide lens, and a 10MP optically stabilized 3X optical zoom lens on board.
When it comes to the front camera, there's now a 12MP sensor instead of the 40MP sensor that was available before.
The Samsung Galaxy S23 Ultra has a bigger camera array. On its back is: a 2MP ultrawide lens, dual 3x and 10x 10MP telephoto sensors.
The big ticket item here, though, is the massive 200MP main camera. Yep, that's right - it's an absolute beast and while it's all done with clever pixel binning, the notion that you can get 200MP stills from this thing is a little mind-blowing.I couldn't test this out in our time with the S23 Ultra but the mere fact this technology is on board brought a smile to my photographic eye. The front-facing camera is the same 12MP sensor seen in the range.
Oh, and the really big news is that ALL of the phones have an Astro Mode, which means it's easier to take shots of stars and planets (just make sure you have a tripod at hand). I was expecting this to be just on the S23 Ultra so it's great news that it's a feature on all the phones.
Surely, with all this camera tech the processor powering the Samsung S23 must be hefty, we hear you cry? Well, that brings us nicely on to…
4. The S23 processor just got a massive power-up Samsung isn't playing around when it comes to the processing power found in the S23 line-up. It's making very good use of its own bespoke Snapdragon 8 Gen 2 processor.
No, don't panic: we're not going to get too geeky about chipsets here but this is huge news for Samsung fans. Before, the quality of a handset would vary from country to country, as Samsung would offer some phones with Qualcomm inside and some with its own Exynos chip.
Now, EVERYONE is getting this Snapdragon processor and that means that it is going toe to toe with Google in the AI imaging stakes and things like cooling are improved. This also means battery life should be longer and overall performance better. I did the usual tests: scrolled to ShortList on the Samsung browser, took a few photos and loaded up a few games: no delay, no problem with any of it. I would say it was buttery smooth but it's a phone I am talking about, not a Masterchef dish.
The new processing power means that camera software is upgraded, too, with improved 'Nightography' shots and the ability to shoot RAW up to 40MP.
5. Battery is the same, but different
Again, with the addition of a new processor the actual specs of the batteries on show don't really mean much. Yes, the S23 (3,900mAh) and S23 Plus (4700mAh) have the 'same' batteries before on paper, as does the S23 Ultra (5,000mAH) but the new processor means that the way the device uses the battery is changed.
Samsung reckons this means that you will get the best battery life from any Samsung phone thanks to this upgrade, with around a 20% improvement.
Add to this wireless (and reverse wireless) charging and what you have is an array of phones that mean business.
Samsung Galaxy S23 range: early verdict Samsung has refined and refined some more when it comes to its new handset range. There aren't any surprising changes as such when it comes to design - although I am a huge fan of the new non-integrated camera arrays) but its phones were already great looking.
Samsung has also done a lot to make sure that its phones are better for the environment. 100% recycled paper has been used for the packaging box, recycled glass for the display and there's even some discarded fishing net in there (seriously).
Under the bonnet, the new processing power has the real chance of being a game changer, offering a seamlessness to the range that Samsung hasn't had for a long time.
Couple this with some neat camera tricks and I belive what you have is a gaggle of Galaxy phones that may make you think twice about that iPhone purchase.
The Samsung Galaxy S23 and S23 Plus range is available to pre-order now and comes in 8GB / 128, 256 and 512GB variants. Colour wise, you can get them in: Cream , Green, Lavender, Phantom Black. Prices start from £769 / $799.
The Samsung Galaxy S23 Ultra range is available to pre-order now and comes in 8GB and 12GB / 256, 512GB and 1TB variants. Colour wise, you can get them in: Cream , Green, Lavender, Phantom Black. Prices start from £1,249 / $1,199.

Related Reviews and Shortlists