ShortList is supported by you, our amazing readers. When you click through the links on our site and make a purchase we may earn a commission.
Learn more
Exclusive interview: The Brownlee Brothers reveal their greatest Olympics moments
The siblings speak with Shortlist ahead of Tokyo 2020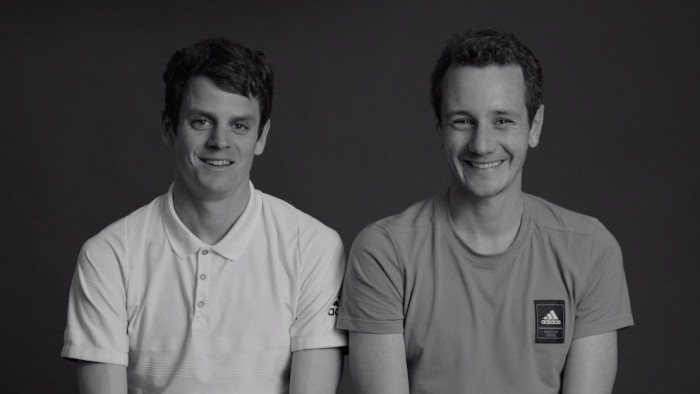 Jonny and Alistair Brownlee are triathletes at the top of their game. Having represented Great Britain internationally since their teens, the brothers have since stood side-by-side on the podium at both the London 2012 and Rio 2016 Olympic Games.
It was, however, the closing stages of the 2016 Triathlon World Series in Cozumel, Mexico, that saw the pair transformed into poster boys for sportsmanship.
The now iconic images of Alistair Brownlee helping his exhausted brother Jonny over the finish line graced newspapers up and down the country, proving that despite the increasingly competitive nature of sport, there's still plenty of room for sacrifice and compassion.
"I went into sport to compete. Having Alistair there alongside me, to compete against Alistair and compete in a team with Alistair, is special," says Jonny Brownlee.
"I think the Mexico moment really brought it home. It made me realise we are in a very fortunate situation and it made me quite emotional - not only because of the whole aftermath of it, but because I know I've got someone like Alistair and that he sacrificed his race for me."
That race saw Alistair disregard the points needed to claim the world title in favour of helping his brother over the finish line, a moment that thrust the pair into the spotlight and saw Alistair placed into the running for Sports Personality of the Year.
"We don't often talk about it much - I have said thank you, but I've not dwelled on it," confesses Jonny. "It's a very vivid memory but the thing is, we had gone through situations like that before without really realising it. That Mexico moment was us really showing that to the world."
Becoming role models
At 29-years-old, Jonny is the youngest of the brothers by two years. The age gap is something he credits for helping him forge a successful career in triathlon, in part down to Alistair being both a role model and allowing him to go into competition as the underdog.
"I remember going to watch Alistair compete in the Olympics in Beijing in 2008 and thought, 'oh, wow, my brother's gone to the Olympics - I can do that as well!'
"Pressure is an interesting one though," says Jonny. "I've been very fortunate going into the [Tokyo] Olympics in that Alistair has had a lot more pressure than me - and I think that's one way of dealing with it. It's thinking, OK, I can go under the radar here."
And according to Alistair, the comfort of knowing your brother's by your side is a feeling that's very much reciprocated.
"I quite often explain it as when I crossed the line at the London Olympic Games and I looked behind me and realised Jonny wasn't going to come second. That was a day tinged with disappointment for me - which it really shouldn't be when you're winning the Olympic Games," explains Alistair.
"I'm definitely the most competitive. When it's crazy golf or Monopoly - we're not really competitive over little things like that, but we're super competitive when it matters in the hardest of races, like the final kilometer of the Olympic Games."
What is indisputable is that the siblings have come to represent the all-encompassing power of compassion in regard to both family and teamwork. Their attitude epitomises the very British concept of sportsmanship - something that led the pair to get involved in the Love Stories project.
Part of Team GB's This Is What Makes Us campaign ahead of Tokyo 2020, the project hopes to celebrate love in all its forms and recognise that relationships - whether family or romantic - are one of the many things that make us great as a nation.
"There's a sort of pragmatism there where we both know that we wouldn't be where we are without each other," notes Alistair of the way their relationship is a representation of the project's core values. "I'm confident that if it was anyone else running next to me - if it wasn't my brother - I wouldn't be pushing quite so hard."
And with the Tokyo 2020 Olympics right around the corner, we thought it only fitting to catch up with the brothers to discover their most memorable Olympic moments...
1. Marc Cavendish and Bradley Wiggins, London Olympic Games 2012 "It has to be London 2012 - the first big event of the Olympic Games and Mark Cavendish was expected to win," recalls Alistair. "It wasn't looking good but the British team was throwing everything at it. You had Bradley Wiggins riding on the front giving it absolutely everything he had to get Mark Cavendish back into the race. It suddenly struck me just how amazing it was to be involved in British sport. You had someone who had just won the Tour de France, basically riding with the best in the world to try and win a home Olympics."
"I remember thinking wow, this is amazing! You've got a Tour de France winner sacrificing his whole race for Mark Cavendish," says Jonny. "It really hit home at that point because it was a home games and we were in a similar situation to those guys and the pressure was on. There was this guy who was doing everything he could for his mate."
2. Triathlon, Sydney Olympic Games 2000 "Fast forward to Sydney and I remember staying up in the middle of the night to watch triathlon have its debut at the Olympics in front of the Sydney Opera House with that amazing backdrop," says Alistair.
"I was 10 years old at the time of the 2000 Sydney games and I remember Alistair and my dad falling to sleep on the lounge floor. I remember thinking I wanted to go to the Olympics after that but thought there was absolutely no chance," remarks Jonny.
3. Kelly Holmes' double gold win, Athens Olympic Games 2004 "Seeing Kelly Holmes cross the line to win her second Olympic Gold Medal - it was absolutely iconic," says Alistair.
"I remember seeing her win double gold in Athens - I was fourteen then so that was the first time I began to understand it more and how incredible that was." notes Jonny.
4. Track athletics, Atlanta Olympic Games 1996 "The very first event I remember watching was in 1996 on the track," remarks Alistair. "I remember Michael Johnson getting gold and Linford Christie getting disqualified and throwing his spikes in the bin. I was only eight but that was my very first Olympic memory."
5. Usain Bolt's world record, Beijing Olympic Games 2008 "I was in the stadium in 2008 when Usain Bolt broke the 200m world record. That was incredible, the atmosphere was amazing," declares Alistair.
"I remember seeing Bolt win the 100m in 2008 and just thinking 'this man is unbelievable! He's on a different planet.' He's competing in a sport where margins are so small and he consistently did it at the right time. As an athlete he just looked so calm on the start line, he looked unbeatable."
Related Reviews and Shortlists