If there's one warning to give before you buy an exercise bike, it is: are you sure you'll use it for more than a week?
Our top tips for keeping the habit up include setting times when you'll get on the thing. Don't even think about it, just do it.
Exercise bikes can also be quite dull to work out on, so make sure you have a tablet at the ready. An episode of Queer Eye makes 30 minutes on the bike far more enjoyable.
And, best of all, consider getting an exercise bike that supports one of the top bike-tracking platforms. These are iFit, Zwift and Peloton. They offer video classes and visualisations of routes that let you look at more than just the blank wall of your spare room.
Still movitated to get fit with a static bike? Here are some of the best options around, from basic bikes you can use while watching the TV, to "pro" style ones great for training when you just can't get out on the road.
Upvote your favourite, and let us know of any other exerise bikes that should feature using the form at the bottom.
Best exercise bike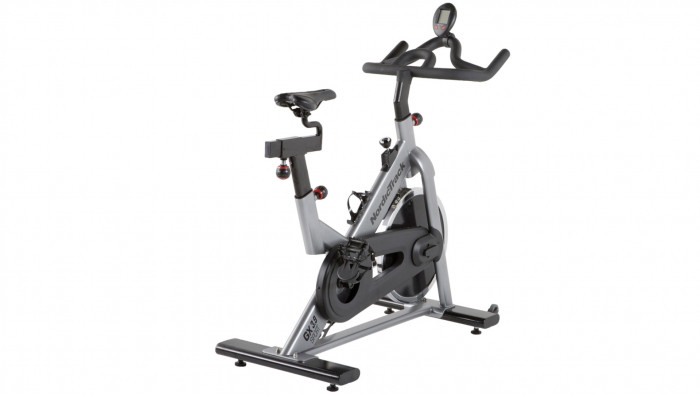 Bikes like this are where you move from basic exercise machines to ones that function better for actual training. The NordickTrack GX 3.9 has a road bike-like seated position and racing pedals with a cage that lets you exert force on both the up and downstrokes.
It has a display for stats and the like, but cannot link up with the iFit platform like some of NordicTrack's more expensive gear. That's a subscription service where you get video lessons and can track your performance.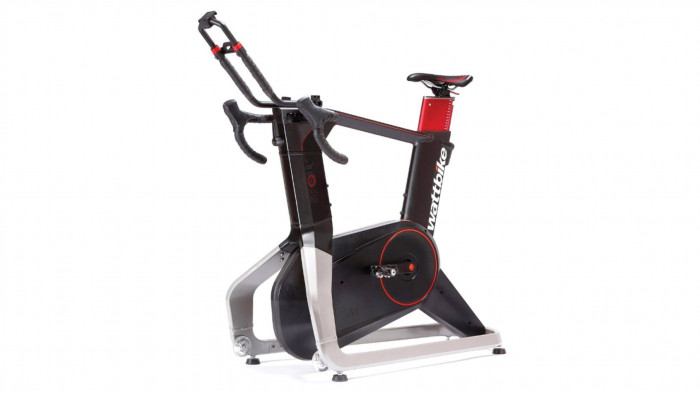 This is the bike to buy if you want to get fully on-board with the Zwift training platform. It will automatically make changes to the resistance based on the exercise in progress on Zwift.
But what is Zwift? It's the most game-like of the cycling platforms.
You cycle through 3D rendered environments, real and imagined, and can watch them fly by on your TV if a phone or tablet just doesn't cut it. The bike itself is one of the best available. It's steady and feels good.
The speed of gear changes is the one common criticism, and may be worth taking into account if you might also consider a high-end trainer like the Wahoo Kickr.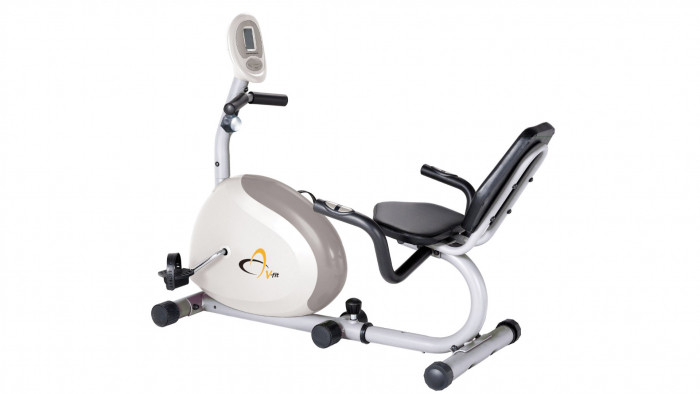 Here's our recumbent bike pick. You sit back, in a more relaxed position, with a bike like the V-Fit G-RC. This means your core isn't engaged, but you may find it a better fit if you suffer from mild back pain.
The V-Fit Bike G-RC's display shows only basic stats for your speed, calories and so on. But there are heart rate grips down by the seat. You'll find a bike just like this in most gyms. Unlike some of those, though, you need to manually adjust tension using a dial on the front column.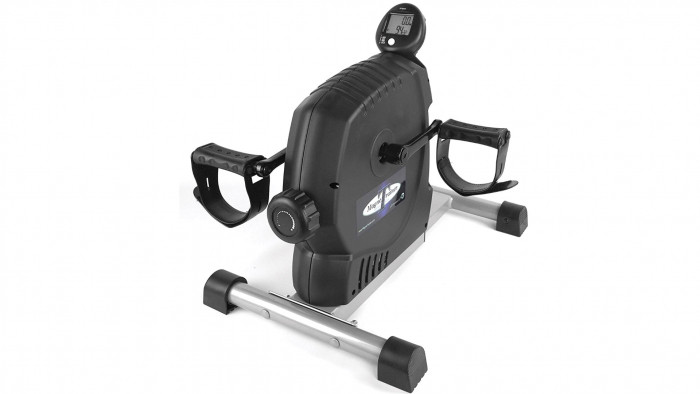 OK, the Magnetrainer ER is not a full bike. But it is one way to scratch your home exercise bike itch without ending up with a dust-gathering clothes horse.
This magnetic resistance trainer takes the central part of the bike, but removes the frame, so it relies on its rubbery feet and a fairly high angle of approach to stay in place. If you want bike-like exercise for some physic rehab, or just want something healthy to do while watching the TV, it's not a bad bet.
If you want to use one of these while working, also consider the Deskcycle 2. It has a much lower profile, so works better under short desks than the Magnetrainer ER.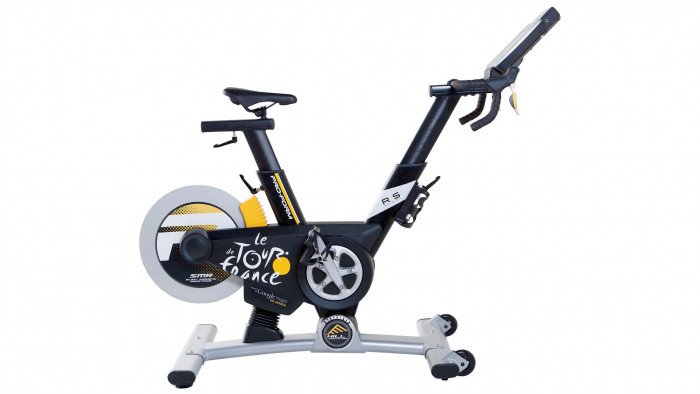 This is the top exercise bike in Pro-Form's Tour de France range, and this family offers a feature you don't tend to see elsewhere. You can set the incline, and the bike frame actually tilts in response. This offers the sensation of pointing up or downhill, rather than just an increase or decrease in pedal resistance.
There are built-in video stages of the Tour de France course, to give its name more meaning. And there's a 10-inch touchscreen to show them off. Once you're bored of those you can use the popular iFit platform to follow loads more routes, with imagery taken from Google Street View.
If this sounds to pricey — and it probably should for many — the TDF 2.0 and TDF 1.0 let you use your own phone or tablet rather than a built-in display.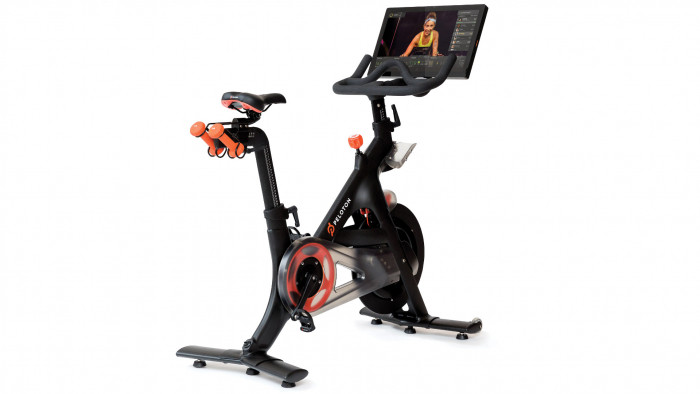 Peloton is the Silicon Valley of exercise bikes. It's trendy and expensive, made for people who want the best but have little time to spend weeks researching all the options out there.
The bike itself costs around £2000, and you can get slightly pricier packages that include clip-in shoes and other accessories. It has a massive 22-inch screen, which tells you the real appeal of the Peloton package. It hooks up to a £39 a month service that offers live lessons, effectively spin classes in your living room.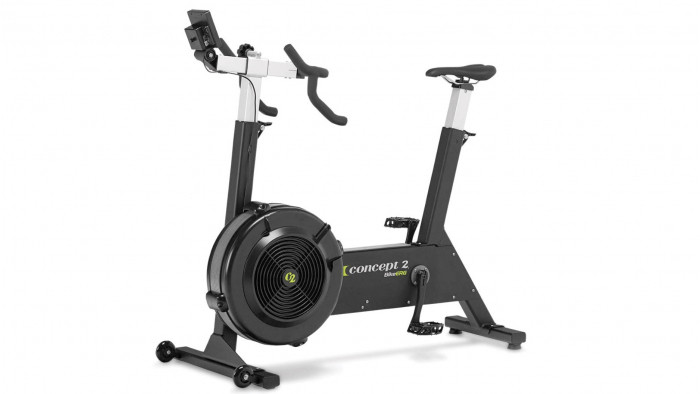 The Concept2 BikeErg is one of our favourite no-nonsense high-end static bikes. It does not come tied to an expensive trendy fitness platform, but does have a basic display computer for straightforward workouts.
And if you do want a more high-tech experience, you can have it. The BikeErg hooks up with Zwift over Bluetooth, but it won't change its resistance level automatically, like a Wattbike Atom. But at £600 less, we'd definitely keep an eye on the BikeErg. A grand is more than enough for most of us to spend.