ShortList is supported by you, our amazing readers. When you click through the links on our site and make a purchase we may earn a commission.
Learn more
Best running shoes in 2021: perfect footwear for every kind of runner
Great running shoes, whether you are a park runner or marathon pace-setter.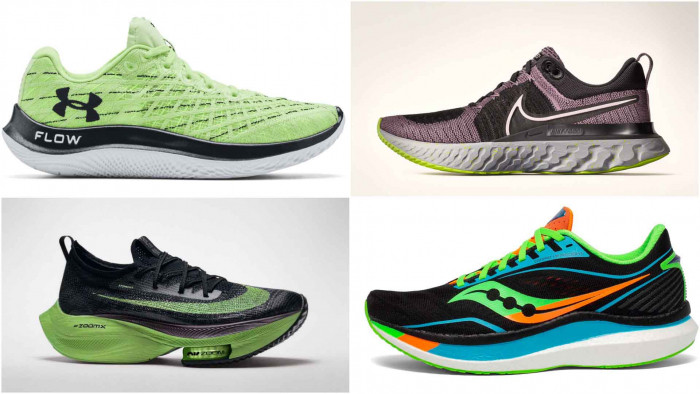 Whether you're a beginner runner, striding the streets for general fitness or a seasoned marathoner prepping for your next race, the most important thing in any runner's kit is a pair of the best running shoes.
Lacing into running footwear that suits your unique running style and training needs, can not only improve your performance and help ward off injury, it might also boost your enjoyment too. Though we can't promise that.
However, with a massive selection of running shoes available – and plenty of technical jargon – picking the winning shoes from the also-rans isn't simple. To help whittle down the options, we asked the expert running shoe testers at The Run Testers to put in the legwork in the latest shoes on the market to find the best pair for every type of runner.
Together we tested everything from the latest carbon-plated racers to the maximal cushioned superfoam long-run comfort shoes from all the big brands, including Saucony, adidas, Brooks, Hoka, Nike and Asics. We put in a minimum of 100km in every pair of shoes on this list and plenty that didn't quite make the cut.
If you're in a hurry, the best running shoes for value were the Hoka Rincon 2, the best overall were the Saucony Endorphin Speed and our top pick for chasing marathon personal bests were the Nike Alphalfy.
Here are the 10 that made our best running shoes shortlist. Below you will find out more information about the ones that really excelled in testing.
---
Best running shoes: overall Picking a best overall running shoe is a tricky business because so much depends on how you run, where you run and what you need your shoes to do. But if we had to pick just one shoe that stands out for a winning combination of quality, versatility, durability and value, it'd be the Saucony Endorphin Speed. At £155, it's not the cheapest you'll find but for a mid-priced option, you're buying a shoe you can lace up with confidence for almost any kind of training run.
There's no doubt this shoe is at its best when your smashing out faster training runs, powered by that nylon plate that's less stiff than carbon plates and the SPEEDROLL midsole tech that eases your transition in each step. It's pitched as the training partner to Saucony's Endorphin Pro race shoe and is tough enough to stack up the training miles and still be good to go when race day comes around.
Best running shoes: value The most expensive shoes aren't necessarily the best shoes. Not everyone needs to shell out £250 for a high-spec carbon plated race shoe. A good value shoe has to be versatile enough to cope with a good range of paces and terrain, at a price that's not going to bankrupt. The Hoka Rincon 2 does exactly that. You're getting a quality mesh upper with a comfortable ride that balances protective cushioning with decent ground contact and control. It's not built for breaking records in races but it's also not completely out of its comfort zone at snappier paces.
The outsoles can scuff up fairly quickly but even with a bit of grazing, these second-gen Rincons were good for 400 miles in our tests. It's light too – just 184g in the women's and 218g in the men's – it's the kind of shoe you forget you're wearing. And that's always a good sign. Hot tip: there's not a huge amount of difference between the first and second generation and so if you can find an original Rincon even cheaper, you're snagging a bargain.
Best running shoes: long distance Elites who hammer out marathons close to the 2-hour mark with perfect form can get away with lighter, more minimal shoes than most mortals. The rest of us mortals need something different. Top traits to look for in a long-distance shoe, include comfort, efficiency, protection and support for when fatigue kicks your form into touch. That tends to mean a good stack of responsive midsole cushioning that soaks up some of the impact without making you feel like you're running on sand.
Our top long-distance shoe for slower, steadier mileage is the Nike React Infinity Run 2. The uppers are snug and supportive, keeping the foot well cradled but with just enough flexibility, the heel collars and tongue are padded for comfort without falling into the trap of rubbing the lower Achilles and the React midsole foam absorbs the road with a good balance of cushioned stability and responsiveness. You don't get the efficiency boost of a faster carbon-plated long distance shoe like the AlphaFly but the Infinity will happily clock 20-miles with reliable comfort. If you're going even longer though and off road, the Inov-8 Terraultra G270 are the pick of the bunch.
Best running shoes: short distance When we refer to short distance, we're talking about runs 10km and below. Think fast parkrun 5kms and even track interval sessions like an 8 x 400m speed-building suffer-fest. Short distance shoes tend to be lighter, often but not always less cushioned and are more agile with good grip for taking tight corners at pace. In our tests we didn't go as far as trialling track spikes and super minimal race shoes, we stuck to regular running shoes designed to excel at short and fast.
The top shoe on test was the New Balance FuelCell RC Elite. It's a lightweight shoe – just 206g in the men's and 172g in the women's – that can handle longer miles but runs brilliantly over short distances. It packs a full-length carbon fibre plate, high-energy return FuelCell midsole foam and a rubber studded forefoot section that's brilliant for toe-off traction and grip at pace on tight turns.
Best running shoes: for comfort You can't overlook comfort when you're buying a running shoe. No matter what technology and benefits a shoe claims to offer, if it feels horrid on your feet after an hour you're unlikely to want to lace it up again. The first try-on feel is important. It's a good sign if a shoe feels right and disappears on your foot the moment you step into it.
In our tests, the shoe that did that best was the Saucony Ride 13. If we had to lace up a shoe for a 90 minute Sunday run where comfort was the priority, it'd be this one. It offers the right balance of cushioning and protection, padding and weight. It hugs and holds the foot nicely without being so heavy it hinders. The Ride 13 is the running shoe equivalent of somewhere between a stripped out sports car and a luxury saloon.
---
Related Reviews and Shortlists