ShortList is supported by you, our amazing readers. When you click through the links on our site and make a purchase we may earn a commission.
Learn more
Best vegan meat substitutes: 10 meat replacements you need to try
The best vegan meat substitutes that'll take the sting out of going vegan.
There are 600,000 vegans in the UK and the word Veganuary has made its way into the Collin's English Dictionary. There's no getting around it, you'll likely have to cook a vegan meal in 2020, whether you are vegan or not so knowing the best vegan meat substitutes is key.
Meat substitutes are a tricky topic. In France, for example, law decrees food makers can't use traditional meat-related words like 'sausage' or 'steak' to describe alternatives for fear of misleading the buying public.
UPDATE: If you're after vegan delights on-the-go, you might be interested to hear that plant-based burger restaurant Halo Burger has launched a rather interesting Vegan Katsu Cheese Burger for one month only. Born out of a collaboration with MasterChef winner Tim Anderson, the culinary offering is 100% plant based and comes in at £10. Comprised of a deep-fried Beyond Meat patty in panko breadcrumbs, deep fried smoked gauda-style cheese and unami mayo, the offering is definitely worth popping to their Shoreditch branch for. It is not just meat-eaters unhappy with animal-free alternatives. In the UK, many vegans grump at the idea of copycat versions of carnivorous food. The tech community is enamoured by it all - the unlikely star of the 2020 Consumer Electronics Show was Impossible Pork (a plant-based pork-a-like mock meat), but there are plenty of vegans who push for less processed options that don't resemble the real deal.
What we've pulled together, as a result, is something for everyone - a top ten list of two types. There are true meat substitutes that actually look, smell, taste and, occasionally, bleed like the animal they're emulating, and less processed alternatives to be enjoyed on their own merits.
Upvote the meat alternative you find the tastiest.
Best vegan meat replacements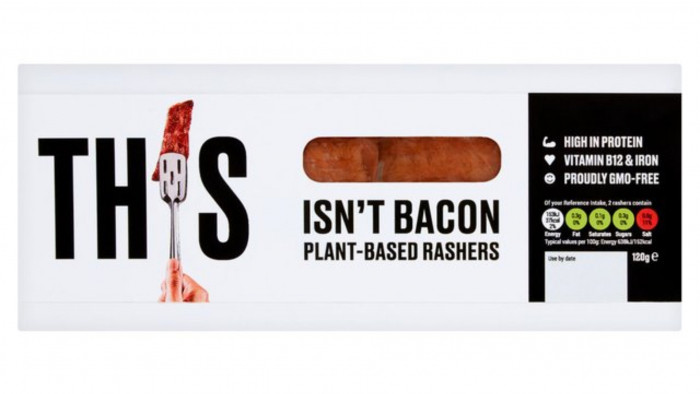 Created by two ex-burger chain founders, the brand has worked hard to make plant-based alternatives that have the same taste, texture and appearance of the meat it's replicating. And, we think they've done a pretty good job.
These are by far the best slices of bacon we've found - especially when many often resemble something you'd rather line your shoe with. It's also high in protein and contains Vitamin B12 and Iron. Ideal for including in a plant-based Spaghetti Carbonara or Caesar Salad.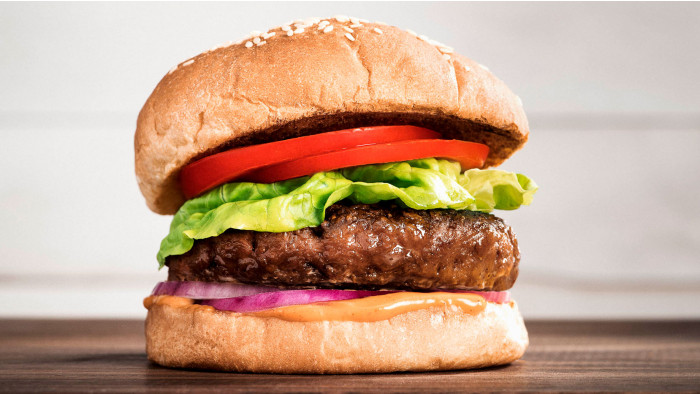 It has infiltrated UK supermarkets at £5 for a pack of two. The Beyond Burger is the priciest vegan patty around, but if you're a new vegan craving something that could fool a carnivore, no other widely available option is quite as convincing. Between its smoky flavour, pockets of fat that seem to pop when you bite into it and general meaty springiness, while it may not be cheap, the Beyond Burger is very, very good.
Made from a combination of pea protein, oils, cocoa butters and vegetable extracts, including beetroot for that bleeding party trick, the Beyond Burger even packs a similar carbohydrate, fat and protein profile to traditional burgers. It's an impressive feat of food engineering that will leave carnivores convinced, and many devout veggies and vegans nothing short of queasy.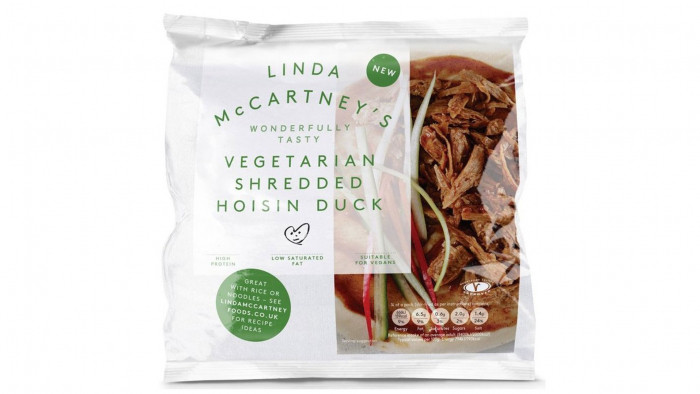 The OG of vegan and vegetarian foods, the Linda McCartney brand has stocked freezer shelves up and down the country since 1991. Launching the then-vegetarian line alongside her hubby and Beatle frontman, Paul McCartney, Linda McCartney's namesake company has evolved to cater for both vegans and vegetarians. 78 percent of its range is now vegan. Additionally, the brand is 96.4 percent plastic-free. Its frozen line is packaged entirely in cardboard.
The brand is now owned by Hain foods, so while we're under no illusion this is the same family business that launched almost three decades ago, the Linda McCartney range is a staple freezer-filler for any veggie household. Its shredded Hoisin Duck is the standout choice in a sea of tasty meat substitutes, perfect in pancakes with plum sauce and thinly stripped veggies. If you're a vegan who's never had shawarma, it isn't too late. Once again, Vivera has come to the rescue with an aromatically spiced vegan alternative to meat shawarma. Its texture sits somewhere between lamb and chicken, but don't let this mutant meat description put you off.
Fry the shawarma kebab for a little over five minutes, layer it into a pita wrap with some salad, chillies and Middle Eastern pickles, lather on tahini and a squeeze of lemon and bam. It's a balanced snack and tastes like a party in your mouth. What's more, this vegan alternative to traditional kebab meat comes packed with protein, has much more fibre than standard shawarma meat and is even fortified with vitamin B12.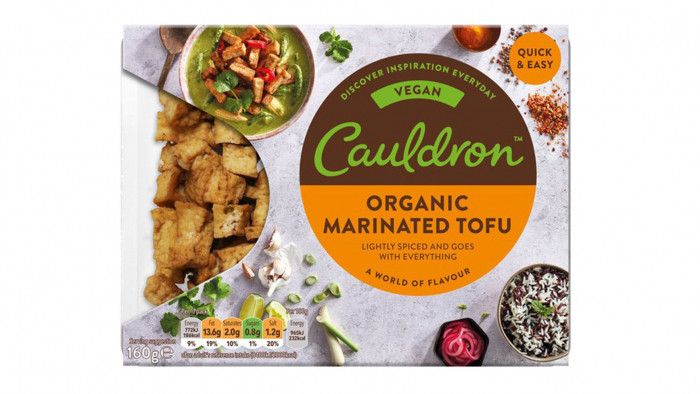 Cauldron's marinated tofu makes for a fantastic cold chicken swap-out if you're after a quick-fix dose of flavourful protein to chuck over your salads and don't want to have to cook something up. While it doesn't taste like chicken, and does not try to, a pack of this cubed tofu is loaded up with smoky flavour and convenience in spades.
In addition to packing more protein than some meats, Tofu is also a decent source of iron and calcium. Cauldron's ready-to-eat tofu is also low in sugar, and carbs in general. This substitute is one of the most natural meat alternatives on our list, with easy to pronounce and recognise ingredients, and you don't have to have it cold. Drop a handful into a stir fry or risotto and you've packed a hearty dish with extra protein in seconds.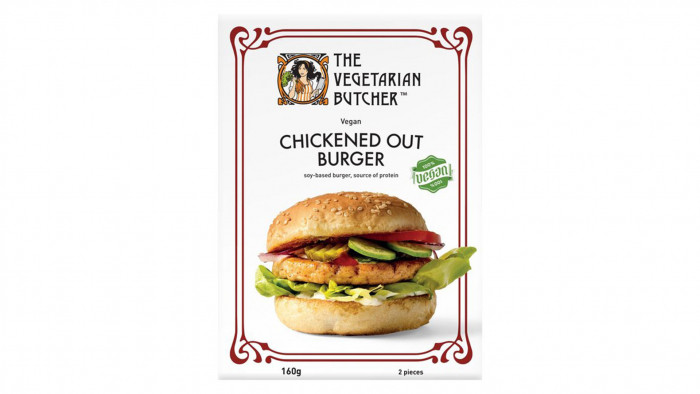 The Vegetarian Butcher was founded by Jaap Korteweg, a ninth-generation Dutch farmer. After living through the mad cow disease and swine flu epidemics, Jaap became a vegetarian. He worked with pioneering chefs to make mock meats that could satiate his craving for real meat after a lifetime producing and eating it. The result is the best darn chicken burger substitute we've ever tried.
It's juicy, meaty and flavourful without being overly seasoned, making a great canvas for condiments, salads and other burger fillings. This is also one of the leaner meat alternatives, at 140kcal per burger. And given it fries up in as little as six minutes, a Chickened Out Burger is a great option if you have hungry vegan or vegetarian mouths to feed, fast. If you thought tofu was healthy, tempeh is on another level. This stuff is easy to digest and loaded with stacks of fibre and protein. As a traditionally fermented food, it's also a probiotic, great for gut health. 100g of Plant Power tempeh has as much protein as you'd find in a protein bar, 21g. And it can be eaten hot or cold, just like Cauldron's marinated tofu.
While tempeh's flavour and texture can be hit or miss depending on how you cook and season it, Plant Power takes the fuss and risk out of the equation. This tempeh is spiced beautifully and perfectly complements everything from a buddha bowl or salad through to a veggie curry.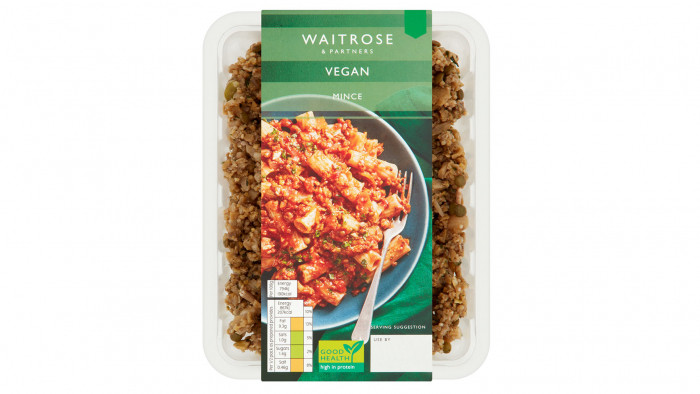 Unlike the mince meat alternatives from the Quorn and Sainsbury's, Waitrose's Vegan Mince is filled with familiar foods you can make out as you eat. Whole sunflower seeds, chunks of mushrooms, lentils; it's packed with protein, fibre and, of course, flavour. It functions like mincemeat and tastes unique.
If you're after the most like-for-like mince alternative you can buy, that'd be the Vivera Vegan Mince but Waitrose's option, introduced in 2020, is easily our favourite. It works well in pasta sauces and shepherd's pies alike. It's also quick to prepare. Just fry it up with a bit of coconut oil until bits of it brown up a touch, give it a bit of a mix and use as you would standard mince.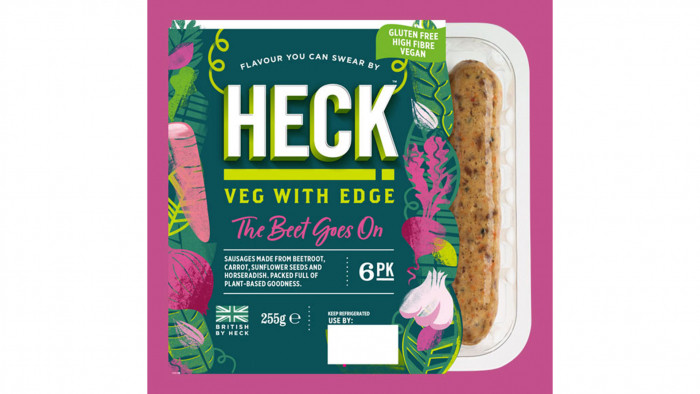 Heck embraces nature, jamming everything from beetroots to carrots right through to sunflower seeds into its melodically named Beet Goes On bangers. They are loaded with flavour, and combine horseradish and red chilli for a rounded, subtle kick. Nigella seeds add a fragrant, aromatic headiness that pops up to say hello every now and then as well.
Each sausage provides 7.4g of fibre, great for your digestion. And with just 0.3g of saturated fat in each, versus the 9g in a typical pork sausage, they are great if you want to cut back on fatty foods. This could be the ideal swap-out, whether you are vegan or not.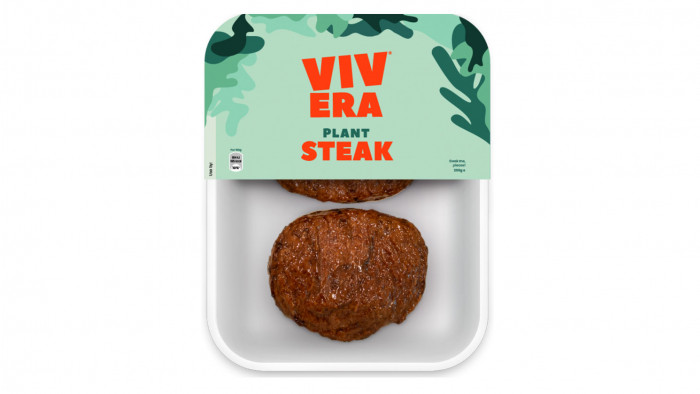 Vivera makes the only sirloin substitute on our list with its convincingly fibrous two-pack Plant Steak. This salty slab of protein is nothing short of a revelation for newbie vegans and can be found in most UK supermarkets including Tesco and Sainsbury's. Treat it just like you would a standard steak. Fry it off to taste and it makes for a satisfying main event that pairs perfectly with a spoon of creamy mash, braised asparagus and a crack of black pepper over the top.
Serve it with a dollop of grain mustard and we doubt even staunch meat fans would complain. In fact, the only demographic who might turn their noses up at Vivera's steaks are the sodium conscious. Two steaks pack 44% of your daily recommended allowance of salt but, if you can hack that kicker, your taste buds will jump for joy.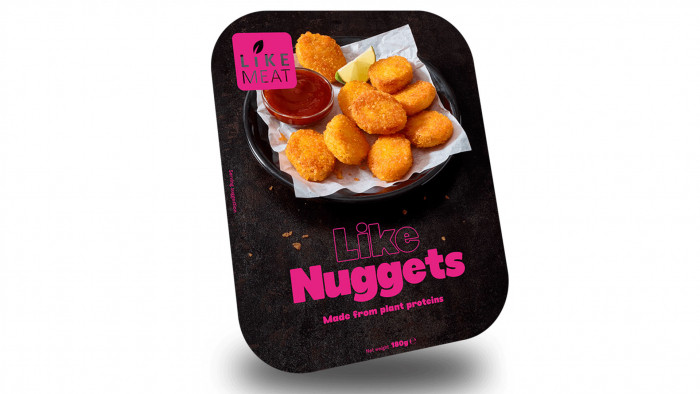 Chicken nuggets are the ultimate people pleaser. Kids love them, they're easy to portion out, hard to resist and, best of all, you don't have to give them up if you're cutting out or cutting back on meat. There are a bunch of meat-free alternatives around, but we love Like Meat's golden, crumbed non-chicken nuggets. These munchies are made with soya so pack plenty of protein and, despite the crumbed coating, are gluten-free too.
The all-important part: they taste and feel like chicken nuggets as your teeth break through the crisp outside and into a moist, meaty middle. A perfect snack or mini-meal for big veggies and little veggies alike - just don't forget the generous side-splodge of ketchup or barbeque sauce to really seal the deal.

Latest
Related Reviews and Shortlists