Nespresso does a pretty damn good job of creating a top-notch brew. It offers a vast range of coffee capsules with flavours to suit your every mood. Fancy an intense or syrupy Kazaar? Or perhaps you're more a round-and-balanced Livanto kind of coffee drinker? Whatever you prefer, the Nespresso capsule range is extensive, and promises a satisfying start to the day.
While the sight of George Clooney standing alongside the glossy Nespresso coffee machines does help to add that x-factor to the Nespresso brand, its luxurious coffee capsules and sophisticated collection of user-friendly machines do a great job of holding their own.
But with so many companies including Krups, De'Longhi and Magimix fighting for the top spot to provide the ultimate Nespresso coffee machine design, it's hard to know which machine is right for you.
That's why we've pulled together this list of top Nespresso coffee machines, each boasting their own special feature. Read on to find out which one of these Best Nespresso Coffee Machines for 2019 is equipped to make the perfect grande, skinny, sugar-free vanilla flat white first thing in the morning or a simple yet divine, bold hit of espresso after dinner.
Best Nespresso machine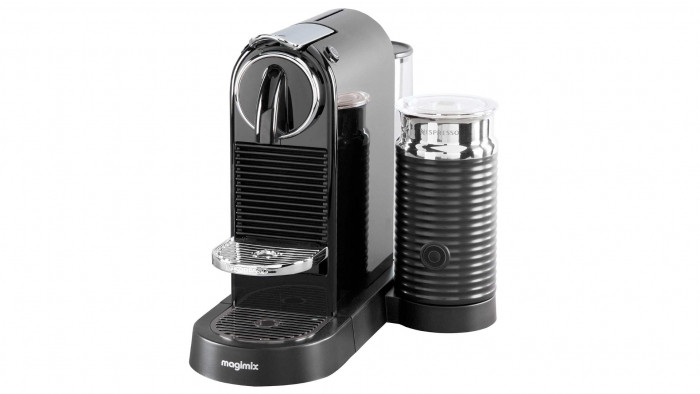 Currently available sub-£200 on Amazon, the Nespresso Citiz and Milk provides the perfect tools for lattes, flat whites, cappuccinos and more. We like its ample 1-litre water tank capacity, which gives you a fair few coffees before having to refill.
It's a basic design but is well thought through with touch buttons for lungo and espresso coffees and an Aeroccino 3-milk frother adjoined that heats up milk in under two minutes. Use The Aeroccino to line your lattes beautifully or, if you fancy something a little more sleep-inducing, froth milk independently to add oomph to a cup of Ovaltine.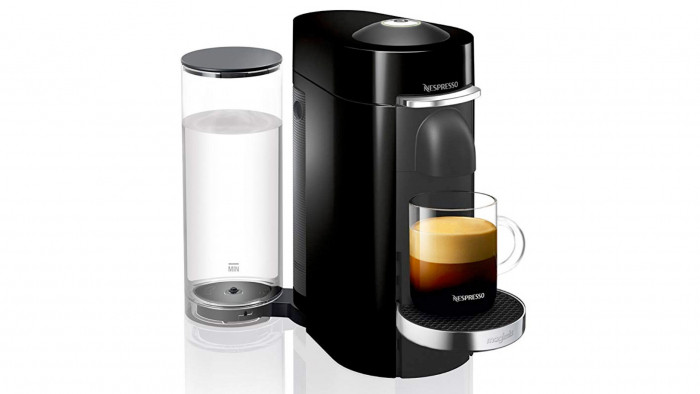 Love black espressos? The Nespresso Vertuo Plus is your new best friend. It handles five drink sizes including Alto (414ml), Mug (230ml), Gran Lungo (150ml), Double Espresso (80ml) and Espresso (40ml), and is ideal for larger cups of coffee and those who love nothing more than a strong hit of black espresso with an impressively thick crema on top.
While it does feature a large 1.7 litre water tank, it doesn't come with a built in milk frother and you'll need to use capsules from the specific Vertuo Nespresso line. But, like the Original Nespresso capsule collection, the Vertuo range of coffees are aromatic and delicious. The machine's built-in Centrifusion technology will work its magic, read the barcode on the coffee capsule and spinning it to extract the coffee for maximum flavour in your drink.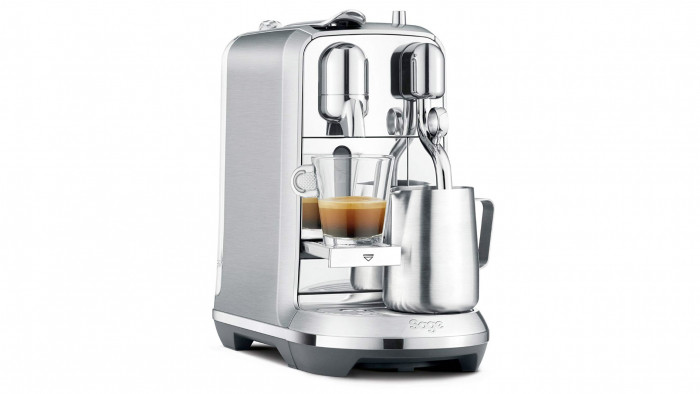 The Nespresso Creatista preps milk with finesse, making it perfect for 'free pouring' latte art. You can easily flick through coffee settings to get your perfect strength cup, and then select a specific temperature for frothing milk to the ideal texture for latte art.
We had fun trying to make heart shapes and rosetta ferns on top of flat white coffees like a true pro barista, but we won't be giving up the day job any time soon. This machine, however, will put you one step in the right direction to becoming the Picasso of the coffee world.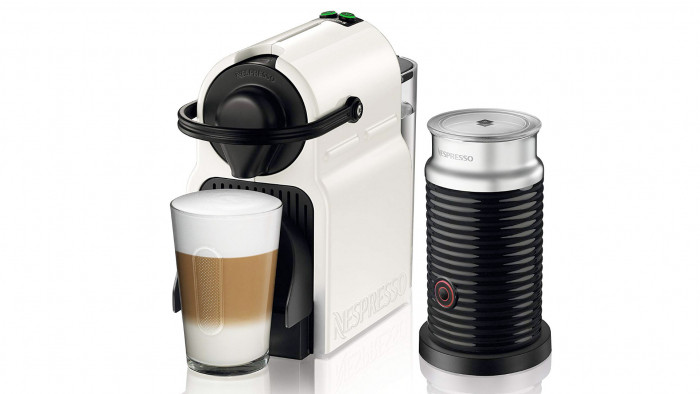 Equally compact and similarly styled like the Essenza, the Nespresso Inissia machine is also ideal for kitchens with limited footfall. It has a 0.7 litre water tank that lets you make around three espressos before a refill is needed and, like its competitors, reaches temperature ready to make you a brew in 25 seconds.
It has two settings for a 40ml espresso and a 11ml lungo, and it's currently being sold on Amazon with an Aerocinno for just over £100, which we think makes it a bit of a bargain.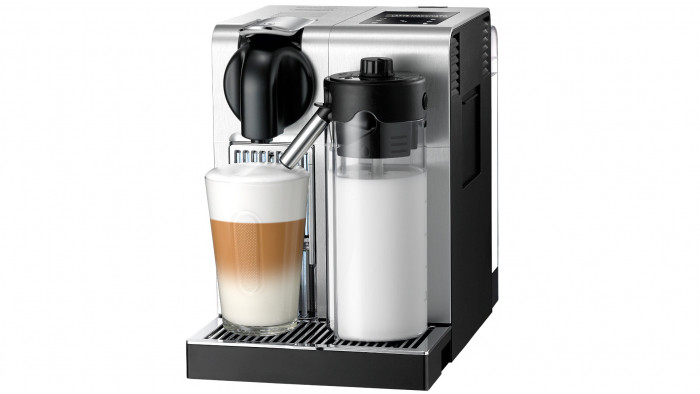 Finished in a sleek brushed aluminium with LED illumination, the Lattissima Pro is inspired by professional barista machines and is a step up from the Lattissima One, in terms of price, finish and functionality. The 19-bar pressure machine is an investment buy and the most expensive machine in our round up, but its ergonomic design looks and feels luxurious. It gives you choice to make either delicious cappuccinos, latte macchiato, espresso, lungo and warm milk froth or hot water at the touch of a single button on its digital display. This gets directed straight to your cup so you can make a full bodied drink in around a minute.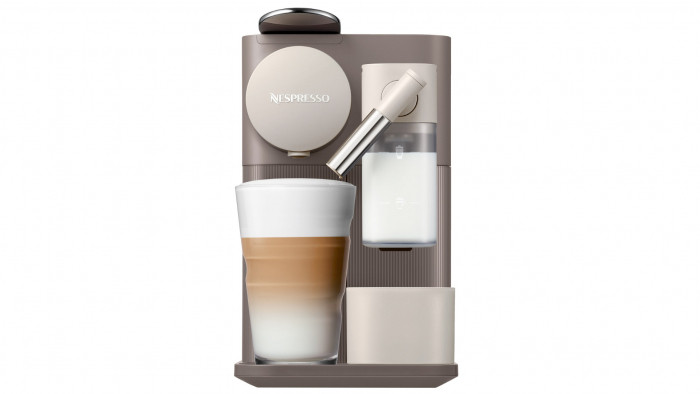 With compact and sophisticated Nespresso styling, the De'Longhi Lattissima One comes in not just black but a 'soft black' finish. There's also a 'silky white' finish to choose from. Good looks aside, this machine is a sound choice if you love milky coffees, creamy cappuccinos, long hot chocolates or all of the above, as it will froth milk directly into your cup from the milk jug. It's designed to be simple to use yet speedy and effective, with three main settings for Espresso, Lungo and Milk. You really can't go wrong with this reasonably priced design.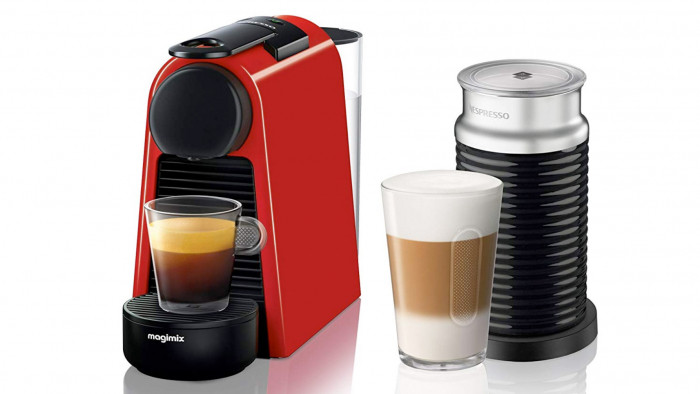 Have a small worktop in your kitchen, with limited room? Keep things neat with the Essenza Mini, which measures a mere 20.4cm high.
It may be small but its 19-bar pump and fast 25-second heat-up are powerful, and it comes with easy to read controls to give you both espresso and lungo coffee. If you find yourself hankering after a latte, simply get yourself a freestanding Aerocinno, which can be neatly packed away in the cupboard with the Essenza when not in use. As well as a punchy red finish, it comes in lime green, black and white.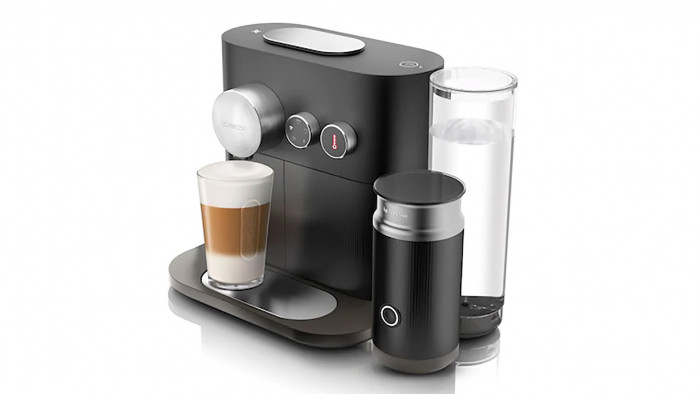 The Nespresso Expert & Milk by Magimix is a model you'll want to show off to dinner-party guests. It comes in uber-stylish anthracite and off-black finishes, and its flat-to-wall design is inspired by professional barista machines. Its name alone should fill you with confidence when you're trying to conjure up a perfect cappuccino.
With a built-in Aeroccino3 milk frother that sits neatly alongside the main body, an easy to navigate four-cup size display and Bluetooth smart technology that lets you connect to the Nespresso app and create personalised coffee it has an all-round impressive spec.