ShortList is supported by you, our amazing readers. When you click through the links on our site and make a purchase we may earn a commission.
Learn more
ASUS Zenbook Duo review - 6 things to know about the new ASUS laptop
We tested out ASUS latest laptop - here's what we found out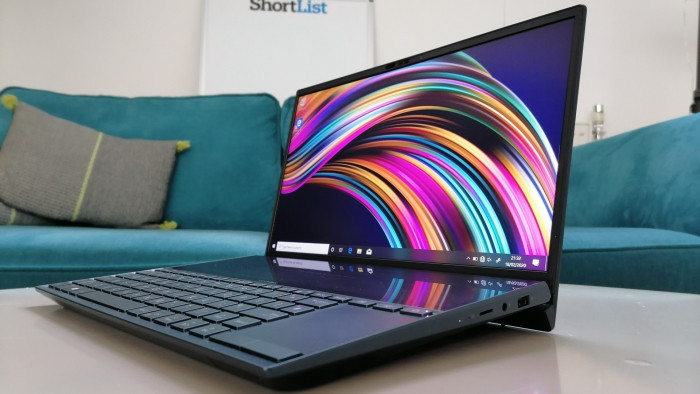 Ever got frustrated that your laptop just doesn't have enough screens? That all those tabs piling up would be gone if only you had a little more space to work. ASUS is hoping to have the solution in the form of its new Zenbook Duo.
The 14-inch laptop has two touchscreens, a deluge of ports and a battery that boasts a life of up to 22 hours. It's the smallest in the series, but its still got plenty of juice thanks to a 10th Gen Intel Core i7 processor. The size also makes it the most portable and supposedly ideal for those who are always working on the go.
But, what's the reality? Does this laptop live up to the 'double-screen' hype, or is it that second screen just a novelty you don't need? Luckily, we're here to answer all those questions. Here are the six things you need to know if you're thinking about buying the ASUS Zenbook Duo.
The Asus Zenbook Duo is available now in the UK for £1,299.99.

1. Same specs, smaller size At CES 2020, ASUS revealed two double-screen laptops - the Zenbook Pro Duo - which got a lot of coverage during the event - and the little brother Zenbook Duo. It's the smaller (and more affordable) offering that we're interested in - especially when ASUS swears that you're getting the same specs for nearly £1,000 less.

So what exactly is the difference? Well, according to ASUS the only noticeable difference is the screen sizes - with the Zenbook Duo, you get a 14-inch main display, rather than the 15.6-inch of the Pro Duo. The secondary 'ScreenPad Plus' is also smaller - 12.6-inch, instead of 14-inch. But, if we're being honest (and this is only from using the Zenbook Duo), both of its screens feel plenty big enough. It has a pretty impressive 90% screen-to-body ratio and the smaller size makes it slightly more portable without it being impractical to use. This laptop also has a whole plethora of ports (usually the first thing to go on a smaller laptop), but more on that in point four.
2. It's almost all screens The main selling point of this laptop if you couldn't tell from the name is the two screens - the 14-inch main display and 12.6-inch ScreenPad Plus. Despite this being the smaller model, these screens definitely don't feel small. That brings us onto the fact that almost two thirds of this laptop is screens, which is fantastic if you're a creative who needs all the canvas space possible. It also benefits from NVIDIA GeForce graphics so it should keep with those who want to game, too.
However, we struggled with the limited spacing this left for the keyboard. The keyboard is definitely more compact than those usually found on a typical 14-inch laptop - and there's no room for a number pad (though you can bring one up on the ScreenPad Plus instead). There's also the fact that instead of being below the keyboard like with most laptops, the ultra-sensitive mousepad is to the right-hand side. This was probably the aspect we took the longest to get used to - however, it was nothing major for us and we were back into our normal rhythm within a day of use.
3. There's an Ergolift hinge The Ergolift hinge is probably one of our favourite features of ASUS laptops. Because the hinge angles the keyboard, it's so comfortable to use especially when you're typing for long periods of time. There's also a practical reason for this 5.5° tilt, too, because ASUS promises that it also improves the cooling of the device and makes the audio performance better. Who knew adding in a small tilt could do so much?
4. Ports Ahoy ASUS have always been pretty solid when it comes to the basics, so you can be sure that they've included pretty much every port you could need. There are two USB 3.1 ports, one for USB-C, a HDMI port and a slot for a microSD card. There's even a headphone jack for those of us who haven't caught up with the wireless bandwagon. It means you should have everything you need to work on the go, without having to carry additional dongles to plug-in.
5. All-day battery On the power-saving 'best battery life' mode, you'll easily get a full day (or two) out of this laptop - especially if your job largely just requires a lot of typing, surfing the internet and spreadsheets. Asus promises up to 15 hours of battery life with the ScreenPad Plus switched on, which seemed pretty dead on to us, and the battery life can last up to 22 hours if you switch that secondary screen altogether.
This is obviously going to be a lot less if you need more from the laptop and have both screens constantly on the go but we don't think you'll struggle to get through the day. After all, there's nothing worse than watching your battery steadily drop and having to just hope you'll make it to 5pm. The various energy saving modes will make sure you never have to feel that dread and while both screens have a good brightness range, we found we rarely went above the halfway mark.
6. Doodle Away This is a laptop designed with the creative in mind. The ScreenPad plus gives you an extra pace to draw, design and doodle and it does feel more natural writing on the horizontal pad (rather than an angled screen). You can then easily flip your work from one screen to another once you're done and so you can use the bigger screen to assess your work, and then move it back to the ScreenPad Plus to make any finishing touches.There's also an option to switch off the keyboard so that you can draw without constantly worrying about leaning on the keys, which is a nice touch.
Overall, this is a stylish laptop with a bright double-touchscreen display and it's clear ASUS knows which basics customers won't compromise on (a good battery life and a load of ports are right at the top of that list). It's size makes it portable enough to be a good on-the-go laptop, but it's not too small that you compromise on the screen size. And, you get all of this for a pretty decent price, too. We're just not certain we'd actually use the second screen enough to justify the purchase. However, you're an architect, designer, artist or in any other creative professional where you've always got a pen in your hand, the ASUS Zenbook Duo could be for you.
Related Reviews and Shortlists