As seasoned travellers know, the best way to take the stress out of flying, cruising or road trips is to be organised.
That principle extends to your luggage, especially on shorter trips when maximising space or protecting the contents from emerging creased or damaged is paramount. It can be the difference between a relaxing break and a breakdown.
It pays to choose a case that's right for the job. Slim and lightweight enough to zip past bag-drop? Or small enough to squeeze into the boot of a compact hire car, while still having space for all your stuff?
UPDATE: We've spent time finding the best travel suitcases below, but we also wanted to share a rather niche travel suitcase that might suit seasoned wine lovers. Anyone who's tried transporting wine before will know it can be an absolute nightmare. But there is now a wine suitcase from VinGardeValise that allows you to safely transport 12 bottles! Of course, check travel regulations with whichever airline you're flying with if you're going by plane first.
Related: Best travel backpacks review
Airplane cabin-friendly cases should be high on your wishlist. Well-positioned straps, zipped compartments and pockets can be the difference between packing nightmare and packing nirvana.
The final feature to look for is the wheels – double spinners can make pulling a case along infinitely easier so don't forget to test-drive your favourite from the below picks to see how well they glide.
Best travel suitcase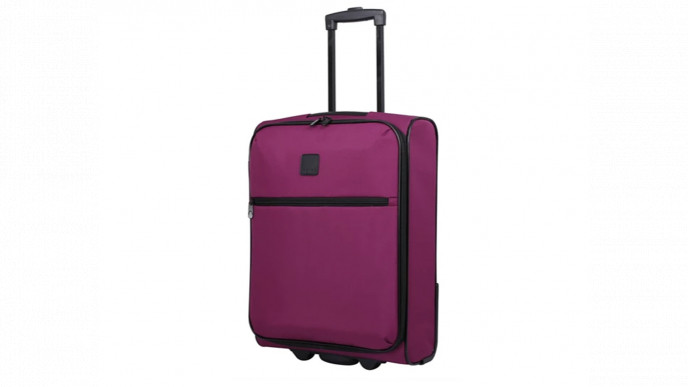 Tripp Cherry Ultra Lite is light at just 2.2kg, stylish and skinny enough to scoot past the eagle eyes of both Ryanair and Easyjet attendants. This two-wheeled beauty is made for those travelling light.
Sure, there's only 26 litres of space inside but for overnighters that could be plenty. Twin elasticated straps inside mean you can strap down all your things. Dipping in and out of it should be calamity-free, plus as it's so dinky. It makes avoiding padding ankles a cinch.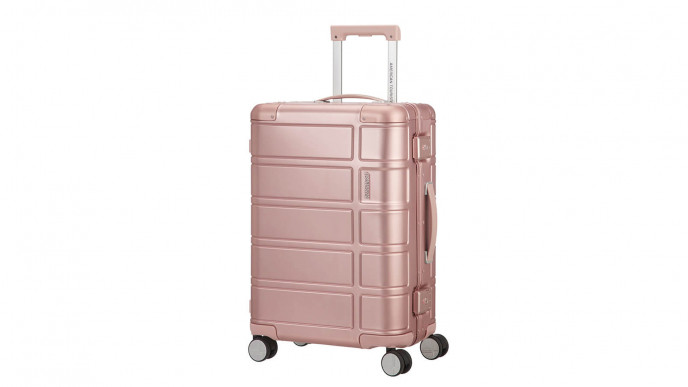 Tired of scuffed and faded ABS shells? Discover American Tourister's first aluminium collection. This nimble number comes in at 4.3kg and combines gorgeous metallic colours such as Rose.
There are zipped pockets galore inside, so you can separate and stash to your heart's content. Add to that double wheels so not even the bumpiest of pavements will phase you, and the only real question is, where will you take it first?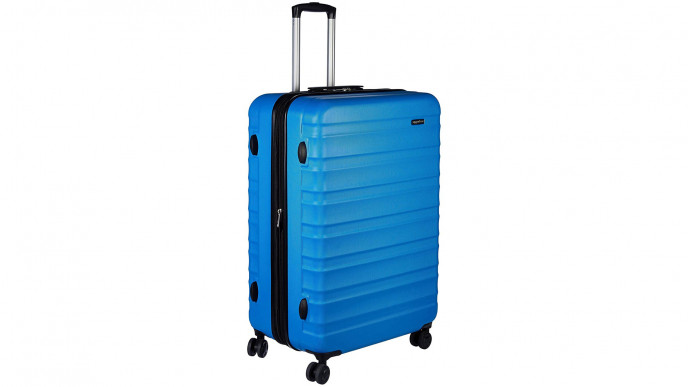 Amazon's Basics Hardside comes in a burnt orange for those who want to spot their stuff in seconds, or black for the more demure. Its hard-shelled style is great for protecting your belongings from bumps and bangs while en-route.
The AmazonBasics Hardside is a smidge too large for carry-on, but makes an ideal checked-in case. Its expandable capabilities are handy when you splurge on souvenirs. Zipped pockets inside also let you separate laundry from the rest of your stuff.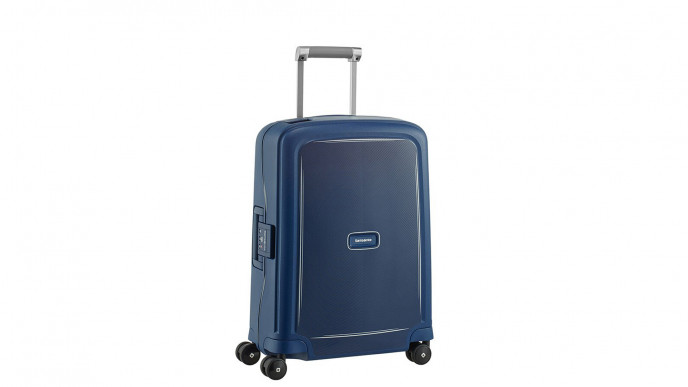 Whether your shade of choice is Raspberry or Ice Blue, this 3-point locking polypropylene case is just the thing for travelling with valuables.
A lightweight (2.9kg) yet strong shell will make you the envy of every passenger, while a multi-stage pull handle glides out with all the finesse you'd expect. A final reason to fall in love? A cleverly planned interior with zipped section and five-point elasticated strap to keep the contents where you left them.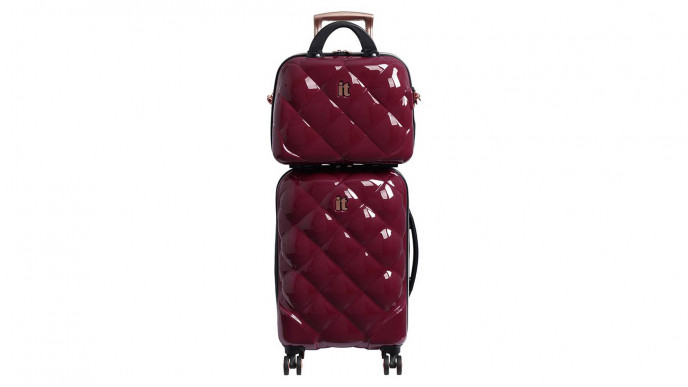 It's not the lightest you'll find (the case is 2.75kg), or the most capacious (it'll swallow around 33 litres) but as far as ensuring you're never without products you need, this set is hard to beat.
As well as a glossy 'quilted' surface case, there's a separate 1.5kg 15-litre vanity that attaches to it, with a strap if you want to carry it separately. Inside the case are pockets for shoes, a zipped section and elastic straps, while the vanity has an elasticated pocket and one with a zip.
This slightly larger case unites everything you might love about a cabin bag with the extra space for a few days away. It weights a mere 2.2kg yet when expanded packs in 74 litres of storage space, and is more durable than its polyester shell would suggest.
The exterior is water resistant while four wheels rotate 360 degrees so it's easy to pull along. Inside, you'll find a mesh pocket, elastic straps and even a hanger loop to keep your clothes from travel-related wrinkles.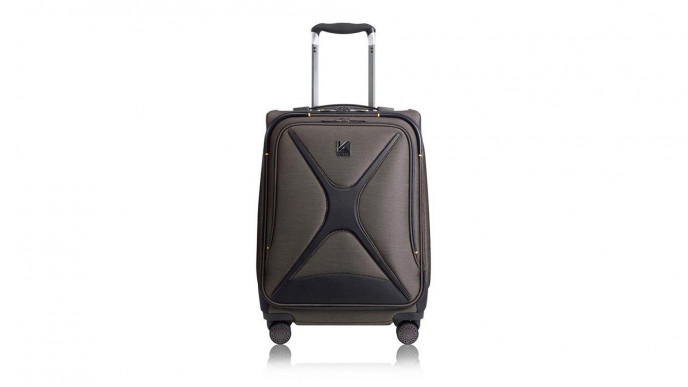 Kevlar – not just for bulletproof vests, but luggage too. This is the kind of suitcase you could imagine Jason Bourne using – durable, with a high impact resistance, it's a dream for packing.
There's a laptop compartment, the wheels are rubber-coated. And the ergonomic handle is made for smooth rolling, even over thick carpet. At 55cm and 2.9kg, it's perfect for air travel, plus there's a side pocket for quick access to your boarding pass, water or umbrella. With 32 litres of space, you can find a place for everything.
It's not just the Vietnam vet-inspired name, camo-style colours or bright red self-cleaning wheels that give Rolling Thunder its charm, but the versatility that comes from its design.
While it's a soft bag on top, underneath it's a hard case, meaning you can both squash in clothes and protect delicate items from knocks. Zipped and inner mesh pockets help to simplify your packing, plus a generous 40 litres of space is a great pay-off given its 3.3kg weight.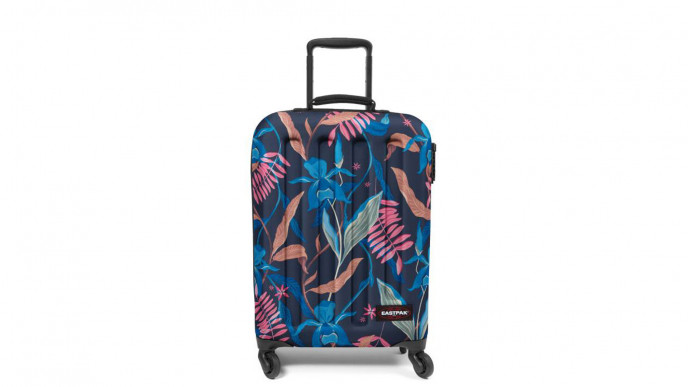 If you drink almond milk while rocking a pair of canvas shoes, you'd be disappointed to find leather details on your luggage but Eastpak has a solution.
Most of its suitcases are 100% vegan, including this hard-shelled number, which comes with double-decker zipped compartments, a 30-year warranty, padded handle and a choice of eight colours including this botanical design. At around 3kg with 32 litres of capacity, you won't have to compromise on space or weight for a clear conscience.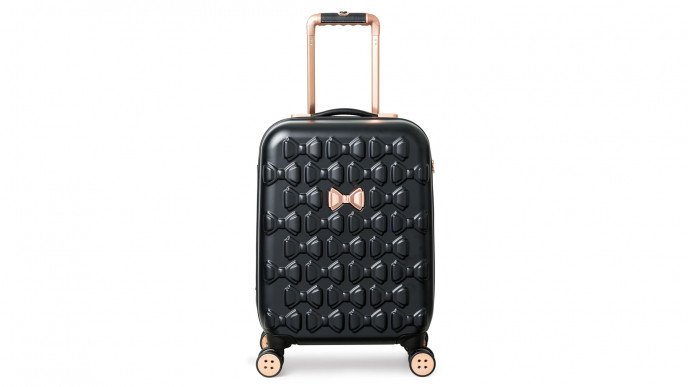 If it's pretty you're after, Ted Baker has you covered. Its Beau collection features a moulded bow motif as part of its polycarbonate shell, complete with a rose gold bow plate.
Inside this 2.6kg beauty there's no less attention to detail, with a patterned lining, pockets and mesh section that can accommodate up to 37 litres. An aluminium handle in rose gold plus four double wheels (with Ted Baker hubcaps) make for easy steering as you leave all the boring suitcases in your wake.