ShortList is now ad free and supported by you, the users. When you buy through the links on our site we may earn a commission.
Learn more
The unstoppable rise of London's Cereal Killer Cafe
The unstoppable rise of London's Cereal Killer Cafe Hamish MacBain meets the twatshipsters business masterminds no one is laughing about any more
Fun fact: if you search 'Bellends' in Google maps, the location pinpointed is 139 Brick Lane, London E1 6SB: the address of Cereal Killer Café. This may well square with your own opinion of a place that you have not been to, but read a lot about and been infuriated by. A lot.
If so, it is likely that you think it must be the sort of custom-tooled-to-annoy trust-fund fad that will be written about – and lambasted – for the three seconds it actually exists, before its creators go off to either start a band called Yew Tree Sex Worker P*ssface, film Nathan Barley: The Movie, Yeah? on the Super8 iPhone app, or start a Boris bike-style penny farthing hire company in Shoreditch.
But this is not the case.
The much-sneered-about Cereal Killer Café is the brainchild of identical Belfast twins Alan and Gary Keery (both just 33). They do have beards, but they do not have trust funds (if you are asking, their background is "very working class"). They opened the doors to their first Brick Lane café six months ago. Boris Johnson voiced approval, as did Dave Franco. Kellogg's and Nestlé have both wished them well, sending over personalised boxes of cereal (Rice Keerys). March this year alone saw the café host a Comedy Central show with RJ Mitte (Walt Jr from Breaking Bad) and Chicago band Twin Peaks film a video for their single Making Breakfast. Friday just gone, they opened a second double-the-size space in Camden. There's a recipe book out soon with Random House – featuring such delights as sausage-stuffed Shredded Wheat ("So good; like a really crunchy sausage roll").
A tour of the festivals this summer is in the works, for which they are building a portable structure out of milk crates. They finished their franchise model recently, and have "strong interest" from Dubai, Australia, New Zealand and the US (they were on a loop on CNN when they opened). Reminder: six months ago, a lot of people thought the Cereal Killer Café was a wind-up. BREAKFAST OF CHAMPIONS
A few days before the launch of the Camden branch, I arrive at the Brick Lane café. My breakfast today will consist of a bowl of Peanut Butter Jif with chopped banana and rice milk, a Red Velvet Pop Tart and a puffed rice slice – courtesy of Primrose Bakery – that is made up of Rice Krispies, Fruit Loops, marshmallows, Gummy Bears and M&Ms. By the time I leave, I've had so much sugar that I feel like I've spent the morning freebasing Led Zeppelin-grade cocaine. But it is a more enjoyable start to the day than it might at first have sounded.
Also – and this, really, is key to the success of this whole crazy operation – it does invoke strong and highly pleasant feelings of nostalgia. All over the walls are vintage cereal boxes featuring the pre-Nolan Batman (there's also one adorned with the image of Arnie as Mr Freeze), Teenage Mutant Ninja Turtles and other key characters from my/your glory years. At one point, the "Earth angel, earth angel…" song from Back To The Future's key scene drifts out of the stereo. I slurp the last rice milk out of my bowl and contemplate skateboarding back to the office, wearing a life preserver.
Sitting opposite me is one half of the Keery twins, Alan. His brother Gary was supposed to be here, but has had to go over to their new site to sort out drainage problems. And anyway, Alan says, they both think and say the same things, so I can just attribute half of what we discuss to his brother, if I like.
I'm sure Gary would concur with his brother's response to the outsider/cynic-held belief that their café is populated solely by intolerable hipster douchebags. "Not. At. All," Alan says, firmly. "It's a broad spectrum. We have people in their seventies that come in, looking for cereals they had when they were kids. We have a lot of families. We have people from all walks of life; people in suits – people who've flown over from Dubai just to come here. There was a father and son who came over from France. We said, 'That's amazing, what else are you doing while you're here?', and they said, 'Oh nothing, we got here this morning, we're having lunch here, and then we're heading back."
In a perfect illustration of his point, a family of four are sitting along the window ledge behind us. I am about to ask if they are tourists, but the fact that the father asks me if the street sign he can see out of the window – Bacon Street – is "ze one from ze Gerry Rafferty song" suggests they are. BUSINESS OF FLAKES
Thick beard aside, Alan, it has to be said, does not seem like a hipster. His love for cereal seems romantic and earnest, rather than laced with irony. He has some great cereal history-related stories. For example, in the early Seventies, there was a US cereal called Franken Berry, which had an indigestible pigment introduced to its recipe that turned some children's faeces pink, inducing a nationwide panic over what would come to be referred to as "The Franken Berry Stool" (which would be a great hipster band name).
When it comes to the business part of his venture, though, he is serious and very proud of what he and his brother have achieved. "There was a massive risk to it," he says. "We had a lot of friends saying, 'Don't be crazy. Don't leave your jobs.'"
Alan was a senior store manager for Superdry, heading up the Regent Street store. Gary was a regional sales manager for electronic cigarettes. Gary had done a three-day course at the East London Small Business Centre, which climaxed with a free consultation session with a business advisor. Having had the idea for a cereal café while hungover, the brothers presented it to him.
"And he said, 'It's just not going to work,'" Alan smiles. "He said, 'No one is going to eat cereal after 11 o'clock. You're gonna need to do sandwiches, you're gonna need to do dinners.' He just shat all over it. But we said, 'If we do other things, then it's not a cereal café.' That's the whole point: it's a complete homage to cereal. And he just kept saying, 'It won't work, it won't work. No one will ever eat breakfast after 11.' I laugh thinking about it now. All this is a big two fingers up to him. You're supposed to be a business advisor! It was his personal opinion he was giving us. Not from a business point of view. But a 50-year-old man wasn't really our target market anyhow."
They persevered, found a sympathetic landlord and, having spent more than a year "constantly talking about the depth of spoons, and colour palettes, and thinking about every single detail that was going into the café", opened for business last December. From the word go, everything went crazy. Channel 4 news came down, and – in the ludicrous, cartoonishly provocative style that is becoming the stock-in-trade of Krishnan Guru-Murthy and co – accused them, at £3.20 per bowl, of overpricing in one of London's most poverty-stricken areas. Gary posted an angry open letter after it aired, protesting that the price is unremarkable when most cafés are charging the best part of a fiver for a flat white. "People saw it as Channel 4 coming in and going, 'How can you sell something for more than you paid for it?' says Alan. "People just went, 'That's poor journalism.' So I think the backlash against Channel 4 helped us greatly."
Besides which, Alan says, this was not the worst thing that has happened.
"We had death threats, also."
Really? From who?
"From someone in America. But we had marriage proposals as well. I've always liked creating opinion in somebody, whether it's good or bad. So having people hate us so much… I think by some people hating the idea so much, it makes the people that love it love it even more." CAMDEN CRUNCH TIME
The launch party for the second café takes place on a Wednesday evening. DJ Yoda is on the decks, and the larger space means a section that uses multi-coloured children's beds as seating. The crowd is very mixed. Again, it does not feel like a hipster in-joke. It is, after all, in Camden: home to goths, cyber-ravers, aging Britpoppers and lots of tourists. "Camden Stables approached us," Alan says. "They're getting rid of all the bong shops and all that. They're trying to introduce new stuff into Camden. They want new, interesting vendors to improve what Camden's offering, because although Camden's cool, it's had the same vibe for years."
The second site already seems like a success, and the next step in what must be the most unlikely world domination bid in living memory. Second, final reminder: all of this has taken just six months.
What, I ask, is all this down to?
"I think it's because we're celebrating cereal in a way nobody's celebrated it before," says Alan. "There's a lot of people who've had a huge love for cereal since they were kids. Cereal wasn't something people shouted about before, about how much they loved it. But now a lot of people are going, 'Yeah, I love cereal as well!'
"And it's a hell of a lot more people than we thought."
[Images: Rex, Nyla Sammons]
Latest
Food And Drink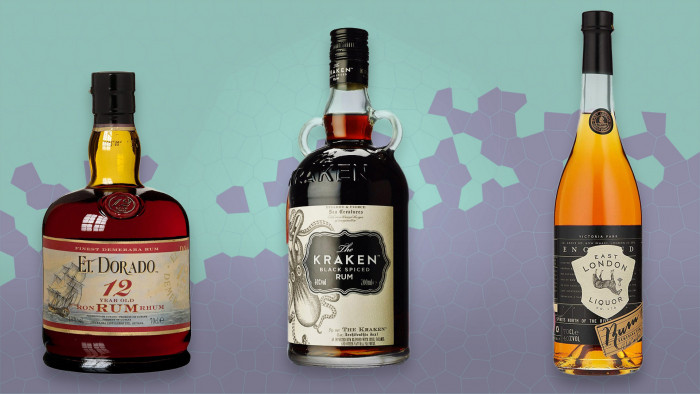 The 24 best rums, ranked: all rum brands taste tested
Food And Drink
The best craft beers (2021): 15 of the best beers
Food And Drink
The 25 best gins: from Hendricks to Monkey 47
Related Reviews and Shortlists