ShortList is supported by you, our amazing readers. When you click through the links on our site and make a purchase we may earn a commission.
Learn more
"We feel a little bit like we've won a competition": A big night out in Brixton with The Manor
Streets fans were treated to a manic warm-up courtesy of their new favourite band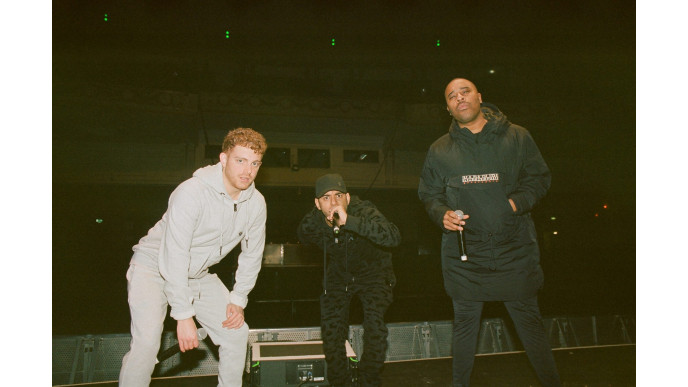 The interview starts off with an unexpected revelation: The Manor are fans of indie-pop-punk legends The Wombats. "I love 'em. 'Anti-D', that was my tune," says Danny Graft. "I wrote a rap to that instrumental back in the day. We're all big indie fans."
While the choice of one of the Liverpool trio's more downbeat tracks might be surprising, by the time we've watched their party-starting, none-more-energetic performance at Brixton Academy, it begins to make sense that they'd be fans of a band who are amongst the best in the world at getting a crowd going crazy.
They have both an easy and difficult job to do at the famous old venue. On the one hand, it's a Saturday night, it's the first of a run of five sold-out shows on the second run of comeback shows from Mike Skinner's The Streets and the crowd, undoubtedly assisted by a smorgasbord of substances (we're offered pills within seconds of setting foot in the main room) is very much up for a large one. On the other, the crowd are here for nostalgia: to celebrate a run of impeccable albums - the last of which was eight years ago - and to sing along to the songs they know and love, not necessarily to discover a new act.
But then The Manor are uniquely placed to give the crowd exactly what they might not want, but what they need: it's a South London homecoming for them (they hail from Beckenham), with a sizeable amount of their own fans in the crowd - and they are fully committed Streets fans themselves.
"Last year we was in the crowd," explains Scotty Stacks. "We had tickets, and we found out on the morning of the gig, our manager called us and said 'you lot have been booked for the main support for The Streets tour next year. And he even said 'we can try and get you backstage' and we said, 'nah - we're gonna be backstage for the whole of next year, we wanna do it properly, in the crowd."
"We went hard… I fell in love with some bird, followed her down to Brighton!" says Danny.
"It's a dream come true, we feel a little bit like we've won a competition."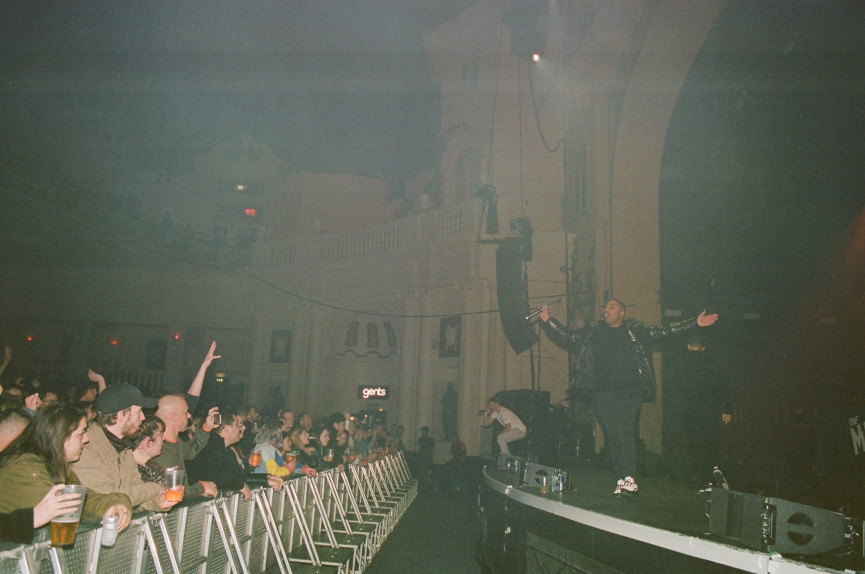 This is a humble remark though, because The Manor have very much earned their right to be on this show, having been releasing material and relentlessly building a fanbase since 2011.
"We've been doing it a long time, we made some ground, we made progress and then we got pulled back a bit - we'd been offered a record deal which we turned down, and after that we were constantly thinking 'should we have taken it?'" explains Scotty.
"It was early doors, we were doing this for a laugh for a while and we put out one mixtape on the internet and it was still just a laugh and we got offered a record deal - and we just thought there was further we could take it ourselves.
It was a good offer, with good people behind it - and it was nothing really to do with them, we were very grateful, but we thought, 'We've just started this, let's just keep going ourselves for a minute'."
However, when they finally did sign a deal - with Parlophone - changes at the label meant that they were soon searching for a new home again, delaying their journey once again. Fortunately, however, Virgin Records soon swooped in to sign them.
"When we did finally sign our deal, we'd been doing it a long time and made a certain amount of progress ourselves to the point where we felt like we'd proved enough, to show any outside entity that came in that we half know what we're doing here, so let us carry on doing what we're doing and help us take it to market," says Scotty.
And Virgin seem set to do just that, with Jonny Dutch explaining how they are giving the band time to showcase all the sides of their sound and songs.
"We got an album deal with Virgin and we said to our A&R last year that we wanted to do a project based, in line with the Free The Geezer/Free The Bird project that we started on social media last year - we want to do a project based around that. It's probably gonna be the best piece of work that we've done.
"It's about feeling free to be yourself. People often stereotype others or themselves, and think because of that you can only act a certain way. We wanna show people that in reality, no matter how you look, sound or where you're from, the truth is, we're all the same.
"Being able to go off and being able to do that sort of thing - it's almost like a side project… while we're working on the album, we thought this is a great time to drop something which is a little more heartfelt, a little more reflective, alongside all the party stuff. So you've got elements of mental health and the darker side of going out and getting on it. That's going out under The Manor, and it's the precursor to the album - we didn't have to do it, but we felt like now was a great time."
"I feel like we've grown up a bit - it's a little bit more mature, the subject matter is a bit broader and it's a lot more conceptual than we've been doing recently, cos there's time for that - there's time for songs like 'The Sesh' - but then there's time for songs about how you're feeling as well, so it gives a more rounded perception of us I feel."
Tonight, though, is very much time for songs like 'The Sesh', with the boys laying waste to the stage, almost physically bursting with energy, clearly on a mission to win over every single member of the crowd with party anthems-in-waiting. It's a relentless onslaught with barely any rest between tunes and, by the time they're done, Brixton is fully warmed up and ready for The Streets' triumphant set.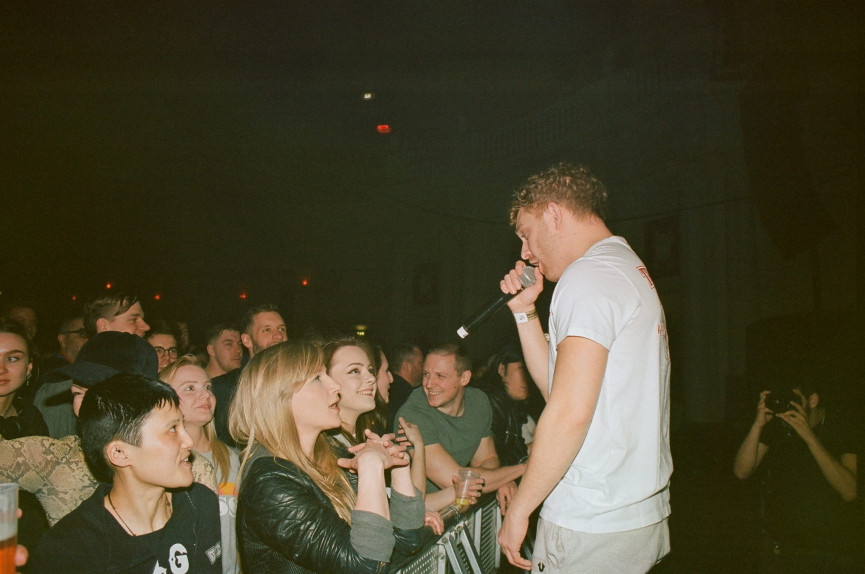 How long until The Manor are playing this place again, but with their name up in lights on the board outside as headliners?
We wouldn't be surprised if it's sooner that you - or they - think.
Related Reviews and Shortlists