ShortList is supported by you, our amazing readers. When you click through the links on our site and make a purchase we may earn a commission.
Learn more
Testosterone shot? Confidence-booster? A strokable pet for the face? Eddy Lawrence looks at why the beard phenomenon is going nowhere
As Christmas approaches, it's only right that we pay homage to the other thing that Santa and Jesus have in common – big old beards. Despite Jeremy Paxman jumping ship last year and declaring beards "so 2013", this year it's likely that you'll find beard-grooming products under the tree, and equally likely that you'll be delighted.
Speaking of notable facial hair, these are the best beard oils to make your beard a thing of envy.
Once the province only of pseudomilitary junk food mascots (ie Colonel Sanders and Captain Birdseye), the beard is now fully overground, and 2014 has been a vintage year. Despite chatter that we've passed the point of 'peak beard', this is the year facial hair crossed over from early adopters to mainstream, and even made in-roads into previously forbidden territories such as big business and politics.
Beards of all stripes are more visible now than at any point in the past 30 years, from the widespread natural-but-trim style, best displayed during the Clooney-Affleck Oscars love-in, to David Beckham's exquisitely preened d'Artagnan affair.
A variety of male supermodels have also showcased the versatility of the beard. David Gandy has demonstrated how it works on ultra-masculine features, while a variety of professionally handsome men, such as Asos model/Catweazle impersonator Billy Huxley, have shown what quirkier styles can do for more elfin features.
Whatever you look like raw, a beard is a great way to redefine a jaw line, boost your perceived testosterone levels, or score a bottle of Balvenie in Waitrose without getting ID-ed. From bedroom to boardroom, beards confer a heightened suggestion of virility and boost individual confidence. Plus, there's also an undeniable meditative pleasure in stroking a beard, which induces waves of old-school Ernest Hemingway-type manliness.
A decent beard is a facelift, an HGH shot and a balaclava all in one. While we haven't bothered researching the figures, we're pretty certain sales of puppies have plummeted this year, as men have realised their best friend was literally right under their noses the whole time. It's the perfect device for a spot of personal reinvention, or for rebuilding your self-confidence after a redundancy or break-up, giving men a chance to revel in their masculinity, and make a style statement at the same time. It's the ultimate modern must-have.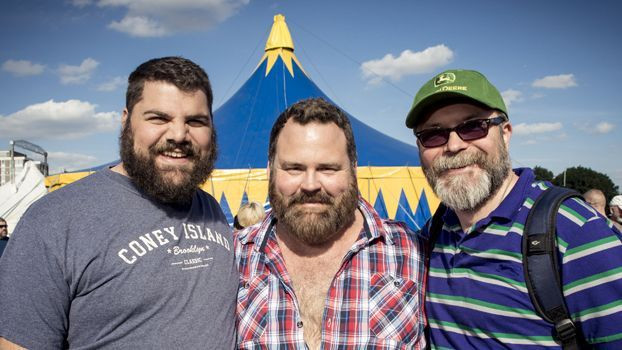 Hot Fuzz
The rehabilitation of a male fashion icon last seen in the Seventies may seem as unlikely as tartan bell-bottoms making a comeback. But the beard's journey back in from the cold (where it was perfectly well insulated) has, like Tom Jones's old dyed goatee, quite obvious roots.
It began, as most cool things do, in gay clubs. You can't spell 'beard' without 'bear', and it was the cultural currency of ursine Londoners – of the Vauxhall rather than Paddington variety – that paved the way. Fashionable venues were soon full of confident, attractive men looking like Henry VIII – the proper, gout-y, swan-eating incarnation rather than the prettier Jonathan Rhys Meyers version.
The preference for full-on Chewbacca face was a later innovation, the result of straight men, as usual, taking gay fashion to an illogical conclusion through an innate sense of competition, resulting in ever-lower-slung face fuzz. Begun the beard wars had.
Previously viewed as electoral suicide among politicians, beards are now not just acceptable, but downright desirable, in all branches of government, business and, of course, pop culture. In 2012, even Disneyland struck down the decades-old clause in their grooming policy for employees, which forbade beards even for cast members hermetically sealed inside a costume of the notably bearded Captain Hook.
This new acceptance has been fuelled by a wave of pro-beard academic papers. A recent study in the Journal Of Marketing Communications suggested men with beards are 'more trustworthy' as they're seen as being more experienced – possibly a contributing factor to their sex appeal. Other studies define the bearded as being more attractive, healthier, more masculine and better parents – and the Oxford Journal recently stated bearded men are 'taken more seriously' by society in general. The power of the beard is the result of evolutionary history.
Pop-biology masterpiece 'the handicap principle' suggests that beards evolved as a "costly sign of male competitive ability", meaning that since a beard can so easily be grabbed during a fight, only a man supremely confident in his physical superiority over his rivals would join the ranks of the proto-beardymen. This proves two things – firstly, that cavemen fought like girls, and secondly, that even a patchy monotesticular Giles Coren effort can convey a certain rakish boho danger.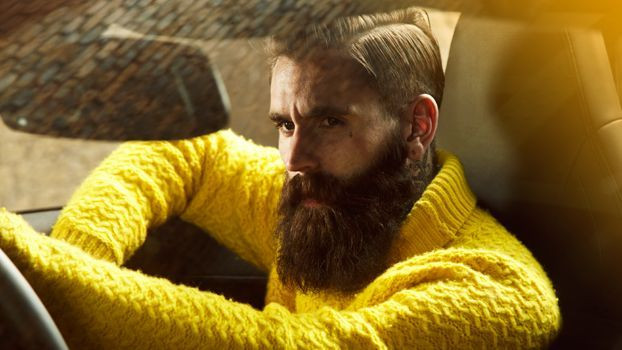 Beard Bonding
The beard's sexual connection was made even more explicit with the recent launch of Bristlr – a Tinder for beards and the women who crave them. Initially suggested as a joke, it now has thousands of subscribers. Where once wildman Alan Moore overgrowth aroused only fear among the fairer sex, these days it's the scrupulously tidy Evgeny Lebedev style that's deemed suspicious.
However, given the beard's biological and cultural ties to interpersonal conflict, none of us could have predicted just how social beardsmanship would become. Demonstrative facial hair has become a style topic men can talk to each other about without feeling girly. Mutual beard appreciation is now a collective bonding experience for modern men, and conversations about 'coverage' are no longer about duff mobile reception.
At first, a beard seemed to be a way to drop out of the often bewildering arms race between razor manufacturers, as their wares deployed ever more blades and lube strips, and new battery-powered capabilities to vibrate, rotate and assassinate Sarah Connor.
Owning a beard – but can you ever really own a beard? – seems like the ultimate in low-maintenance anti-grooming. In reality, making the most of an ambitious chinnywig requires dedication and specialist equipment. But as a ritual, beard bonsai can be every bit as satisfying a ritual as a wet shave – even one involving hot towels.
The grooming industry's response to the phenomenon has been total war. The variety of products festooning the average bathroom shelf range from rediscovered Victorian retro, such as Taylor Of Old Bond Street's Lavender Brilliantine, to hoverboard-standard futureporn, such as Philips' laser-guided precision trimmer. Beard oil – a substance that would once have seemed like a grotesque by-product of Mr Twit's face fungus larder – is now considered essential for the upkeep off a mid-to-long beard. Beardcare specialist Beardbrand boasts a luxurious range of oils, waxes, combs and boar's hair brushes. Murdock beard shampoo, meanwhile, promises to keep even the shaggiest beard strokably lustrous and smelling of tropical fruit, rather than
kebab run-off.
Partly as a result of this increased consumer profile, there's been talk of us having reached (and long passed) the point at which the trend declines, and ultimately collapses. However, anyone suggesting that beards are on the way out is reckoning without the vested interests of the emerging beard upkeep industry.
Not to mention that there now exists a generation of weak-jawed sexual Samsons whose potency has been outsourced to a luxurious chin-thatch. Plus, as beards migrate from the fixie brigade to the corporate jet-set, they also become only more ingrained into fashion. For today's stressed master of the universe, high-class beard care is the executive spa day, with a number of upmarket Mayfair barbers to choose from, specialising in creating boardroom-friendly beard types, matching them to their customers' dress style, hair and occupation. It's only a matter of time before 'Beard Aficionado' magazine is launched upon an enthusiastic luxe market (note to self: pitch 'Beard Aficionado' concept to ShortList's publishers).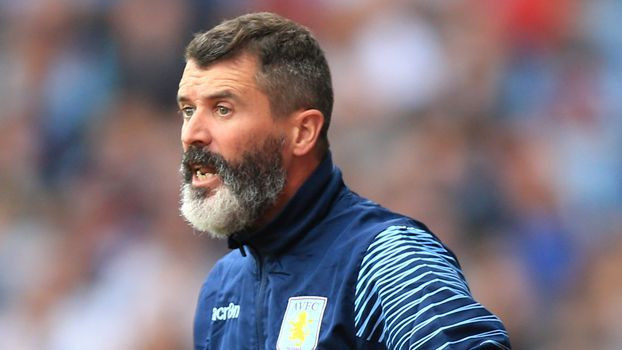 Keep on growing
That's not to say the trend hasn't resulted in some beard clichés – for example, a colossal Joaquin Phoenix number is as much part of the modern barista uniform
as neck tattoos and Kim Jong Il specs. The wild, untamed beard combined with sculpted Forties hair is surely the high-fashion mullet of the age – 'business upstairs, party downstairs'. And there's an assortment of men unaware of how ill-suited they are to the trend, from incongruous Kenny Loggins-alikes who look like they're wearing a falsie, to smug new media types strutting around looking like Neckbeard, the hipster pirate.
But there's plenty of life in the old beard yet. Fashion forecasters are predicting the rise of the Shenandoah, or 'spade' – the Walter Raleigh-style slab of beard without moustache – for 2015, along with bold dye jobs that make even more of a joke of Just For Men For Beards than its appallingly dubbed ads already do. Beard transplants, for which healthy follicles are moved from the heads to the jawlines of the perpetually bumfluffed, are still on the rise. Then there's the trend in Dubai for laser hair removal to give perma-sculpted Action Man beardlines – an expansion to pseudo cosmetic surgery which, over here, would likely be seen as the mark of a serial killer e-fit, or at the very least suggest shades of Walter Peck.
However, the main reason we know we haven't passed peak beard yet is because the styles haven't diversified into true ridiculousness. There's a whole world of gimmicky innovations waiting to happen – from tramlines to weaves and seasonal baubles. Our tip is, when you start seeing beard dreadlocks being worn in the boardroom, you'll know it's time to go barefaced once again.
(Images: Rex; Nevs shot by Richard Dawson for 278 London Collections; PA)
Related Reviews and Shortlists