ShortList is supported by you, our amazing readers. When you click through the links on our site and make a purchase we may earn a commission.
Learn more
Samsung Galaxy A54 and A34 phones arrive: 5 things to know
Samsung's latest Galaxy handsets revealed...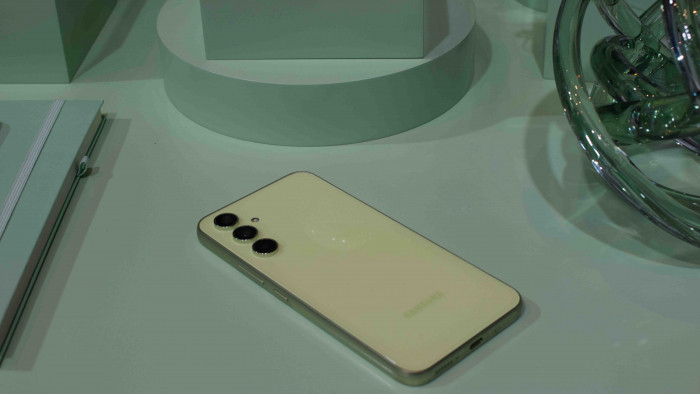 Samsung has announced its latest phone line-up, the 'awesome' (well colour-wise at least) Samsung Galaxy A54 and A34 range.
The world of mid-range phones is a far cry from where it used to be. Now, for hundreds less than what it will cost you to buy a flagship, you are getting handsets that are packed with specs and riddled with innovation.
Enter the Samsung Galaxy A54 and A34 line-up. These phones supersede last year's Galaxy A53 and A33 phones and do a commendable job of distilling specs from the Galaxy S23 into a more affordable handsets.
ShortList spent some time with both handsets this week: here are 5 things you need to know about the Samsung Galaxy A54 and A35 smartphone range.
---
1. Their screens are the same... but different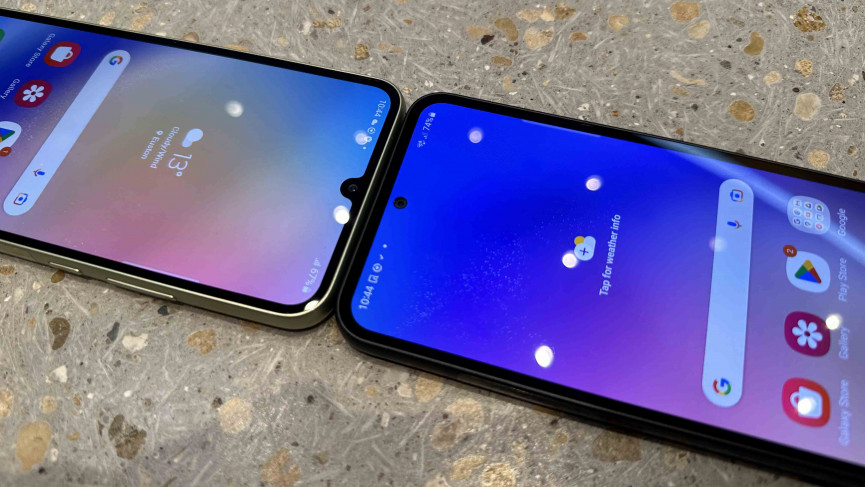 The Samsung Galaxy A54 and Galaxy A53 have the same technology powering their screens. Both pack a 120Hz FHD+ AMOLED panel, which is protected by Gorilla Glass 5.
But there screen sizes are slightly different. The more expensive A54 actually has the smaller screen, at 6.4 inches. It has a punch-hole selfie camera in the centre of that screen. Samsung calls this an Infinity-O screen
The slightly cheaper Galaxy A34 has a bigger 6.6-inch screen but instead of the punch-hole camera it comes with an Infinity-U screen, which means there's a tiny notch that the selfie camera rests in.
2. Cameras are key to the A54 and A34 range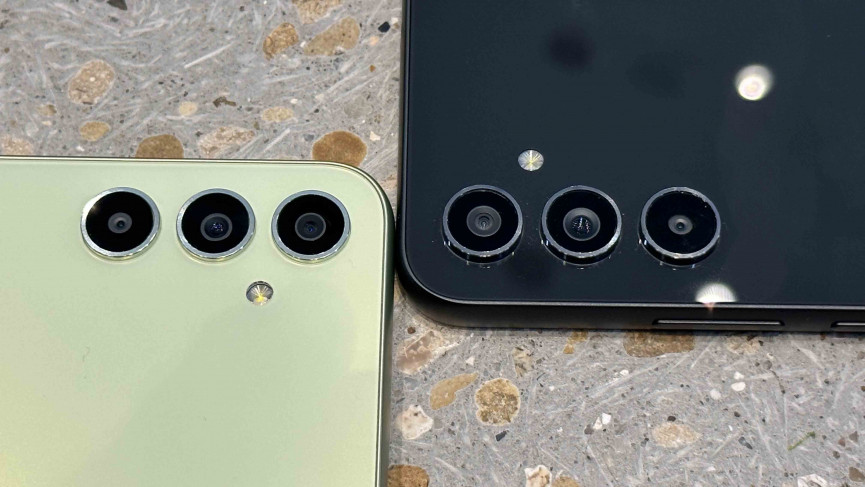 Although they have different camera arrays (more on this in a mo), cameras are key to both handsets and they are presented on the back of the phones in the same way as seen on the Galaxy S23 range. This is a big design win for Samsung's new phone range as it doesn't have an ugly camera bump, but a rather neat array of floating lenses.
In terms of quality, the A54 has a brand-new 50MP lens, while Optical Image Stabilisation has been improved across the board, as has video stabilisation.
The full camera specs are as follows:
Samsung Galaxy A54
12MP Ultra-Wide Camera
50MP Main Camera
5MP Macro Camera
32MP Front Camera
Samsung Galaxy A34
8MP Ultra-Wide Camera
48MP Main Camera
5MP Macro Camera
13MP Front Camera
3 Battery life is (probably) immense There's a 5,000mAh battery on board both the Galaxy A34 and Glalaxy A54. While this is the same battery as found in the Galaxy S23, the processing power in these phones is less which means that the battery life is significantly upped.
Samsung reckons the battery in these handset will last you for two whole days. Obviously this needs to be tested but anything that lasts past a day, after some heavy Twitter doom scrolling, is decent in our books.
4 The colours are AWESOME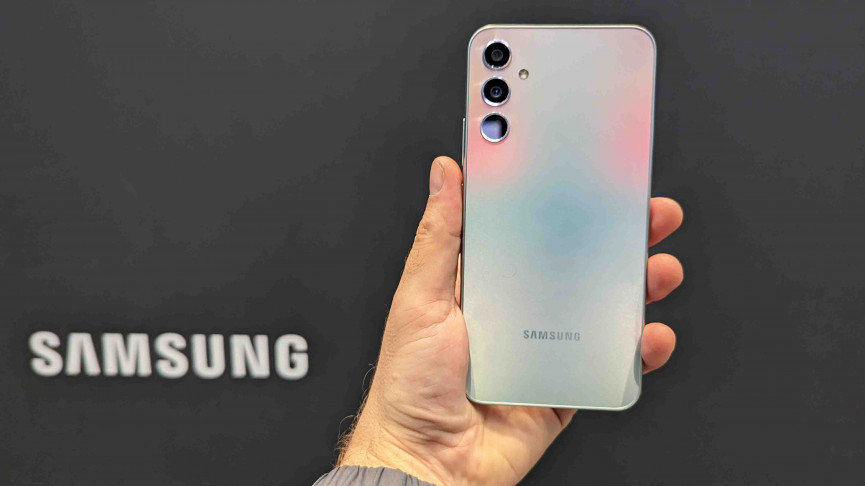 Why? Well, that's the name Samsung gave the colours that the Galaxy A54 and A34 come in. Having seen them up close, we think they are decent but would like to go on record saying that Samsung may have gone a little OTT with its colour naming conventions.
You can get the Galaxy A54 and A34 range in the following colours: Awesome Lime, Awesome Graphite, Awesome Violet.
The Samsung Galaxy A54 also some in: Awesome White, while the best colourway is saved for the Galaxy A34 which is Awesome Silver. This one really is awesome as it's a gradient paint job that shimmers when you move the thing.
Awesome.
5 The price is (nearly) alright...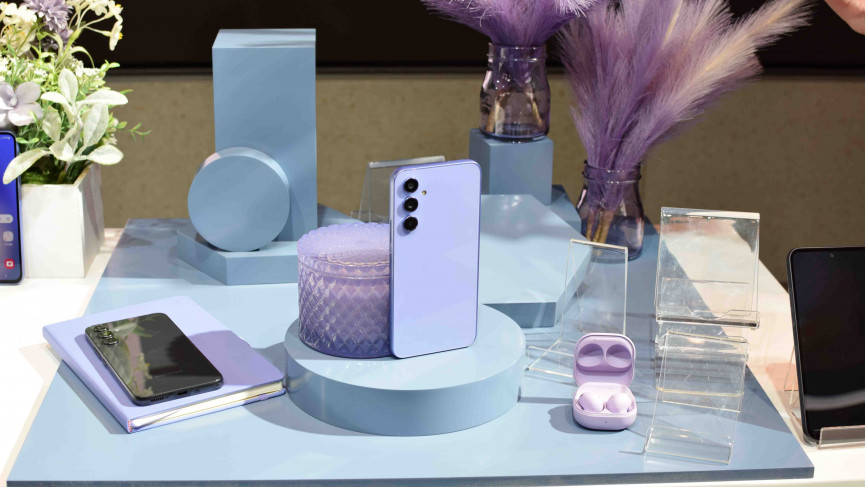 The Samsung Galaxy A34 is the best-priced handset here and will come in at £349 for the 6GB + 128GB version. This is upped to £399 for the 8GB RAM + 256GB version.
It gets a little pricier if you want the more supped-up Samsung Galaxy A54. This one starts as £449 for the 8GB RAM + 128GB version and hits £499 for the 8GB RAM + 256GB.
We think that top price is a little on the high side for what you are getting but at least there's a nice range of prices to choose from, when the phones hit shelves sometime in March.
Need something to watch on your phone? Well, head to our What To Watch guide!
Related Reviews and Shortlists