ShortList is supported by you, our amazing readers. When you click through the links on our site and make a purchase we may earn a commission.
Learn more
Robbie Williams is spending his spare time trying to 'torment' Led Zeppelin's Jimmy Page
And you thought Robbie had matured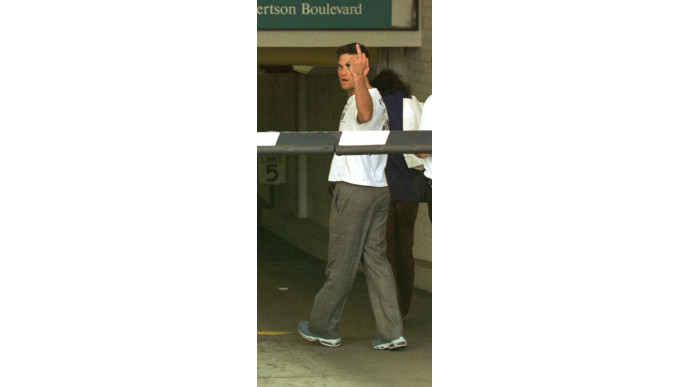 Remember Robbie Williams' days in Take That? He was the archetypal cheeky chappy; the baby of the group, fully six years younger than Howard Donald, and three years younger than de facto band leader Gary Barlow.
And it showed, with his youthful impulses rarely being controlled - a strength, of course, in the end, when his perceived sidelining by Barlow inspiring him to quit the group, go solo and become a huge success story. And, in the years since, he has, without doubt, matured, as evidenced by his reunion with the group, his truce and rekindled friendship with Gary and his widely-praised appearance on The X Factor, when he was just nice to everyone.
But it seems that petulant spirit hasn't quite disappeared, according to a letter sent to the Royal Borough of Kensington and Chelsea council.
It was sent by someone called 'Johnny' and accuses Williams of tormenting his next door neighbour, Led Zeppelin guitarist Jimmy Page, with whom he has been in a legal dispute with for five years.
Williams, who lives in Holland Park in West London, has been trying to gain permission to build a basement swimming pool; 75 year-old rock legend Page is against the idea, for fear that the excavation work will damage his 1875 Grade I-listed mansion.
Last year, the Take That singer was granted conditional approval to go ahead with the work; but it seems that, despite this victory, he has taken it personal with Page.
The letter states: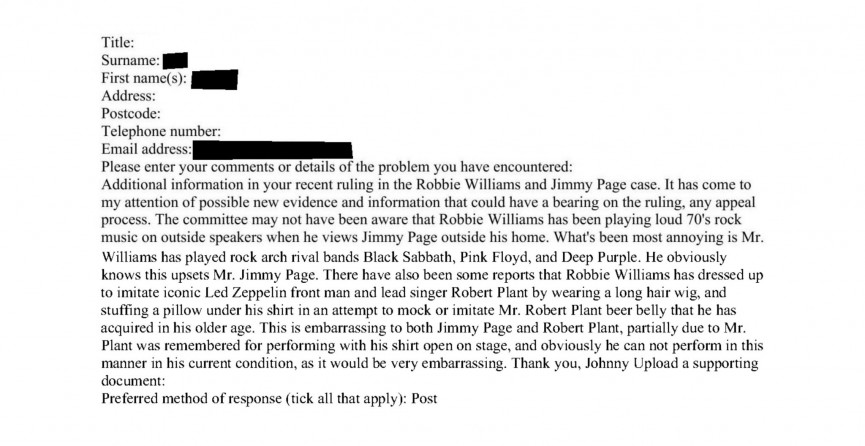 "It has come to my attention of possible new evidence and information that could have a bearing on the [recent house dispute] ruling, any appeal process. The committee may not have been aware that Robbie Williams has been playing loud 70's rock music on outside speakers when he views Jimmy Page outside his home. 
"What's been most annoying is Mr Williams has played rock arch rival bands Black Sabbath, Pink Floyd and Deep Purple. He obviously knows this upsets Mr Jimmy Page. 
"There have also been some reports that Robbie Williams has dressed up to imitate iconic Led Zeppelin front man and lead singer Robert Plant by wearing a long hair wig, and stuffing a pillow under his shirt in an attempt to mock or imitate Mr Robert Plant (sic) beer belly that he has acquired in his older age. 
"This is embarrassing to both Jimmy Page and Robert Plant, partially due to Mr Plant was remembered for performing with his shirt open on stage, and obviously he can not (sic) perform in this manner in his current condition, as it would be very embarrassing. 
"Thank you, Johnny"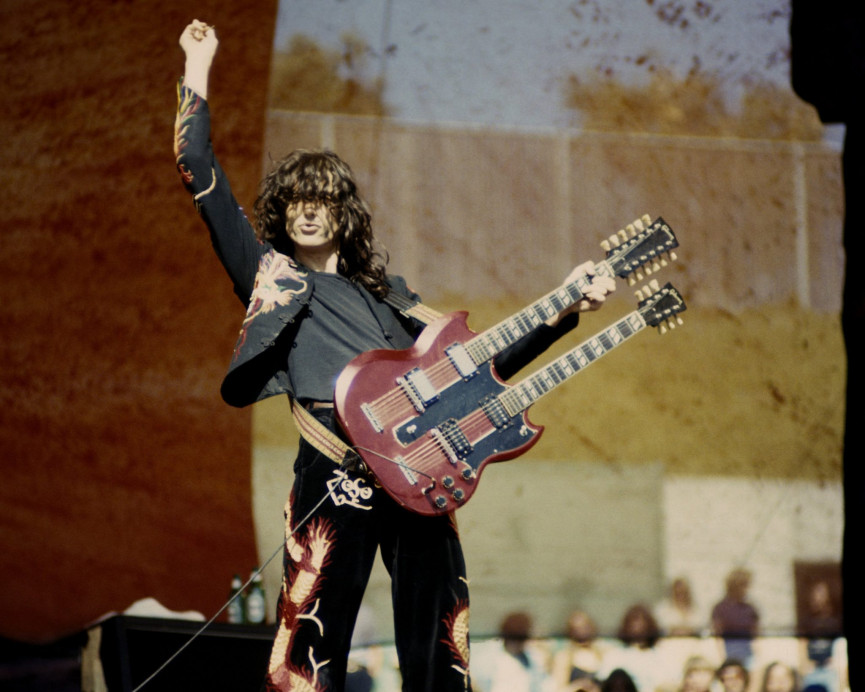 Williams was granted planning permission in December but the work cannot begin until councillors are given reassurance that vibration levels and ground movement issues will be monitored, while they may also ask Williams for a bond, which could be forfeited if those conditions were breached or Page's property was damaged.
Robbie Williams is 44 years old.
(Images: Getty)
Related Reviews and Shortlists